Past Event: Rooted in Place: Stories of Home in the City
When:
Thursday, February 28, 2019, 6:30pm
This event has passed.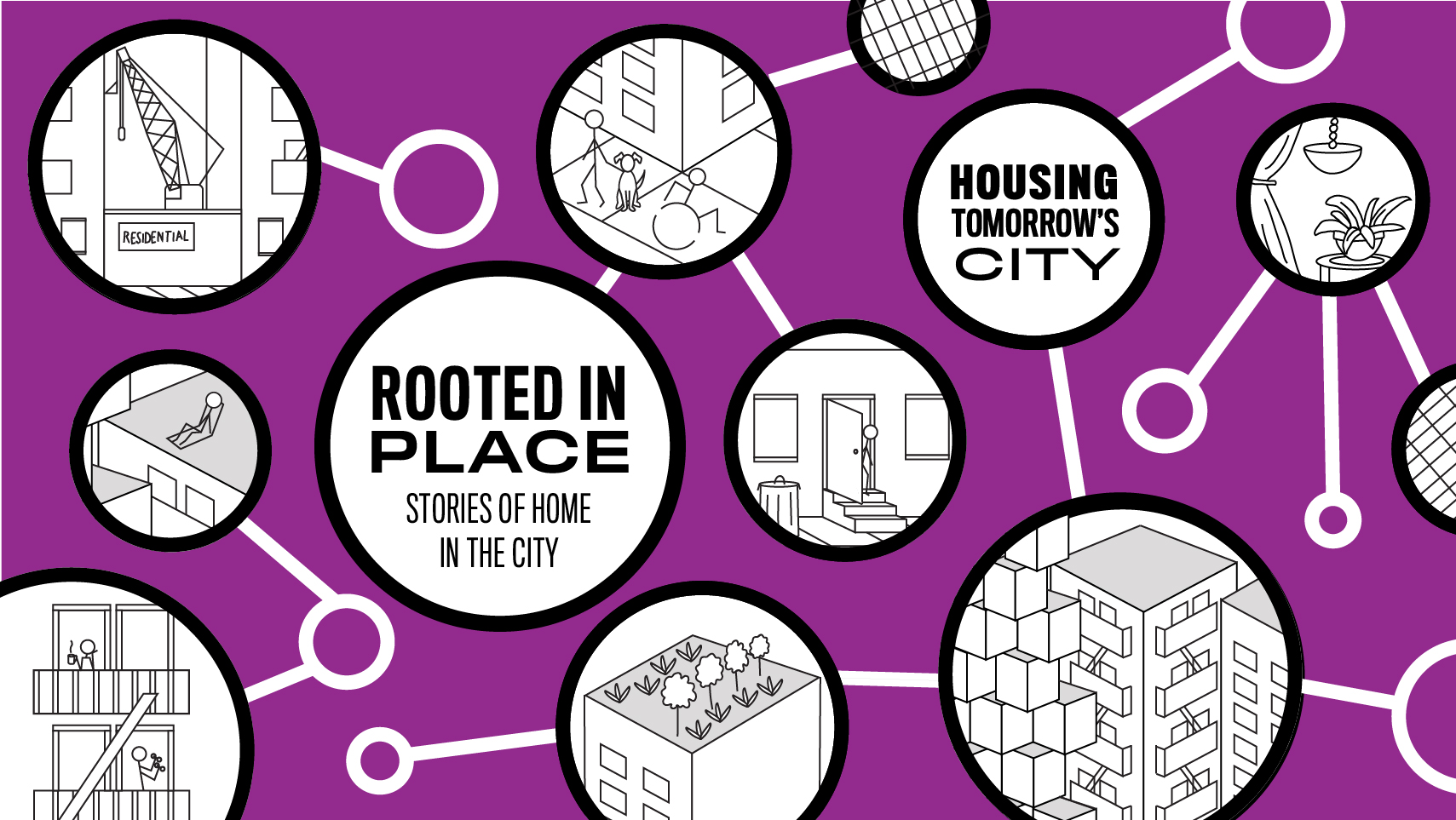 New York is in the midst of a housing crisis, with the cost of housing increasingly unaffordable. But amidst the ongoing conversations and debates about housing policy, tax incentives, and development, it can be easy to lose track of the lived experience of those who call this city home. What can we learn from those who are struggling to find creative ways to make, or keep, a "home" in the city in the face of rapid urban change?

Join us for a conversation that contextualizes and explores what it means to live in the city today from a variety of different perspectives.  Dr. Mindy Fullilove, the author of "Root Shock," takes a look back at New York's long history of community displacement and its effects; architect Eric Bunge reflects on the trials and tribulations of designing the city's first micro unit; photographer Annie Ling shares her photographs of the residents of 81 Bowery, where tenants build community in close quarters; and oral historian Zaheer Ali shares the stories we tell about communities in Crown Heights. Moderated by journalist Tanvi Misra of The Atlantic's CityLab.
Zaheer Ali is the oral historian at Brooklyn Historical Society (BHS), where he records, collects, and curates the lived histories, testimonies, memoirs, and narrations of Brooklynites from all walks of life. A recent project, Voices of Crown Heights, commemorates and examines the transforming Crown Heights neighborhood a quarter-century after the August 1991 conflicts and unrest sometimes called "the Crown Heights riot." Formerly, he served as Project Manager of Columbia University's Malcolm X Project.
Eric Bunge, FAIA, is an adjunct associate professor at Columbia GSAAP and a co-founding principal of nARCHITECTS, a Brooklyn-based architecture firm founded with the aim of joining innovative concepts, social responsibility, and technical innovation to address contemporary issues. nARCHITECTS' projects include the NYS Equal Rights Heritage Center, Carmel Place (New York City's first micro unit building), and the renovation of Chicago's Navy Pier. Bunge is also the co-author of Buildings and Almost Buildings (2018). 
Mindy Thompson Fullilove, MD, LFAPA, Hon AIA, is a professor of urban policy and health at The New School. Prior to joining The New School in 2016, she worked for 26 years as a research psychiatrist at New York State Psychiatric Institute and was a professor of clinical psychiatry and public health at Columbia University. Her books include The House of Joshua: Meditations on Family and Place (1999); Root Shock: How Tearing Up City Neighborhoods Hurts America and What We Can Do About It (2004); and Urban Alchemy: Restoring Joy in America's Sorted-Out Cities (2013).
Annie Ling is a documentary photographer committed to intimate narrative projects and expanding a visual discourse. Her debut solo exhibition A Floating Population at Museum of Chinese in America featured over eighty images spanning four years of immersive fieldwork chronicling housing conditions in Chinatown, New York. Ling's work is now currently on view here at the Museum of the City of New York's exhibition, Interior Lives: Contemporary Photographs of Chinese New Yorkers.
Tanvi Misra (moderator) is a staff writer for The Atlantic's CityLab where she covers immigrant communities, housing, economic inequality, and culture. She also authors Navigator, a weekly newsletter for urban explorers and her work appears in The Atlantic, NPR, and BBC.
This is the third event in our new series, Housing Tomorrow's City, which explores the challenges and opportunities presented in the Museum's Future City Lab, the interactive third gallery in the New York at Its Core exhibition. To view all of the programs in the series, click here.
Our Supporters
This program is part of our Housing Tomorrow's City program series, inspired by our Future City Lab, the third gallery of our award-winning exhibition New York at Its Core. The series is presented in memory of Future City Lab curator Hilary Ballon.
Housing Tomorrow's City is made possible in part by Sophia and Peter J. Volandes. 

"Rooted in Place: Stories of Home in the City" is co-presented by CityLab.