Past Event: Sweet & Sour: Chinese Food and Immigrant Identity
When:
Wednesday, November 7, 2018, 6:30pm
This event has passed.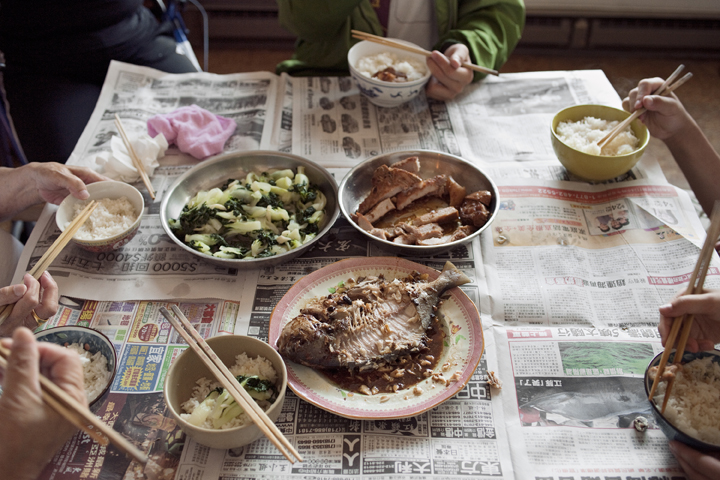 What is the role of cooking and cuisine in the making of Chinese-American culture and identity? Inspired by our exhibition, Interior Lives: Contemporary Photographs of Chinese New Yorkers, Jack Tchen, co-founder of the Museum of Chinese in America, moderates a conversation with leading restaurateurs: Lien Lin, owner and executive chef of Brooklyn's Bricolage NYC; Wilson Tang, owner of the famed Nom Wah Tea Parlor in Manhattan's Chinatown that dates back to 1920; and Jason Wang, CEO of Xi'an Famous Foods, now a chain of 13 restaurants originally founded by Wang's father as a food stall in the Golden Mall in Flushing, Queens. 

Try a sample dumpling from Nom Wah Tea Parlor and summer roll from Bricolage at the program, included with your ticket! 

This program accompanies our exhibition Interior Lives: Contemporary Photographs of Chinese New Yorkers (opens October 26, 2018). To view all of the programs in this series, click here. 
About the Speakers: 
Lien Lin is owner and executive chef of Bricolage, a modern Vietnamese gastro pub in Park Slope. Of Chinese heritage, Lin's parents were from Vietnam but fled to Hong Kong where Lin was born. Her family moved to Saratoga Springs when she was an infant. There, her parents opened their own Chinese restaurant and Lin began her career in the kitchen at age 7. She attended the California Culinary Academy and served as executive sous chef for the Slanted Door Group.  

Wilson Tang, a native New Yorker, left his career in finance to pursue a dream in hospitality. His uncle was planning on retirement and offered Tang the chance to own the famed Nom Wah Tea Parlor. Serving all-day dim sum, the Chinatown mainstay saw new life in both its dining room and local surroundings. Since 2011, Tang has expanded his family's business into additional concepts in both New York and Philadelphia.

Jason Wang, originally from the Chinese city of Xi'an, grew up in New York City. His father, a veteran of Chinese kitchens, opened the first Xi'an Famous Foods in 2005 to sell dishes based on family recipes. Following a brief stint in the corporate world after college, Wang decided to invest himself in the restaurant. Over the past six years, the Xi'an Famous Foods has expanded to 13 locations in the New York City area appealing to Chinese families and everyday Americans alike. 
Jack Tchen (moderator) is the founding director of the Asian/Pacific/American Studies Program and Institute and part of the original founding faculty of the Department of Social and Cultural Analysis at New York University. He also co-founded the Museum of Chinese in America in 1979-80 where he continues to serve as senior historian. In the fall of 2018, Tchen will begin his role as the Inaugural Clement A. Price Chair in Public History and the Humanities and Director of the Clement A. Price Institute on Ethnicity, Culture and the Modern Experience at Rutgers University, Newark.