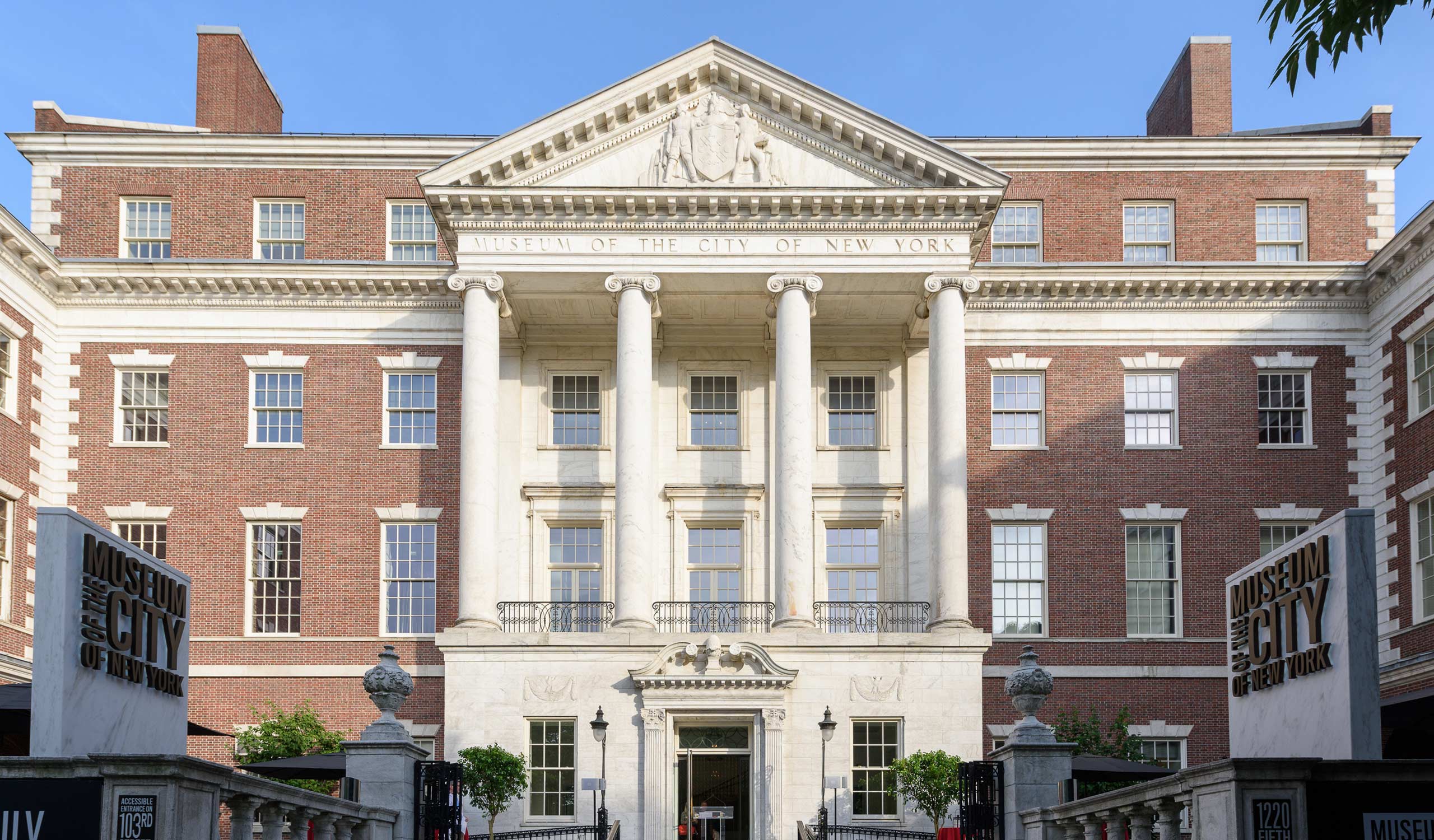 The Museum of the City of New York fosters understanding of the distinctive nature of urban life in the world's most influential metropolis. It engages visitors by celebrating, documenting, and interpreting the city's past, present, and future.
Our History
The Museum of the City of New York was founded in 1923 by Henry Collins Brown, a Scottish-born writer with a vision for a populist approach to the city. The Museum was originally housed in Gracie Mansion, the future residence of the Mayor of New York. Hardinge Scholle succeeded Henry Brown in 1926 and began planning a new home for the Museum. The City offered land on Fifth Avenue on 103rd-104th Streets and construction for Joseph H. Freedlander's Georgian Colonial-Revival design for the building started in 1929 and was completed in 1932. During the next few decades, the Museum amassed a considerable collection of exceptional items, including several of Eugene O'Neill's handwritten manuscripts, a complete room of Duncan Phyfe furniture, 412 glass negatives taken by Jacob Riis and donated by his son, a man's suit worn to George Washington's Inaugural Ball, and the Carrie Walter Stettheimer dollhouse, which contains a miniature work by Marcel Duchamp. Today the Museum's collection contains approximately 750,000 objects, including prints, photographs, decorative arts, costumes, paintings, sculpture, toys, and theatrical memorabilia.
Board of Trustees
William C. Vrattos, Chair; Whitney W. Donhauser, President & Ronay Menschel Director; James G. Dinan, Vice Chair & Chairman Emeritus; Newton P.S. Merrill, Vice Chair & Chairman Emeritus; Ronay Menschel, Vice Chair
Elizabeth Belfer, Jason Berg, Lucinda Bhavsar, Todd DeGarmo, Barbara J. Fife, Robert Finger, Thomas M. Flexner, Cynthia Foster Curry, Elba Galvan, Leslie V. Godridge, Robert Goldstein, Lorna B. Goodman, Elizabeth Graziolo, David Guin, John Heller, Stephanie Hessler, Robert A. Jeffe, Leah C. Johnson, Suzanne Karr, Stephen J. Ketchum, Stanford G. Ladner, Naml Lewis, Jeanne Manischewitz, Doris P. Meister, Gurudatta Nadkarni, Jane B. O'Connell, José Pagan, Tracey Pontarelli, Kathryn Prounis, Nathan Romano, Arthur J. Rosner, Valerie Rowe, Mitchell S. Steir, Daryl Brown Uber, Peter Volandes
Ex Officio Members
Hon. Bill De Blasio, Hon. Eric Adams, Hon. Gale Brewer, Hon. Ruben Diaz Jr., Hon. Hon. Corey Johnson, Hon. James Oddo, Hon. Mitchell Silver, Hon. Scott Stringer, Hon. Jumaane Williams, Hon. Gonzalo Casals, Hon Meisha Porter, Hon. Donovan Richards, Jr.
Trustees Emeriti  
David C. Clapp, Chairman Emeritus, Mrs. William T. Comfort, Vice-Chair Emerita, Marvin H. Davidson, Trustee Emeritus, Bruno A. Quinson, Trustee Emeritus, Elizabeth Farran Tozer, Trustee Emerita
Trustees Council
Marjorie K. Fortgang, Stephen S. Lash, Martin J. McLaughlin, Hebe Dowling Murphy, Suzanne Randolph
Select Museum Staff
Office of the Director 
Whitney W. Donhauser, Ronay Menschel Director & President
Sean McNally, Manager, Board Relations and Executive Affairs
Collections 
Leela Outcalt, Director, Collections
Lauren Robinson, Manager of Licensing and Collections Digital Assets
Sheryl McMahan, Registrar
Curatorial Affairs 
Sarah M. Henry, Robert A. and Elizabeth Rohn Jeffe Chief Curator and Deputy Director
Sean Corcoran, Curator of Prints and Photographs
Sarah Seidman, Puffin Foundation Curator of Social Activism
Lilly Tuttle, Curator
Tracy McFarlan, Associate Director of Curatorial Projects
Development
Keith Butler, Vice President, Development
Alyson Casey, Director, Corporate Relations
Charley Harris, Manager, Patron Services
Corin Infantino, Director, Institutional Giving
Jackie Zirman, Director, Special Events
Education and Engagement 
James C. Horton, Vice President, Education and Engagement
Frances A. Rosenfeld, Director of Public Programs
Maeve Montalvo, Director, Frederick A.O. Schwarz Education Center
Sarah Greenbaum, Education Manager
Finance 
Osman C. Kurtulus, Chief Financial Officer
Jordi Valls, Controller
Information Technology
Julius Erwin Quito, Director of Information Technology
Jake LaMalfa, Manager of Information Technology
Marketing and Communications
Sheryl Victor Levy, Vice President, Marketing and Communications
Marissa Martonyi, Design Director
Tara Dawson, Digital Marketing Manager
Operations
Jerry Gallagher, Chief Operating Officer
Cherisse Challenger, Director of Event Sales
Henry Galindo, Director of Facilities/Chief Engineer
Lindsay Vint, Retail Buyer
Inclusion, Diversity, Equity, and Accessibility (IDEA) Statement
As the Museum of the City of New York approaches its second century, we commit to fostering understanding through exhibitions, collections, and programs, by representing this great metropolis in our staff and leadership. The Museum has devised an institutional action plan based not only in its audience-driven mission, but in its committed values regarding inclusion, diversity, equity and accessibility (IDEA). View the Museum's IDEA Vision and Process and our IDEA Action Plan, finalized and approved in April 2019.
In Response to Recent Protests
Read the Museum's Statement on Racial Justice in English and español.
Audited Financial Statements
Acknowledgements
The relaunch of the Museum of the City of New York's website has been made possible in part by the Jerome L. Greene Foundation in honor of Susan Henshaw Jones.
The Museum is also grateful to the Altman Foundation for its support of digital initiatives.
Website Accessibility
The Museum is committed to facilitating accessibility of our website www.mcny.org, which is currently maintained in alignment with the World Wide Web Consortium's Web Content Accessibility Guidelines (WCAG) 2.0 AA guidelines. Our efforts to create an optimally accessible digital experience are ongoing. If users encounter problems accessing our online content or have suggestions or questions, please contact us at website@mcny.org with 'Website Accessibility' in the subject line.
Social Media Policy
MCNY's social media pages are intended to encourage storytelling, cross-cultural understanding, and inclusive, lively debate. 
To maintain an accessible, informative, and civil space, we ask those who engage with our social media content to abide by the guidelines.