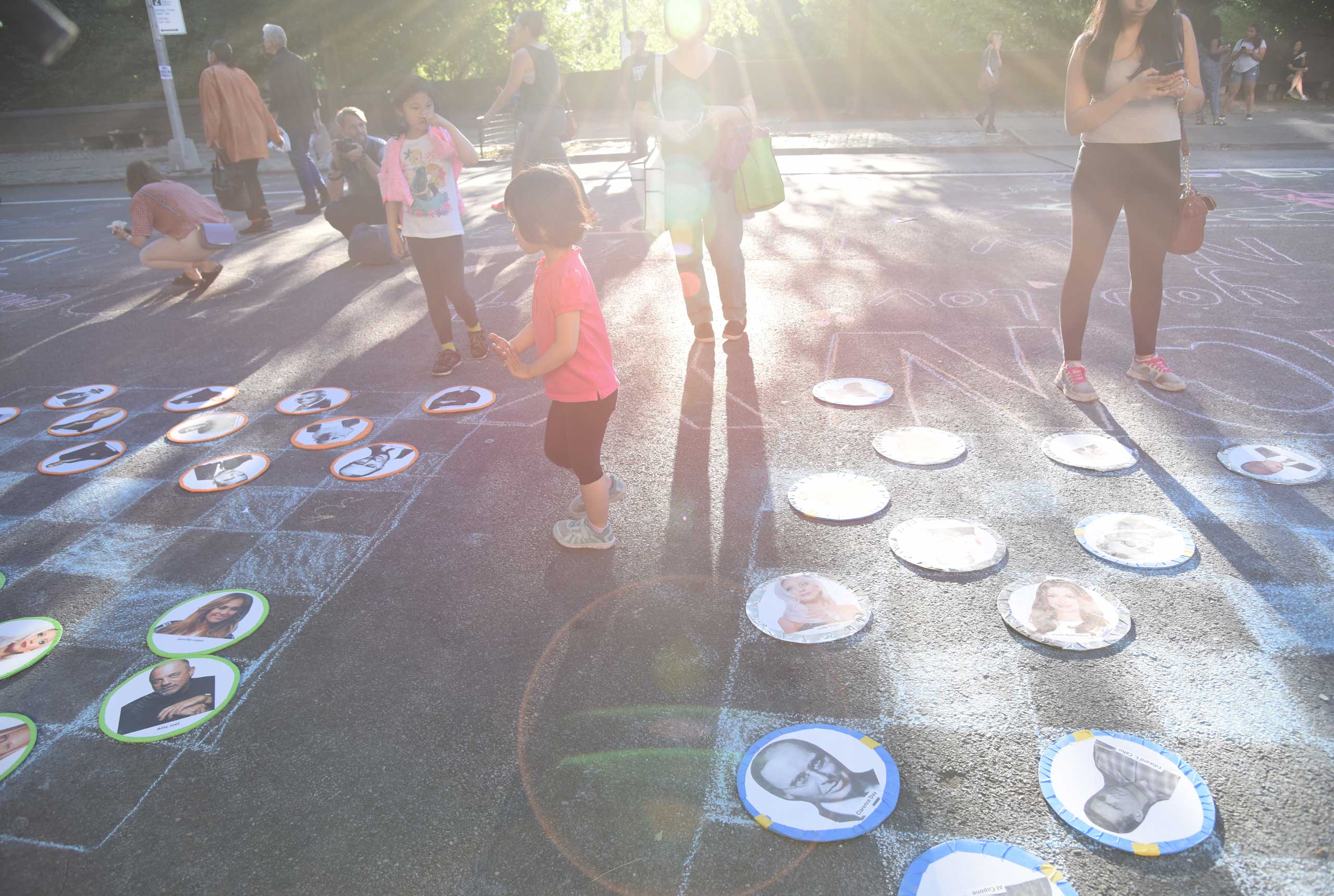 About the Schwarz Education Center
Education programs produced by the Museum's Frederick A.O. Schwarz Education Center utilize exhibitions and our incomparable collections to make the city's history compelling and accessible to young people, serving nearly 50,000 students each year, the great majority of whom attend under-resourced public schools.
The Center's programs address the persistent, city-wide problem of student underachievement in social studies. Our approach to the subject challenges children to build their critical thinking skills: interpreting evidence; connecting new information and prior knowledge; drawing reasoned conclusions; and communicating their conclusions and reasoning clearly. These skills are crucial to children's success in school, in the workplace, and throughout their lives.
Programs take place in the Center's state-of-the-art classrooms, Museum galleries, and in the city itself. All activities—including our flagship School Programs for groups visiting on field trips, out-of-school time programs, family programs, and professional development workshops for teachers—are led by trained museum educators.
Support Us
If you'd like to make a gift in support of our education programs please contact Polly Rua, Vice President for Institutional Advancement, at prua@mcny.org or 917-492-3303, or click on the link below to donate online.
Supporters
Frederick A.O. Schwarz Education Center Council
Vanya Desai, Nellie Gipson, Jane Goldman, DeWayne Phillips, Tracey Pontarelli, Valerie Rowe, and Melanie Wright
---
The Frederick A.O. Schwarz Education Center is endowed by grants from The Thompson Family Foundation Fund, the F.A.O. Schwarz Family Foundation, William Randolph Hearst Endowment, and other generous donors.
---
Frederick A.O. Schwarz Education Center programs are made possible through the generous support of:
Brenner Family Foundation
Charina Endowment Fund
Gray Foundation
The Gilder Lehrman Institute of American History
Stavros Niarchos Foundation
Henry Nias Foundation, Inc.
Robert and Kate Niehaus Foundation
The Rochlis Family Foundation
The Rowe Family Foundation
May and Samuel Rudin Family Foundation
Tianaderrah Foundation
U.S. Bank Foundation
An Anonymous Family Foundation
---
Additional support for the Schwarz Center is provided by:
Milton and Sally Avery Arts Foundation
Herbert and Edythe F. Benjamin Fund
Zita Ezpeleta
Robert Finger
Carol Gellos
Susan and Roy A. Glaser
Budd and Jane Goldman
The Gordon and Llura Gund Foundation
Kathleen Benson Haskins
Kamie and Richard Lightburn
Lone Pine Foundation
Rosemary McClare
Metzger-Price Fund, Inc.
Mr. and Mrs. Robert R. Morse
New York City Department of Education
Elizabeth and Matthew O'Connell
Elizabeth O. Pitts
F.A.O. Schwarz Family Foundation
Mr. Frederick A.O. Schwarz, Jr.
An Anonymous Donor
---
The Museum is grateful to The Andrew W. Mellon Foundation, which supports a Predoctoral Fellowship Program in History Education.
---
Programs in conjunction with Activist New York and Beyond Suffrage: A Century of New York Women in Politics are made possible by The Puffin Foundation Ltd.
---
Education programs for New York at Its Core are made possible by:
The Thompson Family Foundation
and
the Institute of Museum and Library Services