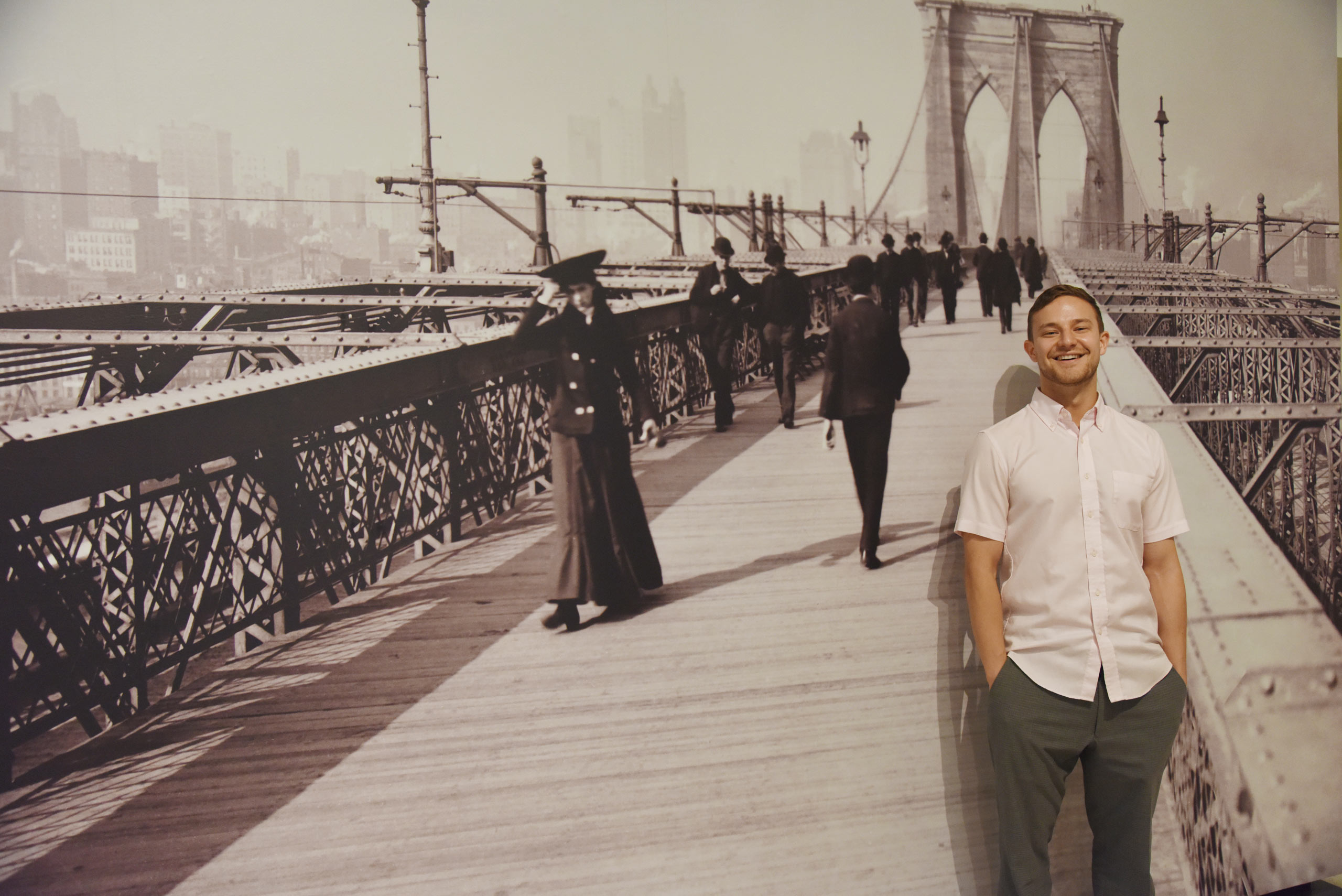 Jobs, Interns, and Volunteers
The Museum looks for enthusiastic, energetic, and professional individuals to be part of our team through a variety of opportunities including permanent staff positions, grant-funded positions, internships and volunteer positions. 
The Museum is committed to fostering a collaborative and respectful work environment with a staff as diverse as New York City and the audiences who are curious about learning more about its history and engaging in contemporary urban issues. Our staff members are dedicated to working towards a common goal: creating the most dynamic and inspiring city museum in the world.
The Museum of the City of New York is an equal opportunity employer. As such, the Museum provides equal employment opportunity for all employees and applicants without unlawful discrimination with respect to age, citizenship status, color, creed, disability, ethnicity, gender identification, marital status, military status or veteran, national origin, political association, political/personal convictions, predisposing genetic characteristics, race, religion, sex, sexual orientation, socio-economic status, geographic location, philosophies, or any other classification protected by federal, state or local laws, in all employment decisions, including but not limited to recruitment, hiring, training, compensation, promotion, demotion, transfer, lay-off, and termination, and all other terms and conditions of employment. All employment-related decisions are based solely on relevant criteria including training, experience, and suitability.
Jobs
Director of Major Gifts
Reporting to the Vice President, Development, the Director of Major Gifts is responsible for identifying and cultivating relationships with prospective major gift donors and planned giving donors. This involves full use of moves management principles, including prospect identification, and developing effective stewardship and solicitation strategies.
Read the full description
Director, Communications
The Museum's Marketing & Communications Department is responsible for raising the organization's visibility and promoting visiting the Museum. The Director of Communications plays a crucial role in that effort with a wide range of responsibilities for media relations, public relations, and additional marketing. The position reports to the Vice President for Marketing and Communications.
Read the full description
Theater Collections Specialist
The Museum of the City of New York is seeking a full‐time Theater Collection Specialist for a two‐year term, with the potential to extend based on funding. The successful candidate will specifically support ongoing work on the Theater Collection, and reports directly to the Vice President, Museum Collections, as a member of the Collections Department.
Read the full description
Digital Community Manager
The Museum of the City of New York seeks a candidate to oversee content across the Museum's social media, email, and print collateral to ensure accuracy, consistent voice, and alignment with marketing goals.
Read the full description
Communications Coordinator
The Communications Coordinator plays a support role in that effort with a wide range of responsibilities for media relations, public relations, additional marketing, paid media and administrative tasks. This position reports directly to the Vice President for Marketing and Communications with a dotted line to the Director of Communications.
Read the full description
Development Associate, Special Events
This position mainly focuses on assisting with the Museum's five major annual fundraising events, as well as several exhibition openings. Duties include processing gifts and creating reports from Altru, the database management system; assisting with the planning and execution of logistics of exhibition openings, and supporting the Special Events team by assisting with mailing of letters soliciting support, gift acknowledgements, invitation mailing, event logistics, and budget maintenance including expense accrual and the recording of income for all fundraising events.
Read the full description
Saturday Academy Instructor
The Museum, in partnership with the Gilder Lehrman Institute of American History and funding from the Charina Endowment Fund, seeks Saturday Academy instructors to join the Frederick A.O. Schwarz Education Center to teach electives in American history in either the fall (2019) or spring (2020) semesters.
Read the full description
Museum Scholar Tour Guides 
The Museum of the City of New York is recruiting Ph.D. candidates, post-doctoral researchers, and early-career academics interested in gaining experience in public history to provide tours as Museum Scholars to visiting groups including college/university students, foreign tourists, seniors, professional organizations, and alumni associations. 
Read the full description
Per Diem Educator
The Museum seeks Per Diem Educators to join the Frederick A.O. Schwarz Education Center to provide interactive experiences for school children about New York City's past, present, and future that are interdisciplinary and bring together history, art, and STEM connections in science, technology, engineering, and math.
Read the full description
Visitor Services Associate
The Museum seeks an enthusiastic and outgoing Visitor Services Associate to join the Visitor Services and Retail team. The ideal candidate should be well rounded and organized and must possess excellent communicative, interpersonal, and computer skills, with the ability to juggle multiple and diverse assignments. They will have experience working in a department office in a cultural institution, proven track record of working in a fast-paced environment, and proven success in a customer service role.
Read the full description
---
Fellowships
Currently there are no Fellowships being offered. Please check back for updates.
---
Internships
The Museum offers a variety of fall, spring, and summer internships for college and graduate students. Acceptance into the internship program is based on academic achievement, interests, experience, and availability. Applications are rolling, but follow a semester timeline. Time commitments are flexible and dependent on the Museum's needs. All internships are unpaid.
Internships are available in the following departments:
Collections
American Art Collections Internship  
The Museum of the City of New York seeks graduate student interns to assist the American Art Specialist with various Decorative Arts, Furniture, Paintings, and Sculpture Collections projects currently underway at the Museum's offsite collections facility, located in Brooklyn. Tasks will include collections storage re-organization, collections inventory and assessment, condition reporting, object cataloging, metadata recording, and processing. The intern will become familiar with the Cataloging Cultural Objects (CCO) data content standard and established museum best practices for the care of diverse media and object types. 

American Art Collections Internship : Description can be accessed here.
Collections Internship
The Museum of the City of New York seeks a graduate student intern to work on various projects currently underway with the Manuscripts and Ephemera Collection including object cataloging, re-housing, and collection processing. Tasks include, but are not limited to conducting condition assessments, recording physical metadata such as dimensions and locations, and/or creating descriptions for finding aids.
Digital Projects Intern
The Digital Projects Intern role is a researcher, storyteller, and project manager all in one. This role would be an apprenticeship under the Vice President, Marketing Communications. The project helps with the expansion and awareness of the Museum of the City of New York's brand and digital footprint by identifying, curating, and marketing our exhibitions and collections in digital applications (apps, online channels) that reaches both our on-site visitors and digital community.
Graphic Design 
Graphic Design seeks an intern who is currently attending college or graduate school for Graphic Design. The candidate will assist the Design Director and Design Team with layout and production of digital and print projects and exhibition design. Knowledge of Adobe's Creative Suite is required and illustration skills are a plus. Candidates should have good communication, organization, and computer skills. Time commitment is flexible, but a minimum of ten hours per week is preferred.
Information Technology 
The Museum's IT Department is currently looking for student interns to learn and assist with integrating technology into a business infrastructure. Applicants must be flexible in availability, with a minimum commitment of 12 to 16 hours per week.
Information Technology Internship: Description can be accessed here.
Marketing & Communications Intern
The Museum seeks a creative and energetic Marketing and Communications intern who is passionate about the arts and eager to gain real world experience working in public relations and marketing at a New York City cultural institution. The Marketing & Communications Internship is an unpaid position.
Public Programs Internship
The Public Programs Department is seeking an intern to join a professional, fast-paced work environment and assist with all aspects of Museum programming for adults. The intern should be either currently enrolled in college or graduate school or a recent graduate and have a passion for New York City history, cultural life, urban planning, architecture and design, and event planning.

Public Programs Internship: Description can be accessed here.
---
Volunteers
If you are interested in volunteering with the Museum of the City of New York, please fill out this application form. You may send the completed form to volunteercoordinator@mcny.org. Volunteer applicants must be available to serve as a Museum Greeter at least one weekend out of the month, in addition to their other assignments.Your application will be processed and you will be contacted for an interview as opportunities become available. We regret that we are unable to accommodate all who apply.
---
How To Apply
Jobs 
To apply for an open full-time or part-time position, qualified individuals can send their resume with cover letter and salary range to the attention of Human Resources at jobs@mcny.org (preferred method) or mail to Museum of the City of New York, 1220 Fifth Avenue, New York, NY 10029.
Fellowships
To apply for a fellowship, please submit the requested materials to the contact person as listed in the full job description above.
Internships
To apply for an internship, please submit a completed internship application, resume, cover letter, and any other relevant materials to:
Coordinator of Internship Programs at interncoordinator@mcny.org