Past Event: Cocktails & Culture: Sounds of Change
When:
Thursday, March 16, 2023, 6:00pm
This event has passed.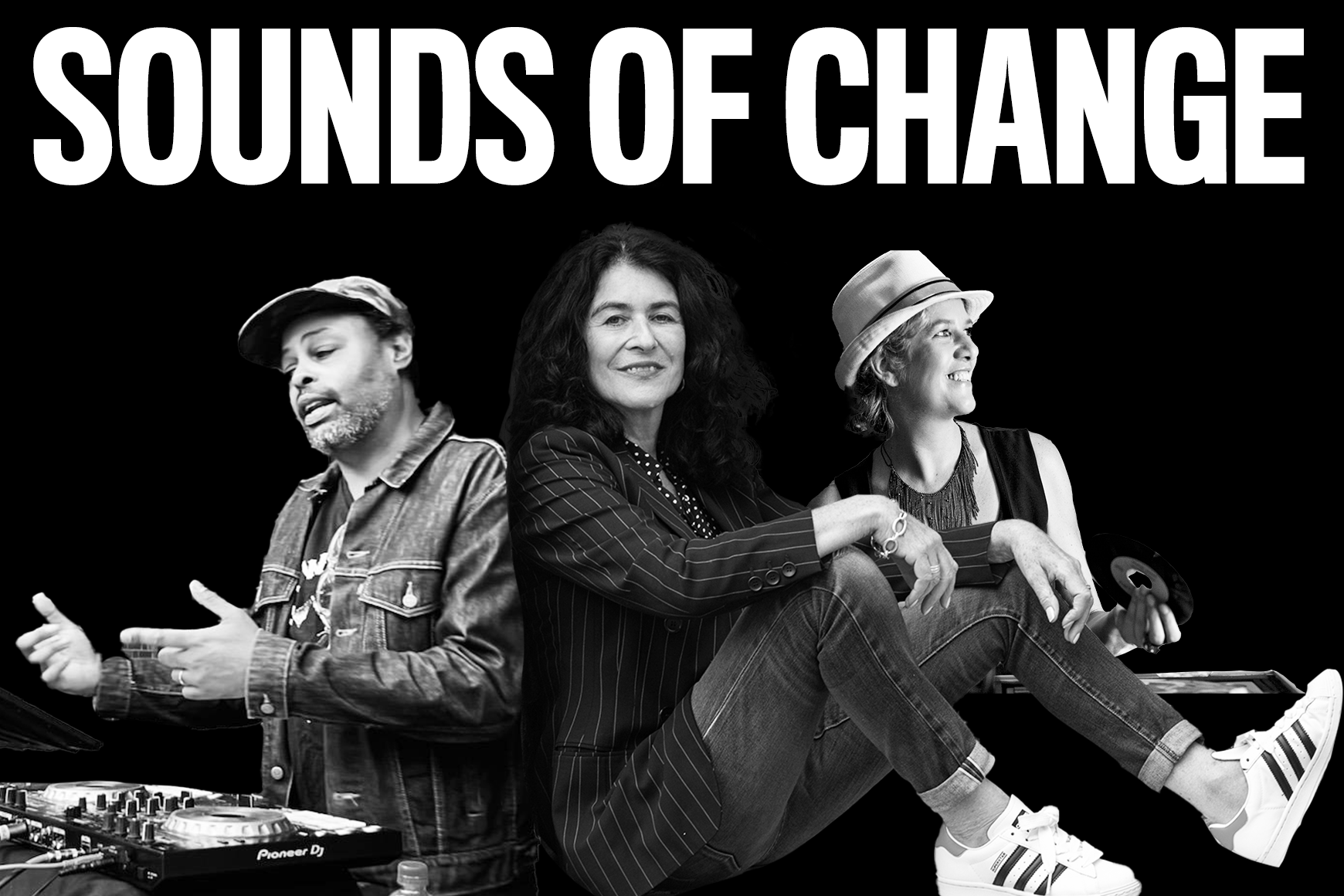 Our March edition of Cocktails & Culture celebrates the power of music and art to inspire social change. Veteran New York DJs Misbehaviour and Operator Emz will be spinning activist songs and beats by artists including Gil Scott Heron, Bob Marley, Public Enemy, Nina Simone, The Clash, and Kendrick Lamar.

Check out the work of celebrated photographer Janette Beckman, whose recent images of protests and social movements will be featured in a slideshow and live interview with Barnabas Crosby.  Enjoy bites by UGC eats! and drinks from the MCNY bar (additional purchase required).
The following exhibitions will be open late for viewing: Activist New York; New York Now; City of Faith, and Food in New York.

About Janette Beckman:
British-born photographer Janette Beckman began her career in the punk rock era working for music magazines The Face and Melody Maker. She shot bands from The Clash to Boy George as well as three Police album covers. In 1983 she moved to New York to document the underground hip-hop scene, photographing pioneers Run DMC, Slick Rick, Salt-N-Pepa, LL Cool J and many more. Her work has been shown in galleries worldwide and is in the permanent collections of the Smithsonian National Museum of African American History and Culture, the Museum of the City of New York and the British National Portrait Gallery. She has published six books, including The MashUp, a collaboration with iconic New York graffiti artists reinterpreting her hip hop images. Her new monograph covering 40 years of photography, Rebels From Punk To Dior, was published by Drago in November 2021. Janette continues to chronicle sub-cultures as well as photographing campaigns for brands like Dior and Levis. She is represented by the Fahey Klein Gallery.  
About DJ Operator Emz:
As a child of the Bronx, Michael "Emz" Greene witnessed the humble beginnings of hip-hop. But as a man of the world, Greene became a key figure in hip-hop's transformation from street culture to pop culture, as a disc jockey, radio personality, and record executive. Throughout his years in the entertainment business, Greene has worked personally with hip-hop figures like Tupac Shakur, Dr. Dre, and Snoop Dogg. He learned the nuts and bolts of promotion while working with legendary marketer Steve Rifkind, founder of Loud/SRC. Greene is an accomplished record producer and currently works with artists as diverse as Cyndi Lauper and Joell Ortiz. 
About DJ Misbehaviour:
London-born Misbehaviour has been rocking parties across the Globe since 1989, moving to Brooklyn in 1999. In 2017 a video of Misbehaviour Djing at Uptown Bounce at the Museum of the City of New York went Viral and accumulated a whopping 27M views. She has performed alongside such legends as Roy Ayers, Just Blaze, Biz Markie, Redman & Method Man and Sister Nancy in collaboration with Summer Stage. She is a resident at Mobile Mondays!, Vinyl Nights at Hudson Yards and Flippers Roller Rink at Rockefeller Plaza. Misbehaviour was recently featured in the New York Times Metro Section for their "Sunday Routine" series and has been a special guest on Hot 97 and Sirius XM. In demand overseas, Misbehaviour has performed in Australia for The Sydney Festival, London The Caribbean and Europe. 
About Barnabas Crosby (moderator):
Barnabas Crosby is a Brooklyn-based educator, visual storyteller, and native of Cleveland, OH. In 2021 Barnabas was the urbanism fellow with Design Trust for Public Space. His work has been displayed in Times Square, the Brooklyn Public Library, and can be seen on the Hulu comedy series "Everything is Trash." Barnabas is an adjunct instructor at Lehman College and a photography instructor at the Museum of the City of New York. 
This edition of Cocktails & Culture accompanies our ongoing exhibition, Activist New York.
Event Logistics (Subject to change based on NYC regulations)
For more information about the Museum's COVID Guidelines, please check our "Plan Your Visit" page.
Please contact programs@mcny.org with any questions
Activist New York is the inaugural exhibition in The Puffin Foundation Gallery, which is dedicated to the ways in which ordinary New Yorkers have exercised their power to shape the city's and the nation's future.