POSTPONED: Cocktails & Culture | Disability Awareness Poetry Jam
When:
Thursday, September 28, 2023, 6:00pm
Price:
Free with Museum Admission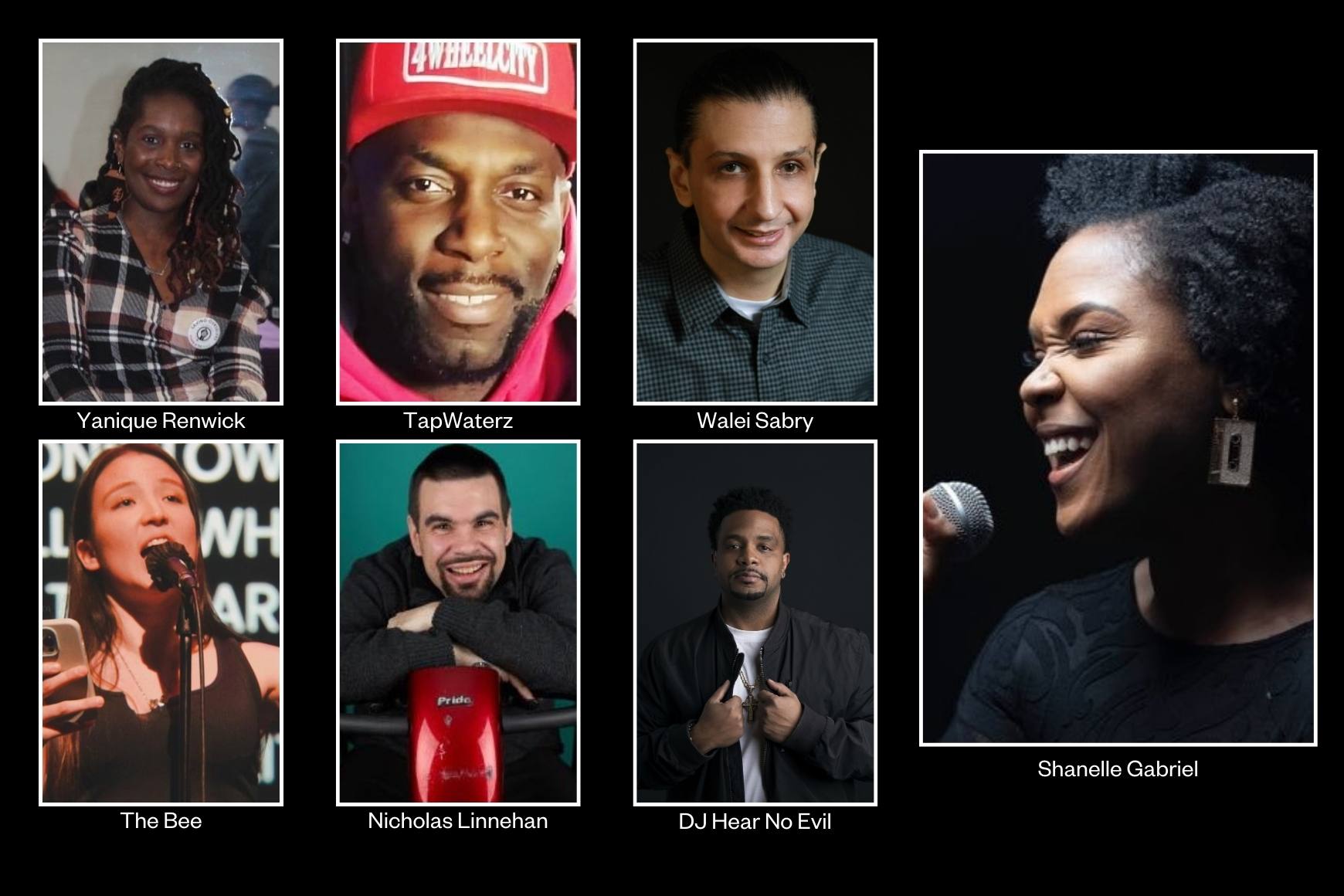 POSTPONED: check back for updates.
Join us for a night of poetry to amplify and celebrate disability voices at our Disability Awareness Poetry Jam, co-presented with the NYC Mayor's Office for People with Disabilities (MOPD). Hosted by poet, singer, and Brooklyn lupus warrior Shanelle Gabriel, the evening will feature performances by TapWaterz, Walei Sabry, Yanique Renwick, Nicholas Linnehan, and The Bee and live DJ'ed elements by DJ Hear No Evil.
Between sets, enjoy cocktails and drinks from the MCNY bar and light snacks.  All Museum galleries will be open late for viewing, including the newest section of Activist New York, "An Accessible City of All: Disability Rights in New York, 1968-2017."
ASL and CART services will be provided. Visit our accessibility page here for more information on what resources the Museum offers.
Please note, in accordance with the NYC Department of Health's COVID guidelines, the wearing of masks is strongly encouraged at this event. Free masks will be provided onsite. 
Featured Artists:
Shanelle Gabriel is an internationally touring artist, educator, and lupus warrior from Brooklyn, NY. Known for featuring on HBO's Def Poetry Jam, she has shared her fusion of poetry and singing on stages with artists such as Jill Scott, Nas, Mumu Fresh, Nikki Giovanni, J. Ivy, and Talib Kweli. She competed in the National and Individual World Poetry Slam Competitions, and has penned and featured in global poetry campaigns with Pandora Music, LifeWtr, and more. She is the co-host of the HydroxychloroQueenz podcast on living with Lupus while serving as the Executive Director at Urban Word, a youth organization that uses poetry & hip-hop to promote literacy and youth voice.  Mostly written mid-pandemic, Things I Need to Remember is Shanelle's third album of poetry and music and is available on all streaming platforms, along with her other albums, Aim High and Start Something.  shanellegabriel.com.
DJ Hear No Evil (HNE) is the first ever Hard of Hearing DJ to break barriers continuously taking the music industry by storm. HNE won several DJ/music awards, including being a 2x DJ Champions (DJ battles), earning the title of DJ of the year 2023, achieving the Rising Star of the Year award & securing other accolades in his name. He has collaborated with renowned artists such as Rotimi, The LOX, and Dres (Black Sheep), who have graced the stage with their performances. As a product of Mt. Vernon, NY, the city responsible for hip hop moguls such as Doug E Fresh, Pete Rock, Sean "P. Diddy" Combs, and Heavy D, music has always been a pivotal focus throughout his life.
As a member of Alpha Phi Alpha Fraternity, with a Bachelor of Science in Media Marketing/Accounting from Rochester Institute of Technology and Master Certifications in DJ and Production from Scratch DJ Academy, HNE makes it clear that his credentials are on point across the board. At a young age, he experienced a setback that only contributed to his success. Diagnosed as completely deaf in his left ear and partially hearing in his right ear, HNE was determined to feel and play music like the BEST of them, modeling his craft after icons such as DJ Jazzy Jeff, Kid Capri and DJ Scratch to name a few. His work is dedicated to two of his biggest supporters celebrating his success from up above his late father, DJ L.A. and best friend, Christopher Alexander Rucker-Ridley.
Namel "TapWaterz" Norris is a musician, advocate, and motivational speaker. He is one half of the rap duo 4 Wheel City, whose mission is to use hip-hop music and culture to create more opportunities for people with disabilities and spread awareness on disability. 4 Wheel City performs original music at hospitals, schools, rehabilitation centers, fundraisers, and events all over the world.
Dr. Nicholas Linnehan is an avid director, actor, and writer for film and stage.  Previously he has written four new original full length theatrical new works: The Real Story, Identity (award-winning) and, Erosion: Life on Life's Terms, which first premiered in January 2011. He has written several children's adaptations including Pinocchio, Cinderella, Peter Pan and Sleeping Ugly. His playwriting canon also includes many one-act plays. has worked as a director for many children's shows and taught several drama classes for children over the last 25 years. Nick graduated from CW Post at Long Island University with his BA in Theater, a MA in Education from Queens College, and an EdD in Community Engaged Theater from New York University. In Jan 2019, He wrote, directed, produced and starred in his first short narrative film Catfish?, which garnered praise, winning awards in multiple festivals including Best Narrative Short Film in the Stamped Out Film Festival in Pensacola, Florida. Favorite past acting credits: Catfish? (Mike), The Miracle Worker (Dr. Agnanagnos), Identity (Mike) The Merry Wives of Windsor (Dr. Caius), The Real Inspector Hound (Moon),The Tempest (Caliban).  Favorite past directing credits: Rumpelstiltskin, Pinnochio, Identity, Measure for Measure, Mel and God, and Ambrosio. He eagerly looks forward to making great theater with great people!
As a blind New Yorker and an accessibility advocate, Walei Sabry has previously worked for NYC government where he was responsible for making sure that the City of New York's digital products can be accessed by all. Currently, he is an accessibility product manager at Walmart where he gets to work on making internal products accessible so that Walmart can hire more people with disabilities. But his passion for accessibility and inclusion doesn't stop there.  Whether it's by providing digital accessibility services in his professional life, organizing local meetups for the disability community  or advocating for inclusion in his comedy, wherever he goes, Walei is constantly changing perceptions one joke at a time.
Ever since Yanique Renwick had her poetry published in her middle school newspaper, she has been writing for 12 years. Yanique has performed for basketball halftime shows, fundraisers, and showcases. She's written poems on numerous topics, such as love, alcoholism, politics, community, and healing. She has also written and published her own anthologies entitled "The Black Trojan Woman" and "To Be Defined." Yanique is affiliated with organizations such as Queens Underground Poets, Generation Verb, and ISPIT. She has performed at Inspired Word NYC, The Bowery poetry cafe, and Triple Play Tuesdays at the Hexagon Lounge. Yanique aims to give the speechless a voice as she strives to impact the community with her words and continuously inspire others. She especially sis this through her work in the nonprofit organization she founded called Diagnosed Dreamers, that serves children with disabilities.
Free with Museum Admission
Members: To receive your discount, click on the "Buy Tickets" button above, then sign in to your account on the ticketing page.
Accessibility: Please contact the Museum at 917.492.3333 or info@mcny.org with any questions.
Partners
 This program is co-presented by the NYC Mayor's Office for People with Disabilities (MOPD).
Activist New York and its associated programs are made possible by The Puffin Foundation, Ltd.