Past: Green Activist New York Fest
When:
Sunday, October 17, 2021, 11:00am
This event has passed.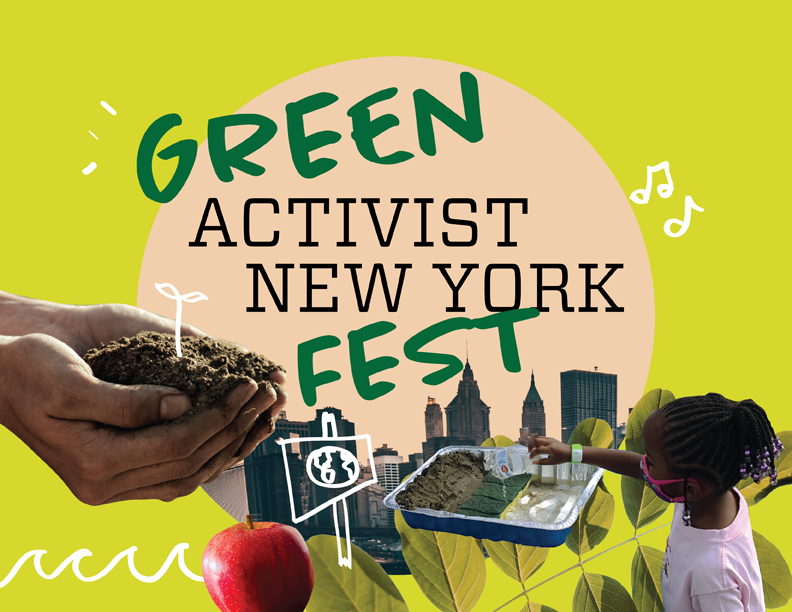 Feeling overwhelmed by the news? Learn how to take action and get empowered. No activist experience necessary!
Join us for a free, outdoor day of intergenerational learning, empowerment, action, and art inspired by the city's thriving climate activism scene. Civically engaged citizens of all ages are a critical part in the response to the climate crisis! Hear from inspiring young climate activists at our Speak-out forum; participate in hands-on environmental educational activities; check out our Green Fair featuring eco-conscious local vendors and artisans; and enjoy a live performance by Control the Sound, a young rock band from Brooklyn. 
This program is presented in partnership with the Waterfront Alliance.
This event accompanies the Museum's current exhibition, Rising Tide: Visualizing the Human Costs of the Climate Crisis, and our ongoing exhibition Activist New York. 
Event Timeline: 
11:00 am: Green Fair (Front Terrace) and family-friendly workshops (South Terrace) begin 
1:00 pm: Speak-out with climate activists Kadi Ba, Kathryn Gioiosa, Giselle Herrera, Anna Kathawala, Josh Otero, LJ Portis, and others (South Terrace)
2:00 pm: Performance by Control the Sound (South Terrace)
3:00 pm: Event concludes
Throughout the day: 
Participate in family-friendly environmental workshops hosted by the Waterfront Alliance:   
Coastal Engineering in a Tray: Learn more about the science behind making our shorelines safe and inhabitable. In this activity, build your own shoreline in an aluminum baking tray!
Water Quality Testing: Conduct water quality tests using pH strips and hydrometers.
Permeability Mapping Around MCNY: What's the difference between permeable and impermeable surfaces? A 10-15 minute tour around MCNY where we map out the different surfaces in the area.  

Browse and shop our Green Fair, a selection of eco-conscious, local and NYC vendors including Askanya Chocolate, By Liv Handmade, The Canvas NYC, Dorely NYC, Earth & Me, Farewell Frances, Native New Yorker 1977, Nose Best Candles, RedMoon Bronx Soaps & Tea, and more!
About Control the Sound: 
Control the Sound is a Brooklyn-based, genre-bending group who blend hip-hop, funk and rock to make a sound all their own. Their roots trace back to an elementary school talent show and now the teens have over 100 gigs under their belt, including BET Live in LA, Brooklyn Steel and the Brooklyn Bowl. They are electric performers that know how to light up a crowd! www.controlthesound.net 
About our Speakers:
Kadidjatou "Kadi" Ba (she/her) is a Harlem native who has been a part of Harlem Grown since its founding in 2011. Her involvement has varied from a participant of the program, learning about food justice and urban gardening, to becoming an official youth ambassador, representing Harlem Grown on a variety of panels and conferences including the 2017 Greenthumb Conference where she was the keynote speaker to several food and climate justice panels at the United Nations. She is currently in her second year of college at New York University where she is creating her own major at the Gallatin School of Individualized Study. She hopes to create a concentration in which combines international development and sustainability. 
Kathryn Gioiosa is the co-Political Director of TREEage, a New York City and State based youth policy and political organization fighting to elect climate champions to office and pass equitable climate policy. Kathryn works with TREEage's membership to engage young people to get involved in local elections and government through organizing rallies, lobby visits, and more. She is a Queens native and currently on a gap year before attending CUNY Macaulay Honors College at City College.
Giselle Herrera is the Youth Development Program Manager at Rockaway Initiative for Sustainability and Equity (RISE) working closely with students on a variety of pressing topics in the socially and ecologically unique NYC peninsula. Before joining the RISE team, Giselle carried out urban ecology research while also participating in environmental education. She has always been interested in the intersection of human interaction and wildlife, as seen in the projects she's worked on involving coyotes, black bears, and rats. For Giselle, working on coordinating a variety of youth programs at RISE strikes the perfect balance between science and education to produce long-term change toward environmental stewardship, sustainability, and community activism. Giselle has a Master of Science in Ecology and Evolutionary Biology from Fordham University.

Anna Kathawala is a junior in high school in Manhattan. She works as a lead coordinator for the Fridays for Future movement in New York City, organizing city-wide strikes and lobbying efforts. Anna also organizes with New York Youth Climate Leaders, where she is the regional field organizer for New York City, and works with the Fossil Fuel Nonproliferation Treaty Organization. She is passionate about defending our planet, as well as advocating for racial, social, and economic justice. 
Josh Otero is the Trails Community Engagement Coordinator at the Natural Areas Conservancy (NAC). NAC is a non-profit organization devoted to restoring and conserving forests and wetlands in New York City. Josh works closely with NYC Parks and other partners and groups throughout NYC to foster community stewardship and care of New York City's natural areas and nature trails. 
Lonnie "LJ" Portis is an Environmental Policy and Advocacy Coordinator at WE ACT for Environmental Justice, focusing on the organization's New York City policy initiatives. As a policy and management consultant before joining WE ACT, LJ collaborated with a New York City Councilmember to explore the adaptive reuse of Rikers Island for urban farming. He previously served as an Operations & Administrative Assistant for One Medical, a Community Engagement Assistant for the Manhattan Borough President Office, an Obesity Prevention Policy Assistant for the New York Academy of Medicine, and as a College Aide for the New York City Department of Health and Mental Hygiene. He holds a Bachelor of Arts in English literature from the City College of New York and a Master of Science in urban policy analysis and management from the New School.
The Veggie Nuggets is a Queens-based youth climate activism group of middle-school teens who have been working together on various climate initiatives for the past few years, such as stopping the fracked-gas NRG power plant in Astoria, lobbying for CLCPA, working with a community composting site called JH Scraps, and creating their own urban garden in Jackson Heights.
About our Partner:
The Waterfront Alliance inspires and effects resilient, revitalized, and accessible coastlines for all communities. After more than a decade of leading the charge in how the New York metropolitan region views and uses its harbor, and with more than 1,000 Alliance Partners committed to bringing real change to our region's 700+ miles of coastline, in 2019 the Waterfront Alliance stepped into a new and critical leadership role to define New York Harbor's response to sea level rise and coastal storms. Our crucial, long-term focus on increasing waterfront accessibility for all, along with our efforts to advocate for a working waterfront that is a vital source of business activity and well-paying jobs and educating the next generation of waterfront stewards, continue as essential pillars of our work to create a well-adapted and resilient New York Harbor. waterfrontalliance.org
Event Logistics (subject to changed based on NYC regulations):
Proof of vaccination is required for entry to the event (everyone over the age of 12), so please plan ahead! Excelsior Pass is accepted for those who were vaccinated in NYS. 
Masks will be required.
In the event of rain, the program will be moved indoors.
For more information about the Museum's COVID Guidelines, please check our "Plan Your Visit" page.
Please contact programs@mcny.org with any questions or ticketing issues.
Don't forget to BYOB: bring your own water bottles! 
Partners
Activist New York and its associated programs are made possible by The Puffin Foundation, Ltd. 
Rising Tide is made possible in part by Suellyn and Ted Scull, Elizabeth R. Miller and James G. Dinan, the Mondriaan Fund, the Dutch Culture USA program by the Consulate General of the Netherlands in New York, Gurudatta and Margaret Nadkarni, Polly and Newton P.S. Merrill, Robert A.M. Stern Architects, LLP, and the Netherland-America Foundation.