Past Event: Cocktails & Culture: STUDIO 1220
When:
Friday, September 17, 2021, 5:00pm
This event has passed.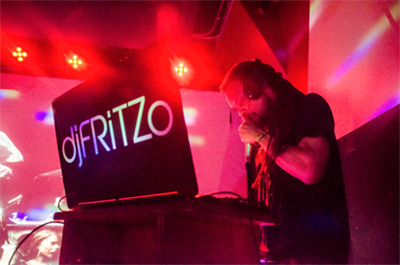 Masks and proof of vaccination required.
Hit the dance floor at djFRiTZo's '80s Music Video Jam surrounded by the sights and sounds of your favorite '80s music video artists at tonight's all-outdoors edition of Cocktails & Culture! Be sure to check out the MC'NY Poets' Café hosted by Shanelle Gabriel, this month featuring Mahogany L. Browne, among others; bring your poems, songs, whatever way you express yourself, and sign up for the open mic! Enjoy delicious West African food from the Teranga pop-up café, plus specialty cocktails from the MCNY bar.  
Both our hit exhibitions New York, New Music: 1980-1986 and Puppets of New York will stay open for late viewing.  
Event Timeline:
5:00 pm - djFRiTZo's '80s Music Video Jam begins (Front Terrace)  
5:45 pm - Sign-up for MC'NY Poets' Café begins (South Terrace). First time performers welcome! 
6:00 pm - MC'NY Poets' Café begins (South Terrace)
8:00 pm - Museum closes
About djFRiTZo:
djFRiTZo the filmmaker/ soundscaper/ crowd motivator. An original Brooklynite, Fritzo proudly shoulders the mission of cultivating the lost spirit of NYC nightlife: when partying was about expression, style, and sweat. A true music lover, djFRiTZo has a vinyl collection of over 20,000 records, and an equally extensive digital library of music videos, that span many genres and eras. As a former music video director, he combined his two passions, music and the moving picture and created the Music Video Jam! where he mixes music videos on HD screens, immersing guests in a unique visual and sonic experience. Having honed his craft over the years in countless NYC clubs, bars, galleries, warehouses, a night with djFRiTZo is an entertaining experience thru music and memories. www.djfritzo.com
About Shanelle Gabriel:
Shanelle Gabriel is a poet, singer, and lupus warrior from Brooklyn, NY who has performed internationally including Africa and Europe. Widely known for featuring on HBO's Def Poetry Jam, she has shared the stage with artists such as Jill Scott, Nas, Nikki Giovanni, and more. She was listed as one of Blavity.com's "Artist Activists You Should Know" and one of "8 Millennial Feminist Poets That Deserve Recognition" by BET.com. Shanelle is also a health activist who has featured on the Lifetime Network about her continued battle with lupus. Presently, she is working on her third album while serving as the Interim Executive Director at Urban Word NYC, a youth organization that uses poetry & hip-hop to promote literacy and youth voice. shanellegabriel.com
About Mahogany L. Browne:
Mahogany L. Browne is the Executive Director of JustMedia, a media literacy initiative designed to support the groundwork of criminal justice leaders and community members. This position is informed by her career as a writer, organizer, & educator. Browne has received fellowships from Agnes Gund, Air Serenbe, Cave Canem, Poets House, Mellon Research & Rauschenberg. She is the author of recent works: Chlorine Sky, Woke: A Young Poets Call to Justice, Woke Baby, & Black Girl Magic. Browne is the founder of the diverse lit initiative, Woke Baby Book Fair; and is excited about her latest poetry collection. I Remember Death By Its Proximity to What I Love is a book-length poem responding to the impact of mass incarceration on women and children). Based in Brooklyn, she is the first-ever Poet-in-Residence at Lincoln Center. mobrowne.com 
Event Logistics (Subject to change based on NYC regulations)
Proof of vaccination is required for entry to the event (everyone over the age of 12), so please plan ahead! Excelsior Pass is accepted for those who were vaccinated in NYS. 
Masks will be required both indoors and outdoors.
For more information about the Museum's COVID Guidelines, please check our "Plan Your Visit" page.
Please contact programs@mcny.org with any questions or ticketing issues.