Past Event: Make Some Noise at MCNY
When:
Wednesday, July 18, 2018, 7:30pm
This event has passed.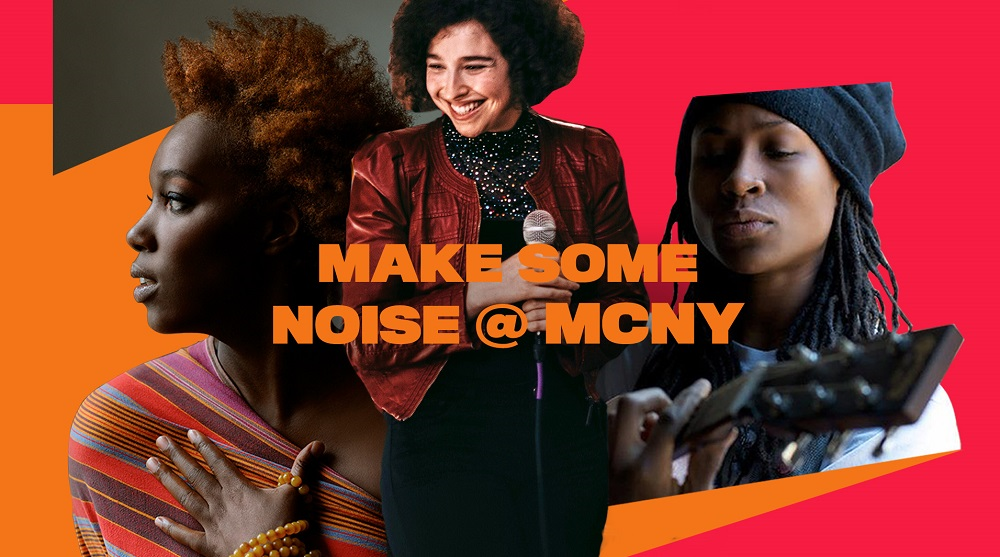 An outdoor concert on the Museum's Terrace featuring knockout performances by vocalist and composer Imani Uzuri, who will also MC the evening, and Zoe Allyn and JackLucy, two rising stars of New York City's singer-songwriter scene. This musical celebration marks the grand finale of Beyond Suffrage: A Century of New York Women in Politics and launches our new exhibition, Rebel Women: Defying Victorianism. Both exhibitions will be open late, drinks and snacks will be available from Amy's Bread, and HeadCount will be offering attendees the chance to register to vote. 
 
Event Timeline:
6:30 pm - Doors open; drinks and snacks will be available for purchase.
Beyond Suffrage and Rebel Women will be open for after-hours viewing
7:30 pm - Concert begins on the Museum's Terrace
8:30 pm - Concert concludes
About the Performers:
Imani Uzuri is a vocalist, composer and cultural worker. Uzuri creates concerts, experimental theater, performance art, theater compositions and sound installations in international venues/festivals including Lincoln Center Out of Doors and New York's Central Park SummerStage. Uzuri is the founder and artistic director of Revolutionary Choir -- community singing gatherings formed to teach historical and new protest/freedom songs. Artist page here.

Zoe Allyn is a pop vocalist and singer/songwriter from Westchester, New York. Zoe has written her own content for over four years, working on both solo and collaborative projects with talented music-lovers in the New York, Connecticut, and New Jersey area. Zoe has performed at the Bitter End, the Sidewalk Café, and other acclaimed venues throughout New York City. You can find her on Facebook and SoundCloud @ZOEALLYN.

JackLucy is a New York City based singer-songwriter who mixes melodies of the folk persuasion with a percussive guitar style. She has been the opening act for the Back Street Boys and Anthony Hamilton. Taking part in the New York underground world of music, JackLucy performs in various subway stations along the Upper West Side of Manhattan. JackLucy's 2014 self-released "1827" EP is available on iTunes, Spotify and Sound Cloud.
Presented in collaboration with Make Some Noise, a partnership between Barnard College and Summer on the Hudson (NYC Parks & Riverside Park Conservancy).

This program accompanies our exhibition, Beyond Suffrage: A Century of New York Women in Politics (on view through August 5, 2018) and Rebel Women: Defying Victorianism (opens July 17, 2018). To view more Beyond Suffrage programs in this series, click here.

View music videos of the performers here: 
Our Partners
Special thanks to She's Running and Women In Music.