QUEER|ART|FILM: Before Night Falls
When:
Monday, October 2, 2017, 8:00pm
This event has passed.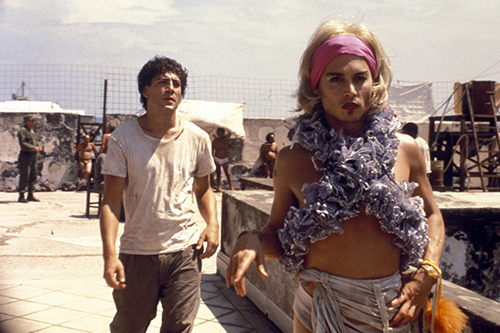 Please note that this program is presented by Queer|Art. It will take place at the IFC Center at 323 6th Ave, New York, NY 10014.
Join Queer|Art for a screening of Before Night Falls (2000, 133 min, 35 mm), Julian Schnabel's riveting adaptation of Reinaldo Arenas' memoir. The film follows the gay Cuban poet and novelist (portrayed by Javier Bardem) from childhood to death. Stops along the way include copious amounts of sexual exploration, fighting with Castro's rebels, and a harrowing escape from prison (with a cameo assist from Johnny Depp in drag). His struggles continue when he arrives in NYC at the dawn of the AIDS crisis.

For our guest presenter, photographer Luna Luis Ortiz, Arenas' life story echoes his own experiences as "being gay, an artist, Latino and living with HIV." Ortiz' photos are currently featured in the exhibition AIDS at Home at the Museum of the City of New York.

The screening will be followed by drinks and discussion at Julius Bar (159 West 10th St. at Waverly), the oldest gay bar in New York City!
Queer|Art|Film is a monthly screening series held at the IFC Center in Greenwich Village in which some of New York's more unique artists present and discuss the films that have most inspired them. The series is curated by filmmakers Adam Baran and Ira Sachs.
Co-presenters
QUEER|ART is a non-profit arts organization serving a diverse and vibrant community of LGBTQ artists across generations and disciplines. By fostering the confident expression of LGBTQ artists' perspectives, stories, and identities, QUEER|ART gives voice to a population that has been historically suppressed, disenfranchised, and often overlooked by traditional institutional and economic support systems.