Past Event: Home Video: Media Art in Response to HIV/AIDS
When:
Thursday, July 27, 2017, 7:00pm
This event has passed.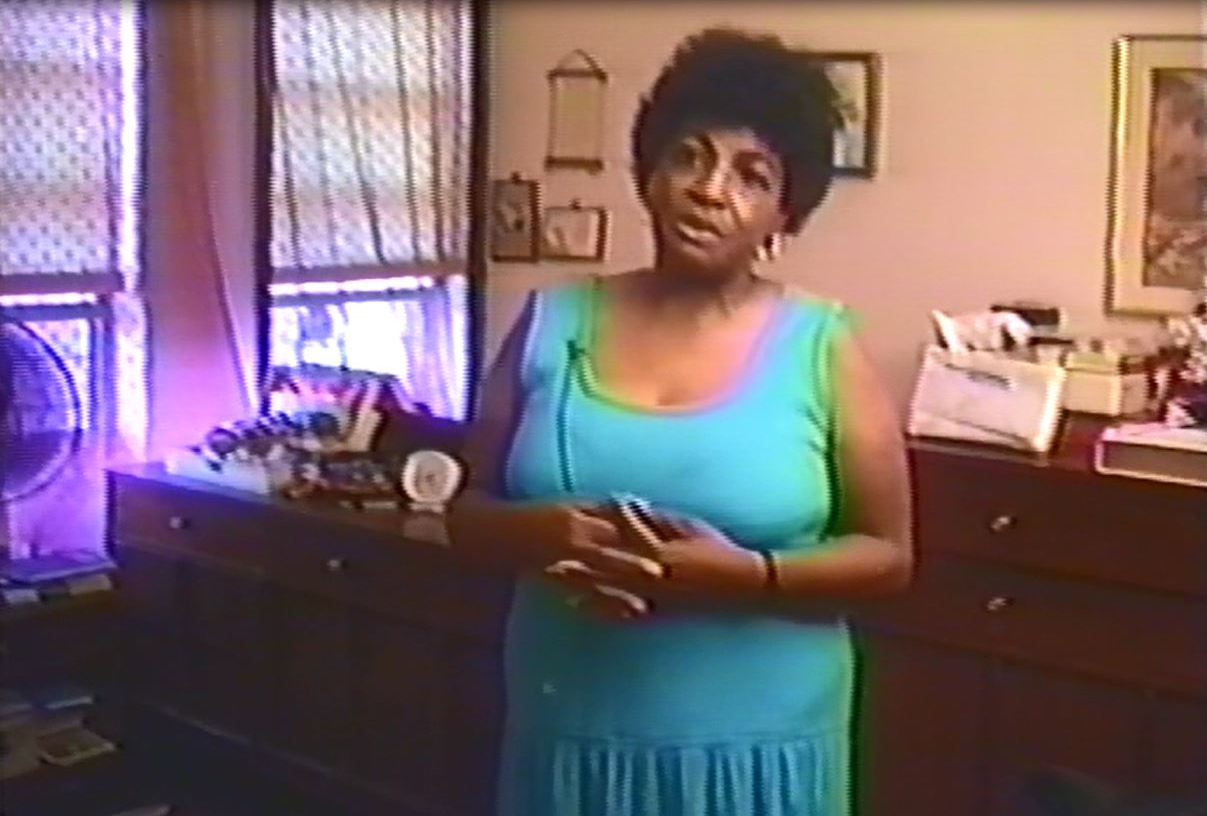 Please note that this program will take place at Electronic Arts Intermix (EAI) at 535 W 22nd St, 5th Floor, New York, New York 10011.
The Museum of the City of New York and Electronic Arts Intermix (EAI) co-present "Home Video: Media Art in Response to HIV/AIDS," a screening and discussion of three videos that reveal how activists and artists documented and reshaped everyday responses to HIV/AIDS in the 1980s and 90s. The three videos in the program engage the concept of "home video," making use of consumer video technology and the aesthetics of the camcorder era to create works that explore the intersections of art, caretaking, family, and home.
Alexandra Juhasz and Juanita Szczepanski, members of video collective WAVE, will share an excerpt from We Care: A Video for Care Providers of People Affected by AIDS (1990), featured in AIDS at Home; Karl McCool of EAI will screen and discuss The Thursday People (1987), created by George Kuchar in memory of filmmaker Curt McDowell; and filmmaker and artist Charlie Ahearn will present his video portrait of painter Martin Wong (1992/1998). AIDS at Home curator Stephen Vider will moderate.

About the speakers:
Charlie Ahearn has documented street culture and the rise of hip hop in New York City since the 1970s. His films include Wild Style (1983). His work has been screened and exhibited at venues including PS1, and most recently, P.P.O.W Gallery, which presented Ahearn's solo exhibition Scratch Ecstasy. 
Alexandra Juhasz is the author of AIDS TV: Identity, Community and Alternative Video (Duke, 1995), and AIDS educational videos including Living with AIDS: Women and AIDS (with Jean Carlomusto for GMHC, 1987). She is the chair of the Film Department at Brooklyn College and recently co-curated EVERYDAY, and Day With(out) Art video program: Compulsive AIDS Video.
Karl McCool is the Distribution Manager at Electronic Arts Intermix (EAI), a nonprofit resource fostering the creation, exhibition, distribution, and preservation of media art. In addition, he advises film and video makers in media preservation and archiving. From 2011 to 2016, he was Associate Director of Dirty Looks.
Juanita Szczepanski was one of the founding members of WAVE in 1989. She produced numerous video for Gay Men's Health Crisis's "Living With AIDS" television program, including the segment Two Men and a Baby. Her production company Diversity Video Productions (with her husband Henry Szczepanski) has produced videos on issues dealing with AIDS, homeless, disability and youth.
Stephen Vider is an Andrew W. Mellon Postdoctoral Fellow at the Museum of the City of New York and curator of the exhibition AIDS at Home. He was also co-curator (with Donald Albrecht) of Gay Gotham: Art and Underground Culture in New York AIDS at Home draws on research from his book, Queer Belongings: Gay Men, Lesbians, and the Politics of Home After World War II (forthcoming from University of Chicago Press).
Co-presenter
Electronic Arts Intermix (EAI) is a nonprofit arts organization that fosters the creation, exhibition, distribution, and preservation of moving image art. A New York-based international resource for media art and artists, EAI holds a major collection of over 3,500 new and historical media artworks, from groundbreaking early video by pioneering figures of the 1960s to new digital projects by today's emerging artists. EAI works closely with artists, museums, schools and other venues worldwide to preserve and provide access to this significant archive: www.eai.org.