POSTPONED: Who We'll Be: Imagining the Future City
When:
Wednesday, April 29, 2020, 6:30pm
This event has passed.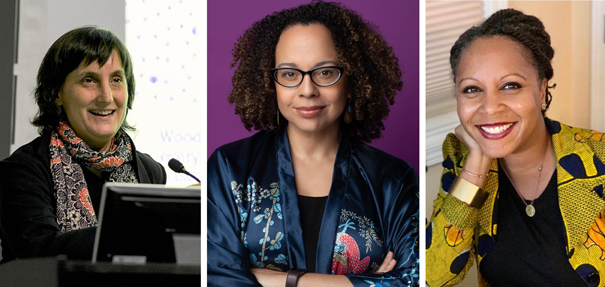 Please check back regularly for updates about possible livestreaming or postponement.
What will New York City look like in the coming decades? Will it diversify more, become less white and more Hispanic and Black, and draw more immigrants from Central America, South Asia, and West Africa? Will the city become still denser, and will inequities and income disparities persist? Educators, planners, artists and civic leaders discuss how to meet the challenges of the city's changing demographics and design the New York of tomorrow. With political scientist Dr. Christina Greer (Fordham University), architect Laura Kurgan (Columbia University), and Leticia Peguero, vice president of programs at The Nathan Cummings Foundation.
About the Speakers:
Dr. Christina Greer is an Associate Professor of Political Science at Fordham University - Lincoln Center (Manhattan) campus. Her research and teaching focus on American politics, black ethnic politics, urban politics, quantitative methods, Congress, New York City and New York State politics, campaigns and elections, and public opinion. Greer's book Black Ethnics: Race, Immigration, and the Pursuit of the American Dream (Oxford University Press, 2013) investigates the increasingly ethnically diverse black populations in the US from Africa and the Caribbean. She is the host and producer of The Aftermath with Christina Greer on Ozy.com.
Laura Kurgan is Professor of Architecture at the Graduate School of Architecture Planning and Preservation at Columbia University, where she directs the Center for Spatial Research (CSR) and the Visual Studies curriculum. She is the author of Close Up at a Distance: Mapping, Technology, and Politics (Zone Books, 2013), and Co-Editor of Ways of Knowing Cities (Columbia Books on Architecture, 2019). From 2004 through 2015, she founded and directed the Spatial Information Design Lab (SIDL) at GSAPP.

Leticia Peguero brings more than 20 years of experience leading and managing programs and grantmaking at the intersections of social and racial justice and the arts to her role as Vice President of Programs at the Nathan Cummings Foundation. Leticia has worked at organizations throughout the Tristate area such as the Andrus Family Fund, Posse Foundation, the Robert Wood Johnson Foundation–LFP Program, Planned Parenthood of New York City, and the Door. She holds a Bachelor of Arts degree from Fordham University and graduated with honors from the Marxe School of Public Affairs with a Master of Public Administration.

This program accompanies our exhibition Who We Are: Visualizing New York by the Numbers (through Summer 2020) as well as the Museum's Future City Lab, the interactive third gallery in our New York at Its Core exhibition. To view all of the programs in this series click here. 
Supporters
Public programs inspired by Who We Are: Visualizing NYC by the Numbers are made possible by The Andrew W. Mellon Foundation.
Who We Are: Visualizing NYC by the Numbers is made possible in part by The Andrew W. Mellon Foundation, An Anonymous Family Foundation, Carnegie Corporation of New York, Bloomberg Philanthropies, The New York Community Trust, Zegar Family Foundation, Charles H. Revson Foundation, and Blair and Cheryl Effron.