Past Event: The City We Became: A Conversation with N.K. Jemisin
When:
Wednesday, May 13, 2020, 6:30pm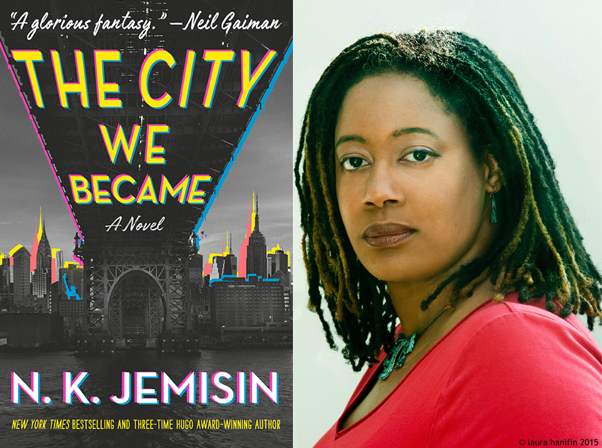 This event will be taking place virtually and will be available to watch on Facebook. Please note that you do not need to have a Facebook account to watch the event. To tune in, click here at 6:30 pm ET on Wednesday, May 13.
Speculative fiction and Hugo award-winning writer N.K. Jemisin sits down with organizer and activist Whitney Hu to discuss her novel, The City We Became (March 2020).  The story follows six characters -- each avatars of the five boroughs, and one of the city as a whole (based on demographic research done by Jemisin) as they come together to defend New York from annihilation. These composite representations of the city offer a window into how we define ourselves, both individually, and collectively as New Yorkers, and how we can form connections and communities and "live together," even in a metropolis as large as NYC. 
You can purchase The City We Became online at these NYC bookstores: Books Are Magic, Greenlight Bookstore, and WORD Bookstore.
This program accompanies our exhibition Who We Are: Visualizing NYC by the Numbers (open through August 23, 2020) as well as the Museum's Future City Lab, the interactive third gallery in our New York at Its Core exhibition. To view all of the programs in this series click here. 
About the Speakers:
N. K. Jemisin is the first author in history to win three consecutive Best Novel Hugo Awards, all for her Broken Earth trilogy.  Her work has also won the Nebula, Locus, and Goodreads Choice Awards. She has been a reviewer for the New York Times Book Review, and an instructor for the Clarion and Clarion West writing workshops.  In her spare time she is a gamer and gardener, and she is also single-handedly responsible for saving the world from King Ozzymandias, her dangerously intelligent ginger cat, and his phenomenally destructive sidekick Magpie. 
Whitney Hu is a Brooklyn-based organizer and activist running for City Council in District 38 focusing on housing and immigration issues. She currently works for Outvote where she works with progressive campaigns and advocacy organizations across the nation. She's the former director of public programs of the National Book Foundation where she helped to launch NBF Presents, Literature for Justice, and Author in Focus featuring James Baldwin. Prior to that, she was the marketing director at the Strand Book Store. You can find her on Twitter at @whitney_hu.
Supporters
Public programs inspired by Who We Are: Visualizing NYC by the Numbers are made possible by The Andrew W. Mellon Foundation.
Who We Are: Visualizing NYC by the Numbers is made possible in part by The Andrew W. Mellon Foundation, An Anonymous Family Foundation, Carnegie Corporation of New York, Bloomberg Philanthropies, The New York Community Trust, Zegar Family Foundation, Charles H. Revson Foundation, and Blair and Cheryl Effron.