Past Event: Housing Tech City? New York's Future With(out) Amazon
When:
Wednesday, April 17, 2019, 6:30pm
This event has passed.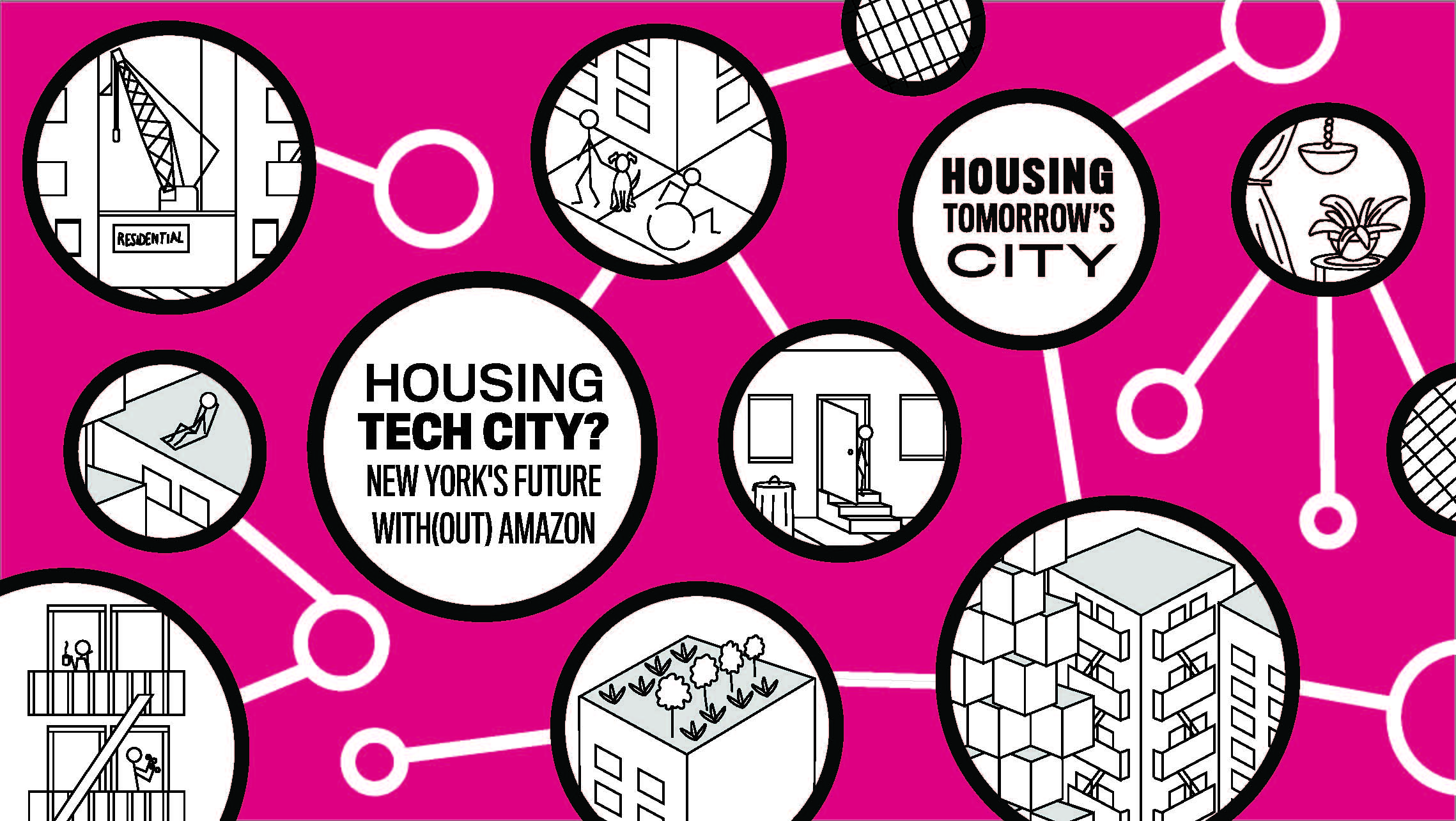 Amazon has reneged on their plan to build their second corporate headquarters, HQ2, in Long Island City, Queens, due to opposition from local and state politicians and activists. As some New Yorkers rejoice and others feel that the city has missed an opportunity, the critical questions raised by Amazon's impending arrival and sudden departure are as important as ever. Along with the promise of jobs and economic diversification came concerns about infrastructure, inequality, and the impact of the project on housing affordability—questions that will continue to affect the city with or without Amazon. Should New Yorkers be relieved or aggrieved? What's next for the city's relationship to big tech and big business?
Architect and professor Vishaan Chakrabarti; city planner and writer Alan Mallach; noted sociologist and globalization theorist Dr. Saskia Sassen, and community leader and activist Maritza Silva-Farrell discuss this critical moment in the city's development, how cities like New York can continue to grow and remain vibrant and affordable in an economy increasingly dominated by large corporations, and what can be learned from the experiences of cities like San Francisco and Seattle. Moderated by New York magazine's Justin Davidson. 
About the Speakers:
Vishaan Chakrabarti is the Founder of Practice for Architecture and Urbanism (PAU). He is also an Associate Professor of Practice at Columbia University's Graduate School of Architecture, Planning & Preservation (GSAPP). His highly acclaimed book, A Country of Cities: A Manifesto for an Urban America was published by Metropolis Books in 2013. Learn more about Chakrabarti and PAU here. 
Alan Mallach, author of The Divided City: Poverty and Prosperity in Urban America, is a senior fellow with the Center for Community Progress in Washington DC, and a prominent voice in the national conversation on urban revival, social equity and inclusion. He has held positions in state and local government, and has worked for the Brookings Institution and the Federal Reserve Bank of Philadelphia. He teaches in the graduate city planning program at Pratt Institute, and has written many books, articles and short pieces for both scholarly and general audiences.
Dr. Saskia Sassen is the Robert S. Lynd Professor of Sociology and Member, The Committee on Global Thought, Columbia University (www.saskiasassen.com). Her latest book is Expulsions: Brutality and Complexity in the Global Economy (Harvard University Press, 2014) is now out in 18 languages. She is the recipient of diverse awards, including multiple doctor honoris causa, the Principe de Asturias 2013 Prize in the Social Sciences, and made a Foreign Member of the Royal Academy of the Sciences of Netherland.
Maritza Silva-Farrell is the Executive Director at ALIGN: The Alliance for a Greater New York. She has led or played a critical role in coalitions such as Real Affordability for All, Caring Across Generations – which secured $1.2 million in funding for undocumented and low-income seniors to access home care – the Universal Pre-K campaign and the campaign that successful halted Walmart's plans to develop in East New York. 
Justin Davidson (moderator) has been the classical music and architecture critic at New York magazine since 2007.  He won a Pulitzer Prize for criticism in 2002 and an American Society of Newspaper Editors criticism (ASNE) award. He has contributed to The New Yorker, W., Travel and Leisure, The Los Angeles Times, Slate, and Salon, and has appeared on WNYC and NPR. He is the author of Magnetic City: A Walking Companion to New York (Penguin Random House, 2017). Read his recent article about Amazon here. 
This is the fourth event in our new series, Housing Tomorrow's City, which explores the challenges and opportunities presented in the Museum's Future City Lab, the interactive third gallery in the New York at Its Core exhibition. To view all of the events in the series, click here.
Our Supporters
This program is part of our Housing Tomorrow's City program series, inspired by our Future City Lab, the third gallery of our award-winning exhibition New York at Its Core. The series is presented in memory of Future City Lab curator Hilary Ballon.
Housing Tomorrow's City is made possible in part by Sophia and Peter J. Volandes.