Past Event: Dwelling in the Future: Imagining Tomorrow's City
When:
Wednesday, June 19, 2019, 6:30pm
This event has passed.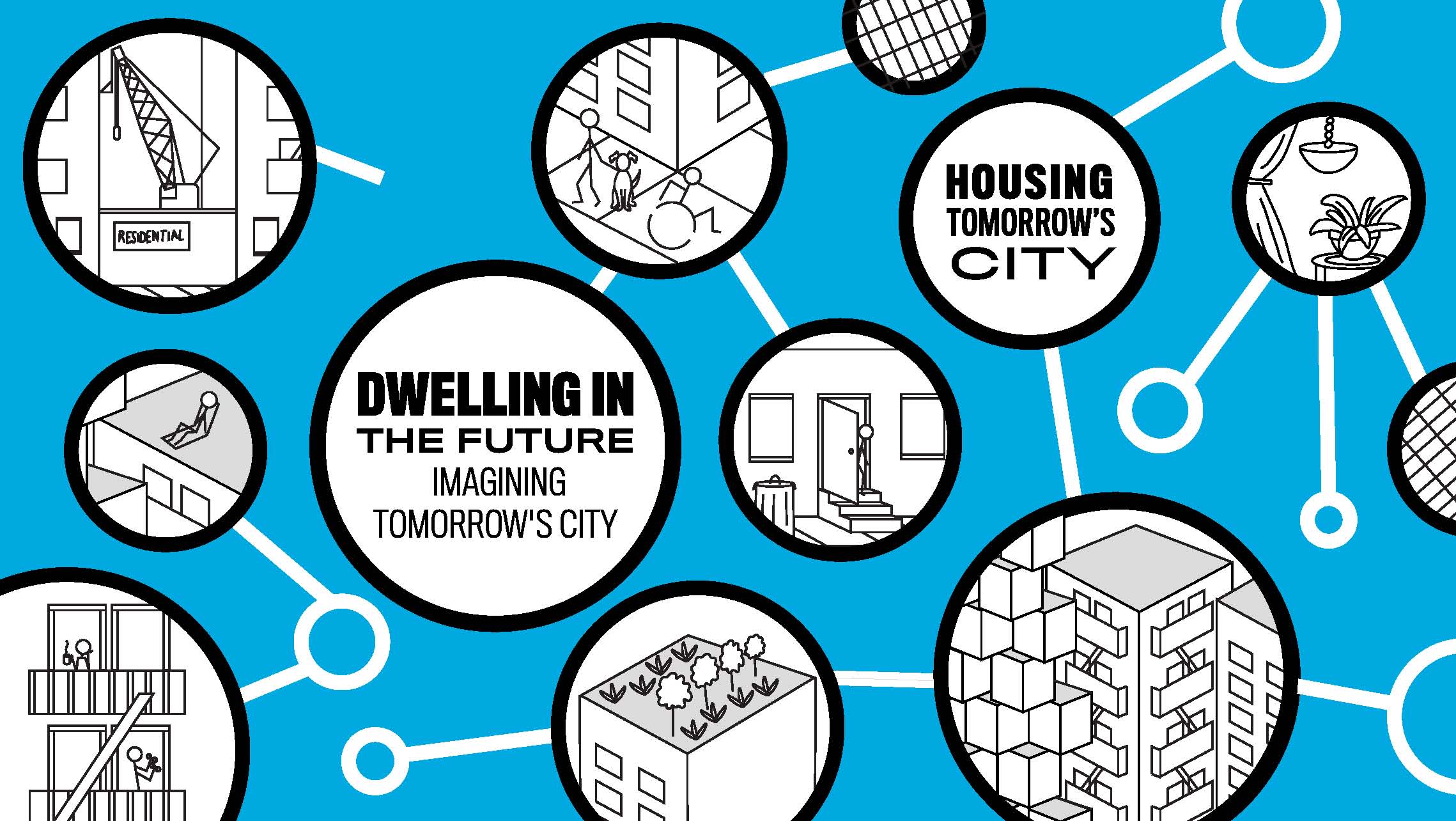 For the final program in our Housing Tomorrow's City series, we ask a group of visionary urban thinkers, architects, and artists how New Yorkers might inhabit and experience the city several generations from now.  Featuring design researcher Alix Gerber, architect Mitchell Joachim, science fiction writer Sam Miller, and artist Ayodamola Tanimowo Okunseinde. Expect a lively -- and mind-expanding -- evening of presentations and discussion. Moderated by K.A. Dilday, senior editor at CityLab. 
Reception to follow.
About the Speakers:
Alix Gerber is a design researcher who works with people to visualize and enact the futures we imagine, striving to provoke discussion around how our society could be more equitable and meaningful. Most recently, Gerber has been developing and teaching courses at Washington University in St. Louis, such as Radical Design, where students imagine alternatives to civic experiences like policing, capitalism or voting. Gerber has also worked with residents of Harlem, New York and Ferguson, Missouri to explore alternatives to our current policing and court systems by making artifacts from divergent futures.
Mitchell Joachim, PhD, Assoc. AIA, is the co-founder of the architecture, urban design research, and consulting group Terreform ONE and an associate professor at NYU. He has been awarded a Fulbright Scholarship and fellowships with TED, Moshe Safdie, and Martin Society for Sustainability at MIT. Joachim is the winner of many awards including the AIA New York Urban Design Merit Award and the History Channel Infiniti Award for City of the Future. He is the co-author of three books, including XXL-XS: New Directions in Ecological Design (2016).
Sam J. Miller is the Nebula-Award-winning author of The Art of Starving (an NPR best of the year) and Blackfish City (named best book of the year by Vulture, The Washington Post, Barnes & Noble and one of the best "climate fiction" novels by O: The Oprah Winfrey Magazine). A recipient of the Shirley Jackson Award and a graduate of the Clarion Writers' Workshop, Miller's short stories have been nominated for the World Fantasy, Theodore Sturgeon, and Locus Awards, and reprinted in dozens of anthologies. A community organizer by day, he lives in New York City.
Ayodamola Tanimowo Okunseinde (ayo) is a Nigerian-American artist designer, educator, and time-traveler living and working in New York. His works range from painting and speculative design to physically interactive works, wearable technology and explorations of "Reclamation". He has exhibited and presented at the 11th Shanghai Biennale, Tribeca Storyscapes, EYEO Festival, Brooklyn Museum, M.I.T. Beyond the Cradle, and Afrotectopia among others. Okunseinde holds an MFA in Design and Technology from Parsons School of Design where he is currently an adjunct faculty member.
K.A. Dilday (moderator) is a senior editor at CityLab. She has lived and worked as a journalist in the United States, North Africa, and Europe, and held staff positions at media organizations including The New York Times and Essence Magazine.
This is the fifth event in our Housing Tomorrow's City series, which explores the challenges and opportunities presented in the Museum's Future City Lab, the interactive third gallery in our award-winning New York at Its Core exhibition.
Supporters
This program is part of our Housing Tomorrow's City program series, inspired by our Future City Lab, the third gallery of our award-winning exhibition New York at Its Core. The series is presented in memory of Future City Lab curator Hilary Ballon.
Housing Tomorrow's City is made possible in part by Sophia and Peter J. Volandes. 

Partners
"Dwelling in the Future: Imagining Tomorrow's City" is co-presented with CityLab.