Past Event: Getting Out the Census: Counting New Yorkers in 2020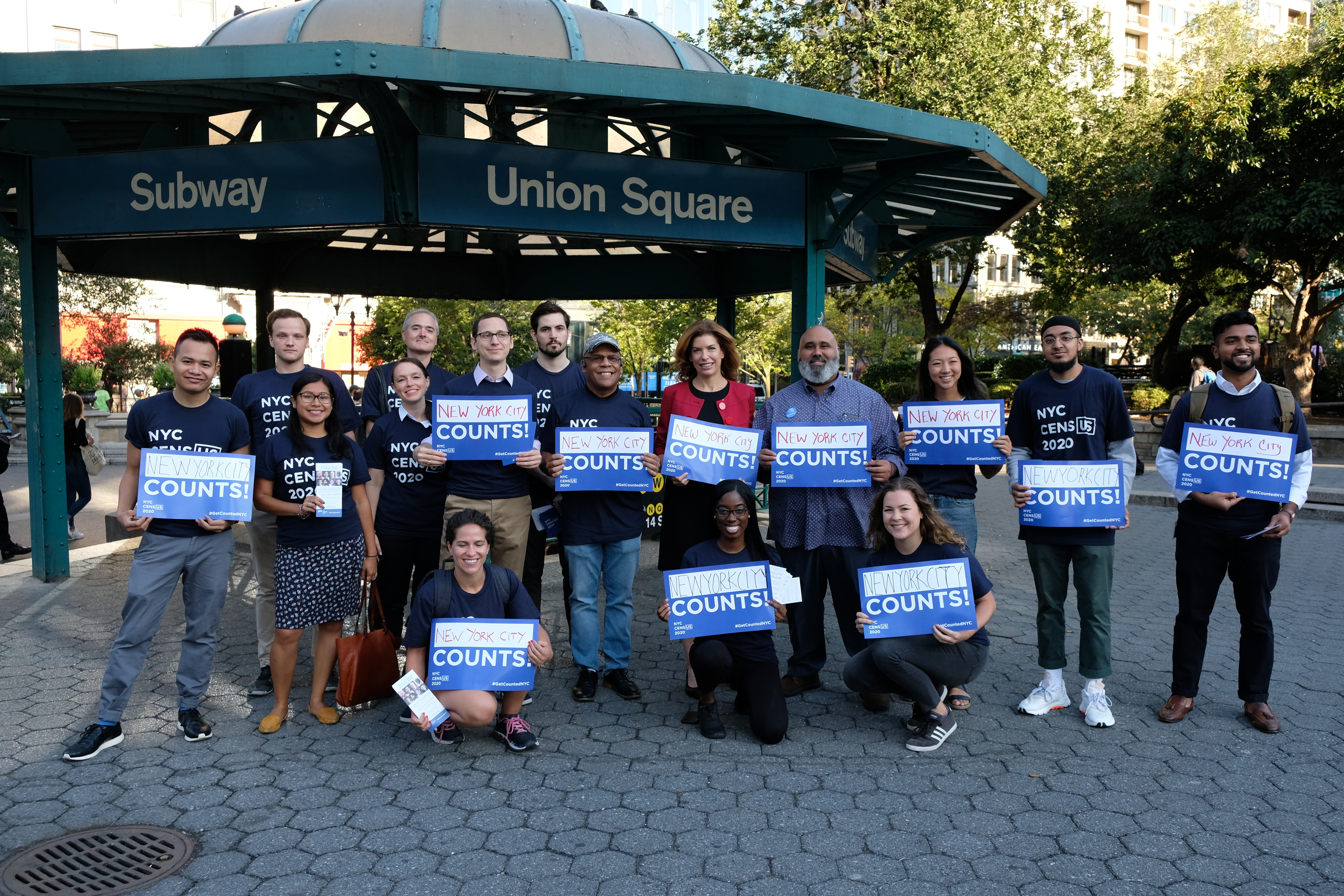 It's almost time to "Get Out the Census" and the stakes could not be higher for New York City in terms of federal funding and electoral representation. What are government, community, and civic leaders doing to ensure that every single resident of New York City is properly counted in April 2020? Despite the political controversies that have threatened the prospects of a full and accurate count of all New Yorkers to date, a massive mobilization effort is underway in all five boroughs on every conceivable platform to encourage people to fill out the 2020 Census. Hear directly from those on the front lines about how the effort is proceeding and what setbacks remain.
Julie Menin, director of the Census for New York City
Melva M. Miller, executive vice president at the Association for a Better New York
Robert J. Rodriguez, New York State Assemblymember
Steven Romalewski, director of the CUNY Mapping Service
Juan Manuel Benítez (moderator), reporter for NY1
This program accompanies our exhibition Who We Are: Visualizing New York by the Numbers (open through August 23, 2020) as well as the Museum's Future City Lab, the interactive third gallery in our New York at Its Core exhibition. To view all of the programs in this series click here. 
About the Speakers:
Julie Menin is the director of the Census for New York City and the executive assistant corporation counsel for strategic advocacy. Previously, she was the commissioner of the New York City Mayor's Office of Media and Entertainment, an attorney, the head of consumer affairs in New York City, a redistricting commissioner, and an adjunct professor at Columbia University.

Melva M. Miller is the executive vice president at the Association for a Better New York (ABNY) where she leads the organization's Census 2020 initiative for an accurate count. She works with the chairman and the executive director to ensure the census push is a success. Most recently, Miller served as the deputy borough president of Queens.

Robert J. Rodriguez was elected to the New York State Assembly in November 2010. As an Assemblymember, Rodriguez has championed the restoration of public housing, protecting and creating affordable housing, bringing good jobs into the community, and ensuring children get the quality education they deserve. He was a key benefactor of the Secure Choice Savings Program and an advocate for mass transit reform and equity.

Steven Romalewski has been the director of the CUNY Mapping Service at the Center for Urban Research (CUR) at the CUNY Graduate Center since 2006. The CUNY Mapping Service engages with nonprofits, government agencies, businesses, and foundations to use spatial information and analysis to develop and execute research projects. Prior to his work with the Center for Urban Research, Romalewski co-founded and directed the Community Mapping Assistance Project (CMAP) at NYPIRG.

Juan Manuel Benítez (moderator) is an award-winning journalist. He is a political anchor/reporter for Spectrum News NY1 and the host of Pura Política, NY1 Noticias' current-affairs program. He also co-hosts NY1's weekly podcast Off Topic/On Politics. He is a frequent guest host of The Brian Lehrer Show on WNYC Radio. He is also an adjunct professor at CUNY's Craig Newmark Graduate School of Journalism, where he designed the groundbreaking Bilingual Journalism program.
Watch a video of the program:
$10 General Admission
Groups of 10 or more get discounts; contact us at programs@mcny.org or 917.492.3395.
Accessibility: Assistive listening devices are available and our auditorium wheelchair lift can accommodate manual and motorized wheelchairs (max. capacity 500 lbs). Please contact the Museum at 917.492.3333 or info@mcny.org with any questions.
Supporters
Public programs inspired by Who We Are: Visualizing NYC by the Numbers are made possible by The Andrew W. Mellon Foundation.
Who We Are: Visualizing NYC by the Numbers is made possible in part by The Andrew W. Mellon Foundation, An Anonymous Family Foundation, Carnegie Corporation of New York, Bloomberg Philanthropies, The New York Community Trust, Zegar Family Foundation, Charles H. Revson Foundation, and Blair and Cheryl Effron.