Hidden Voices of New York City: Bayard Rustin - Educator Workshop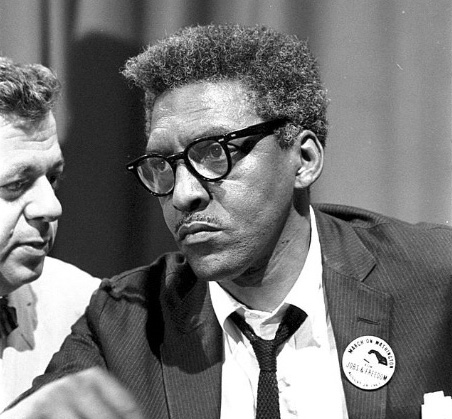 Join us in celebrating the life and work of Bayard Rustin this Black History Month as we explore resources for teaching his underrepresented legacy.  
This virtual workshop is offered for free as part of the Museum of the City of New York's Hidden Voices of New York City series. 
The mid-twentieth century Civil Rights movement challenged the United States to live up to its promise of equality and justice for all. While some of the leaders of that movement, such as Dr. Martin Luther King, Jr., are well known and taught in school, others have remained in relative obscurity. Bayard Rustin (1912-1987), a gay African American man, was among the leading figures of the Civil Rights movement, yet his contribution to that movement is seldom afforded the attention it deserves.   
From his home base in New York City, Bayard Rustin was a critical organizer behind the scenes of many key episodes in American history, from the Montgomery bus boycott to the 1963 March on Washington. While many know about Dr. King's famous contribution to these events, far fewer know that Rustin helped make them possible and was a mentor to Dr. King. Despite his essential contributions to the struggle for racial equality, Rustin was intentionally sidelined by his peers in the Civil Rights movement because he was a gay man. 
Join us as we dive into the life of Bayard Rustin and gain resources to teach his story and legacy during a presentation by Professor Jerald Podair, author of Bayard Rustin: American Dreamer (2009), as he shares more about Rustin's fight in the Civil Rights Movement in New York City and his recent research.   
This virtual program will examine primary resources to learn more about Rustin's life and legacy, and inspire new ideas to bring his story into your classroom. 
FREE. Registration required. 1.5 CTLE hours. 
About the Hidden Voices of New York City Virtual Program Series 
Hidden Voices of New York City is a six-part virtual workshop series for grades 3-5 from the Museum of the City of New York that highlights and honors the individual and collective experiences of a diverse swath of New Yorkers.  
Students who participate in the Hidden Voices of New York City virtual student series will sharpen their historical thinking skills through engagement with primary and secondary source materials, hone skills in civic agency through exposure to the stories of people who organized within and beyond the city of New York, and gain an understanding of how the past influences our present and future.  
The professional learning portion of the Hidden Voices of New York City series is designed to support educators with the best teaching strategies to bring these stories into the classroom, including activities and discussion strategies for grades 3 to 5. Learn more about these change-makers through thought-provoking guest speakers and primary source analysis that will expose multiple perspectives about the era in which they lived, the challenges they faced, and the legacy they left in New York. The Hidden Voices project is aligned to the Passport to Social Studies curriculum.   
Learn more at www.mcny.org/hidden-voices  
Questions? Email pd@mcny.org