Hidden Voices of New York City: Bayard Rustin Student Workshop (Grades 3-5) - 11:30am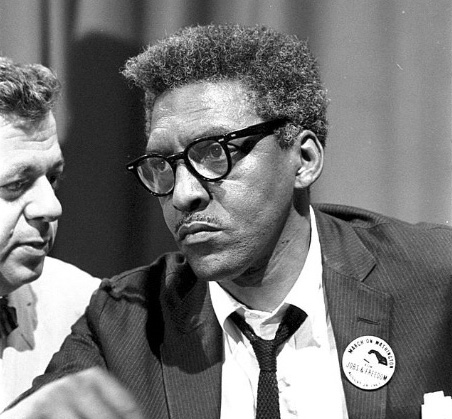 We invite students to join us for this virtual program for grades 3-5 to learn more about the life and activism of Bayard Rustin, as the second installment of our Hidden Voices of New York City virtual series. 
Who Was Bayard Rustin? 
Did you know that the March on Washington for Jobs and Freedom, though held in Washington DC, was strategized from New York City? Though we herald Dr. Martin Luther King, Jr. for his "I Have a Dream" speech and pivotal role in leading the U.S. Civil Rights Movement, the movement would not been without the masterful organizing of Bayard Rustin. Rustin mentored Dr. King in the ways of nonviolent resistance and crafted the master plan for the March on Washington from the bus routes and schedule to the food and port-a-potties. And yet, his story is lesser known due to homophobia he from inside of and beyond the movement. 
About the Workshop 
In this one-hour virtual workshop, students will learn more about the U.S. Civil Rights Movement by exploring Rustin's life. They will delve into Rustin's organizing through the pacifist Fellowship of Reconciliation; the Congress of Racial Equality, which organized the freedom rides of 1947 to protest segregated interstate travel; and other causes. 
Free. Registration required. Open to students in grades 3-5. Educators who register their class will be provided with a zoom link in the days before the program. 
About the Hidden Voices of New York City Virtual Program Series 
Hidden Voices of New York City is a six-part virtual workshop series for grades 3-5 from the Museum of the City of New York that highlights and honors the individual and collective experiences of a diverse swath of New Yorkers.  
Students who participate in the Hidden Voices of New York City virtual student series will sharpen their historical thinking skills through engagement with primary and secondary source materials, hone skills in civic agency through exposure to the stories of people who organized within and beyond the city of New York, and gain an understanding of how the past influences our present and future.  
The professional learning portion of the Hidden Voices of New York City series is designed to support educators with the best teaching strategies to bring these stories into the classroom, including activities and discussion strategies for grades 3 to 5. Learn more about these changemakers through thought-provoking guest speakers and primary source analysis that will expose multiple perspectives about the era in which they lived, the challenges they faced, and the legacy they left in New York. The Hidden Voices project is aligned to the Passport to Social Studies curriculum.   
Learn more at www.mcny.org/hidden-voices 
Can't make the 11:30 am program? We are offering a second program on Feb 16th at 9:30am!
Sign up here: Bayard Rustin Student Workshop — 9:30am
Questions? Email schoolprograms@mcny.org