Past Event: The Wide, Wild World of NYC Cycling
When:
Tuesday, September 17, 2019, 7:00pm
This event has passed.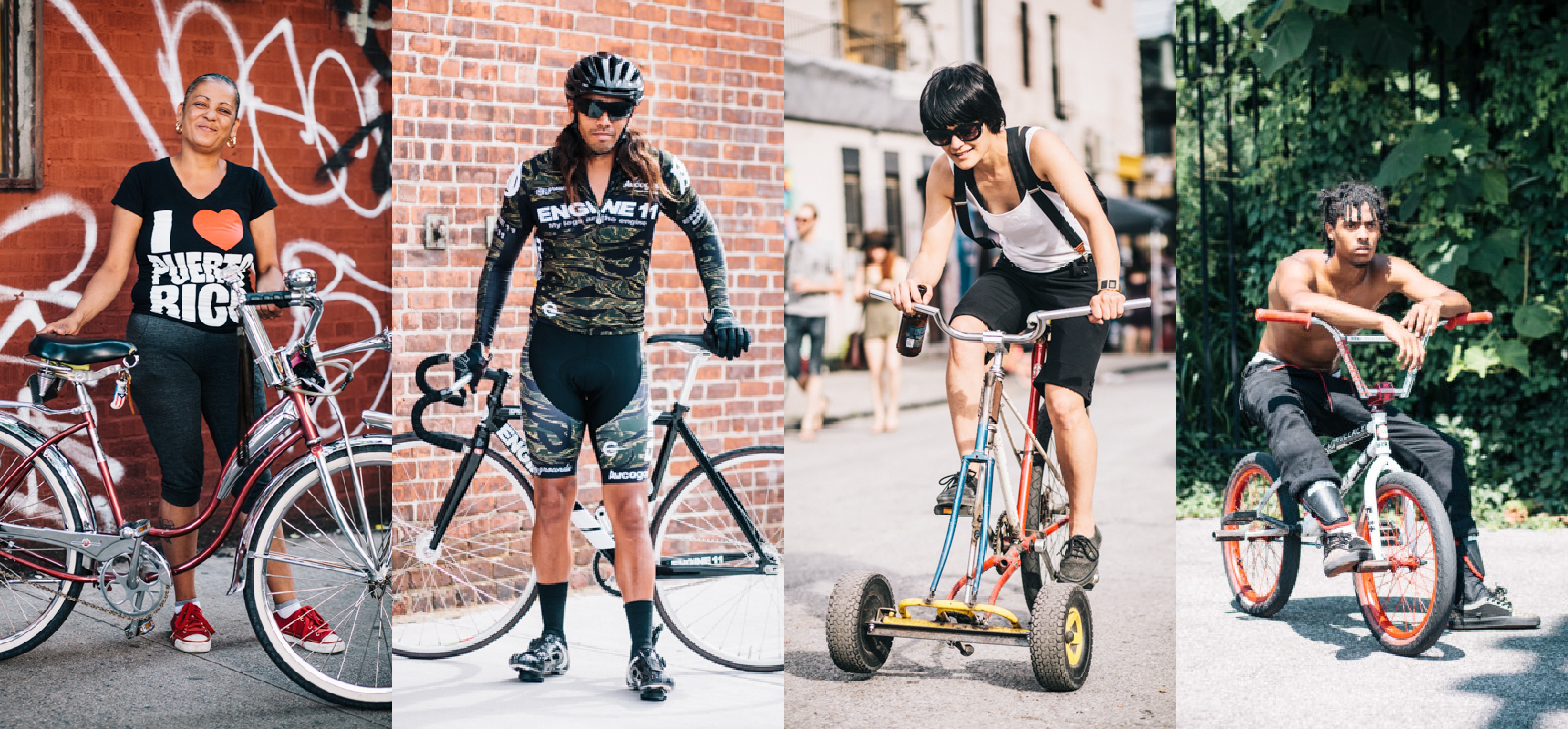 From the BMX crews of the South Bronx and the unsanctioned alleycat riders who race on brake-less, fixed-gear bicycles, to the "outlaw bike club" members of the Black Label Bicycle Club, we survey the wide, wild world of cycling in the city. A conversation with members of some of NYC's boldest and most vibrant clubs, including Brenda Clavijo, daughter of the founder and president of the Puerto Rican Schwinn Club; Tyrone Means, a longtime BMX rider at the South Bronx's Mullaly Bike Park; David Trimble, founder of the fixed-gear race Red Hook Criterium; coach and former elite bicycle racer Tara Parsons; and Tom Porter, member of the Black Label Bicycle Club. Moderated by photographer and author Sam Polcer. 

Prior to the program, join Bike New York for a free Winter Cycling Workshop at 6:00 pm; pre-registration required. Sign-up here. 

Timeline:
6:00 pm – Bike New York Winter Cycling Workshop begins
6:30 pm – Doors open to the program
6:45 pm – Bike New York Workshop concludes
7:00 pm – Program begins
8:30 pm – Program concludes

This program accompanies our exhibition Cycling in the City: A 200-Year History (on view through October 14, 2019). To view all of the programs in the series, click here.

About the Speakers:
Brenda Clavijo is the daughter of Julio Clavijo, President and founder of the Puerto Rican Schwinn club. The club, whose most established branch has been a part of the Bushwick community since the 1970s, brings the dynamic and colorful traditions of Puerto Rican Schwinn bikes and clubs to New York City. These classic Schwinns, styled and customized with great care, light up street celebrations and bike-related events across the city. A longtime supporter and member of the Puerto Rican Schwinn club, Clavijo has advocated for their history and cultural legacy for years while honoring the memory of her father.
Tyrone Means has been riding at Mullaly Bike Park, which is known as the "mecca of East Coast DIY-style BMX," since 1992 and now serves as a mentor to many young riders. He is also a member of the BMX crew Underground Never Dies, which was formed by a group of riders and volunteers to support and maintain the park. Means also runs the BMX company BMX Kings. 

Tara Parsons has been a cycling coach for individual cyclists and teams since 2008. She now coaches women's racers and members of the Century Road Club Association. She also serves as an ambassador for Rapha, a cycling sportswear brand. A former bicycle racer herself, Parsons competed for 10 years regionally and nationally at the elite level. 

William Thomas Porter is a life-long bicycle enthusiast, artist, and builder living in Brooklyn, New York. Porter's love of bikes began with the joy of freedom, independent movement, and play that bicycles afforded him as a youth. This love grew while using bicycles to commute as a young adult living working and going to school in Boston MA, exploring cargo features like trailers, and living "life by bike". As a professional metalworker, Porter continued to expand his creative concepts of the bicycle by building them from scratch, creating Porter Cycles, his bicycle building brand. Hehas built a reputation for attention to detail, unique construction methods and design features, and recently won the award for "Best New Builder" at the North American Handbuilt Bike Show. He celebrated the victory by successfully riding one of his bikes home to Brooklyn from Sacramento California this Spring, 4,000 miles in just over 2 months time.  

David Trimble is the founder and director of the Red Hook Criterium, a race in which cyclists ride on brake-less fixed-gear bicycles. He conceived the original vision for the race to celebrate his 26th birthday in 2008, combining his love for road racing and the underground spectacle of alleycat racing. Trimble now oversees all aspect of the competition which has spawned races around the world in London, Milan, and Barcelona. He formerly raced go-karts professionally and worked as a mechanic on Indycars.

Sam Polcer (moderator) is a photographer and a cyclist. His images have appeared in National Geographic, The New York Times, The Wall Street Journal, Esquire.com, Travel+Leisure.com, and many other websites and publications. His first book, New York Bike Style, was published by Prestel in 2014. He also attempts to maintain a blog, Preferred Mode, featuring some of the photos from that project. Currently, he is the associate director of content strategy at BAM. Previously, he was an editor at Hemispheres and the director of communications at Bike New York.
Supporters
Cycling in the City programs are funded in part by a Humanities New York Action Grant with support from the National Endowment for the Humanities.

Cycling in the City is made possible with lead support provided by Metropolitan Velodrome, Inc.; additional support provided by the Lily Auchincloss Foundation; Katheryn C. Patterson and Thomas L. Kempner Jr.; Bike New York; Rabobank International; and George H. Beane.