Past Event: 5th Annual Last Address Tribute Walk
When:
Saturday, June 3, 2017, 3:15pm
This event has passed.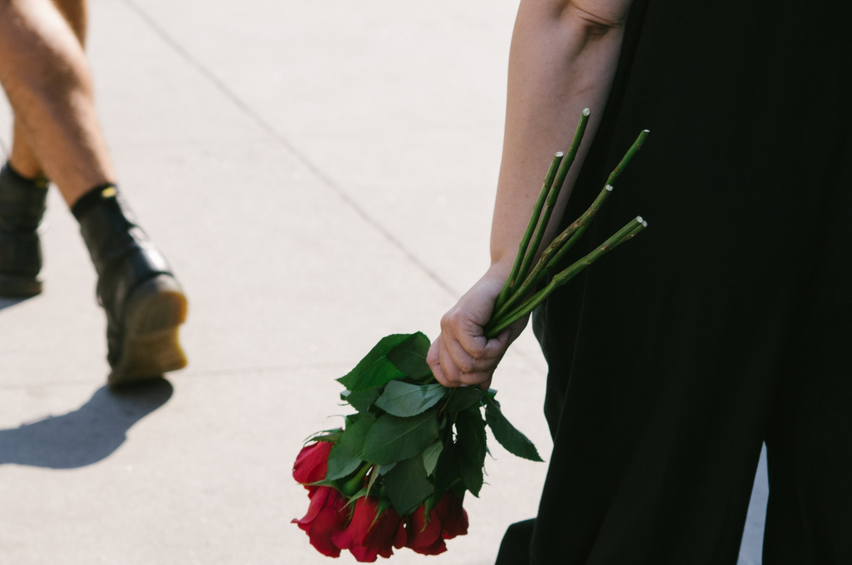 Please note that this program will start at the IFC Center (323 6th Ave) and WILL NOT take place at the Museum, and is programmed and run by Visual AIDS. The screening will begin promptly at 3:15 pm.
IN TRIBUTE TO ARTISTS WHO LIVED WITH HIV / WERE LOST TO AIDS RELATED COMPLICATIONS AT THEIR FORMER ADDRESSES.
Starting with a screening of Ira Sachs' touching Last Address (2010, 9 min.) and comments by Ira Sachs at IFC Center, the Last Address Tribute Walk will move to the streets of the West Village, where Visual AIDS Programs Director Alex Fialho leads a tribute walk honoring artists who lived with HIV and were lost to AIDS. At each stop of an artist's last residential address, a drawing by Win Mixter and a rose will be left in tribute, and special guests close to or influenced by the artist will share a reading.
In a spirit of lively remembrance, Egyptt Labeija will read at the last address of Marsha P. Johnson (Christopher Street Pier); Nelson Santos will read at the last address of Barton Lidice Benes (Westbeth Artists Community, 55 Bethune Street); Tyler Matthew Oyer will read at the last address of Charles Ludlam (55 Morton Street); Bette Gordon will read at the last address of Cookie Mueller (285 Bleecker Street); Mary Lou Harris (Hibiscus' sister) will read at the last address of Hibiscus (622 Greenwich Street); and Casey Spooner will read at the last address of Ron Vawter (285 Bleecker Street).
Though these may be the last addresses where each artist lived, the life of their work continues to address, inspire, and live with a new generation today. The constellation of readings and roses, drawings and doorsteps of the tribute walks is a site for community based on both remembrance and response.

***Rain or Shine***
View photos by Elliot Luscombe (lvscombe.com) of the 2015 Last Address Tribute Walk.
View photos by Lyle Ashton Harris of the 2014 Last Address Tribute Walk.
Read a reflection by Alex Fialho about the 2013 Last Address Tribute Walk.
Bette Gordon is a pioneer in American Independent Cinema, and one of the most notable filmmakers to come out of the 'No Wave Movement' of the 1980's in New York, whose current film, THE DROWNING, has just had its theatrical premiere at the IFC Center in NYC. Cookie Mueller is one of the actors in Gordon's VARIETY, helping to define and layer a story about sexual desire, in which women watch men watching women.
Egyptt Labeija (Javon Egyptt) is a community activist, leader and show girl within the Trans and gender non-conforming community. She reflects: "Marsha was about equality and justice for all trans and gender-nonconforming people of color and that is the most important part about her that I remember of the times we met."
Mary Lou Harris, proud sister of Hibiscus, was born into a theatrical family. Mary Lou performed at La MaMa ETC, Judson Poets Theater, Electric Circus, Theater for the New City and across Europe. Images of her, Hibiscus and family are archived at The Billy Rose Division, NYPL. She is most proud of her son Miles, husband Jim, of and co-authoring the Harris family's artistic story in the counterculture.
Tyler Matthew Oyer is an artist, writer, organizer, and educator based in Los Angeles. His work focuses on considerations of identity and inherited or imagined histories by working through theatre, video, sculpture, painting, music, writing and activism. He will premiere a movie adaptation of Charles Ludlam's 1967 epic play (and premiere Ridiculous Theatrical Company production) Conquest of the Universe or When Queens Collide in July 2017. 
Nelson Santos is an artist and Executive Director of Visual AIDS where he had the pleasure to work with and share a few martinis with Barton Benes. 
Casey Spooner is an artist and performer. He is best known for founding the conceptual music project FISCHERSPOONER in 1998, and is preparing to release his 4th FISCHERSPOONER album produced by Michael Stipe entitled SIR. Spooner has also worked with The Wooster Group since 2005 appearing in Hamlet; Cry, Trojans! and as a creative consultant on Vieux Carre. He saw Ron Vawter perform in The Wooster Group's production of The Temptation of St. Anthony when he was 20 years old which solidified his trajectory towards experimental performance.