When:
Thursday, November 17, 2022, 6:30pm
This event has passed.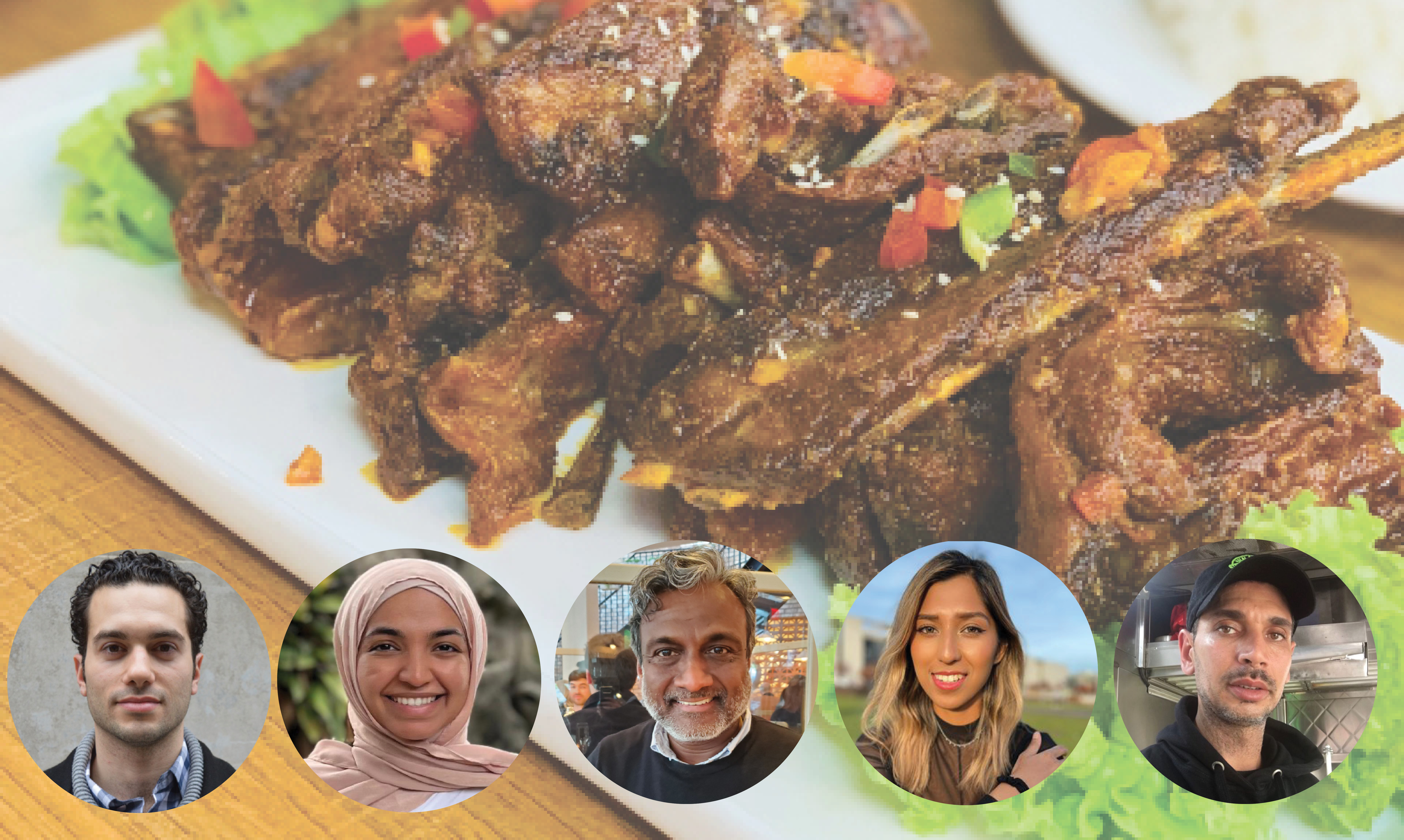 Where does halal food fit into the context of New York City dining? And how do issues of religion, class, and bureaucracy impact the halal food that's available and who is able to sell it? 
In an evening led by Krishnendu Ray, author of The Migrant's Table and The Ethnic Restauranteur, we'll learn the answers to questions such as these and more as we hear from NYC street vendor Ahmed Eltawil, owner of Casablanca Halal Food; Tahsin Kugel of the halal street cart Kwik Meal; and Mohamed Attia, director of the Street Vendor Project. Additionally, we'll go beyond the street cart with Sameen Choudhry of Muslim Foodies, a NYC halal restaurant blog run by three women who are seeking to bridge the gap between the mainstream restaurants and halal restaurants.
After the discussion, we'll taste the classic halal dish of falafel over rice from Ahmed Eltawil and halal chicken and lamb kati rolls from Kwik Meal, rated the #1 best street food cart in NYC by Thrillist. We'll also have non-alcoholic beer to wash it all down generously provided by Brooklyn Brewery.
Co-presented by MOFAD (Museum of Food and Drink) and part of our Eat Your Heart Out series accompanying our new exhibition, Food in New York: Bigger Than the Plate.
This program is also presented in conjunction with our upcoming exhibition City of Faith: Religion, Activism and Urban Space (opens Nov. 18).
About the Speakers:
Mohamed Attia is the Managing Director of the Street Vendor Project at the Urban Justice Center, a 2,800+ member-strong organization that champions the rights of street vendors as small businesses to earn a living and contribute to the culture and life of New York City. Attia migrated to the US from Alexandria, Egypt, in 2008 working as a street vendor for nearly ten years selling hot dogs, halal chicken over rice, and smoothies in Times Square. He joined as a member of the Street Vendor Project in 2012 and was an elected member leader of the organization until 2018, when he joined SVP's staff as Managing Director. Attia championed legislation passed in 2021 by the New York City Council that expanded the number of permits available to street vendors for the first time in nearly 40 years. He has been profiled for his advocacy work on behalf of the street vendor community by The New York Times, Crain's New York, and was recognized on City & State's Community Engagement Power 50 List. Through direct legal representation, small business development training, grassroots organizing, leadership development, and strategic legislative advocacy, the Street Vendor Project builds power and community among vendors. streetvendor.org/.
Sameen Choudhry is a Muslim Pakistani-American who works as a Physician Assistant. She grew up in Queens and just recently moved to Boston. Sameen is an administrator of the social media food blog MuslimFoodies, where she and her friends visit and review halal restaurants around NYC for the Muslim community.
Tahsin Kugel is a New York City freelance journalist who writes about food and culture. She also manages the social media presence of her family's street-cart business, Kwik Meal. When she's not pressed for time, you can find her scoping out new foodie spots and exploring all things trendy. 
Krishnendu Ray is a faculty member in the Department of Nutrition and Food Studies at New York University. He was the Chair of the department from 2012-2021. He is the author of The Migrant's Table (2004) and The Ethnic Restaurateur (2016) and the co-editor of Curried Cultures: Globalization, Food and South Asia (2012). He is an Editorial Collective Member of the Food Studies journal Gastronomica. He was formerly a faculty member and the Associate Dean of Liberal Arts at The Culinary Institute of America (1996-2005) and the President of The Association for the Study of Food and Society from 2014-2018.
Ahmed Eltawil immigrated from Egypt in 2000, arrived in NYC to pursue the American Dream. He worked in clothing stores for a short time untill he realized that he should start his own business to be able to support himself and his family. That's when he started his Casablanca Halal Food cart on E 116 Street & Lexington Ave in Harlem. Ahmed joined the Street Vendor Project as a member and participated in several campaigns to increase the number of permits for all vendors and to the fight for funds for excluded workers on the state level that lead the State Government to create a $2.1 billion cash relief fund for workers across the state who were excluded from economic hardship relief.

Event Logistics (subject to changed based on NYC regulations):
Please contact programs@mcny.org with any questions or ticketing issues.
All sales are final; refunds not permitted. Exchanges and credit for future programs only. Programs and dates may be subject to change.