The Simple Art of Rice with Chef JJ Johnson
When:
Monday, September 18, 2023, 6:30pm
This event has passed.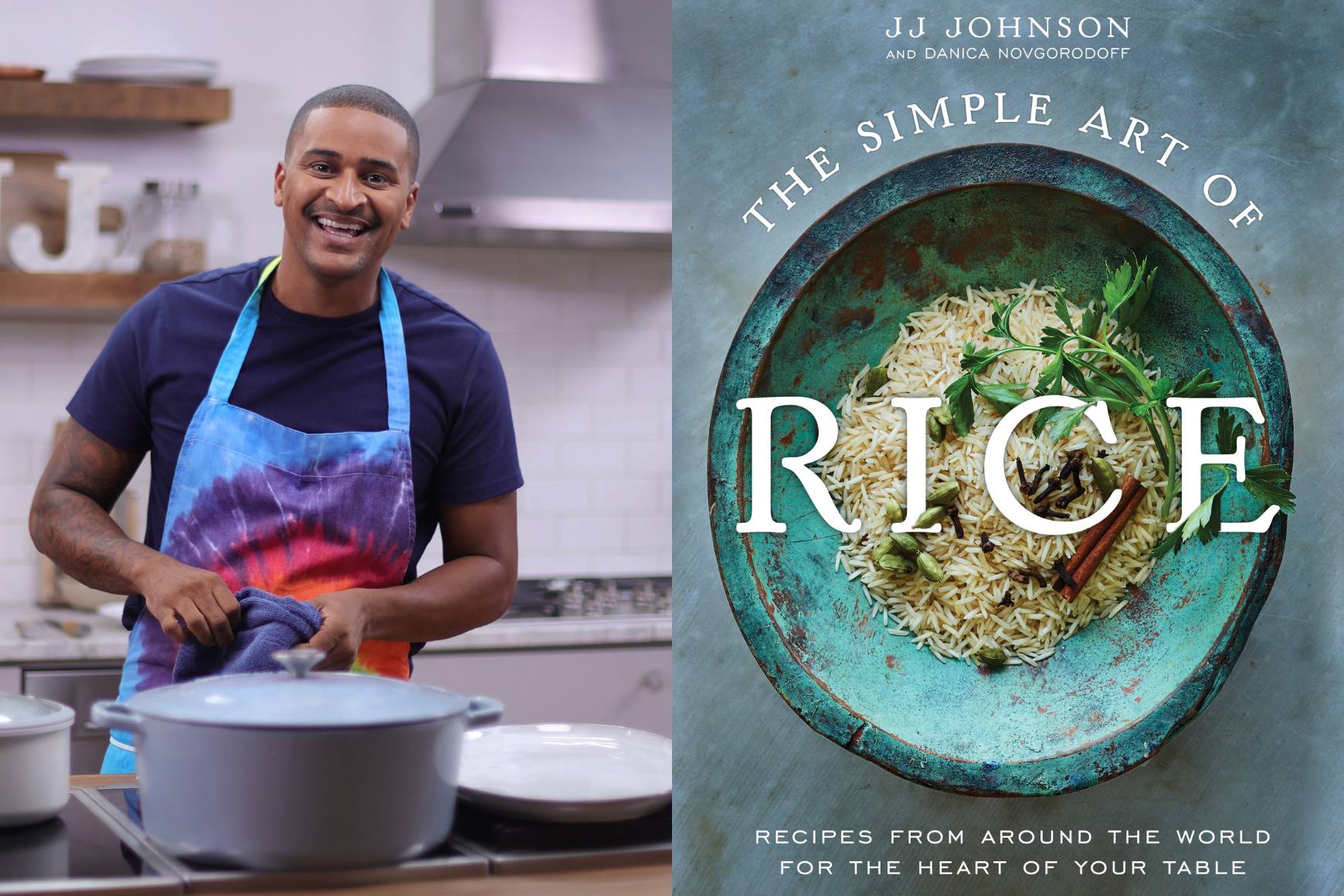 Join us for a talk and tasting as we celebrate the launch of James Beard Award winner Chef JJ Johnson's new book The Simple Art of Rice: Recipes from Around the World for the Heart of Your Table (Flatiron Books, September 12, 2023) about the varied cultural significance of rice and the power of food to connect us to each other across the globe or just around the block. Johnson is based in Harlem, a neighborhood filled with myriad immigrant communities, where rice can be thought of as a representation of the area's diverse culture.  
Johnson and co-author Danica Novgorodoff will join MCNY curator Monxo López in conversation for our final program accompanying Food in New York: Bigger than the Plate (closes Sept. 18). The exhibition explores the challenging nodes and networks of the city's food systems, encouraging us to feast for a more equitable and exciting future. 
Complimentary wine and small rice bowls from Chef JJ's restaurant FIELDTRIP are included in your ticket!  A book signing will follow the talk; books will be available for purchase at 10% off.
Part of Eat Your Heart Out, a series of talks and tastings accompanying Food in New York.
About the Speakers:
Chef JJ Johnson: Cultural tastemaker, family man and renowned American chef, JJ Johnson is most recognized for his innovative approach to African Caribbean cuisine. His work has earned him numerous accolades, including the James Beard Foundation Book Award and a two-time spot on the Nation's Restaurant News Power List. He has been featured on a variety of TV shows including Food Network's Chopped, Netflix's Street Food and Selena + Chef on HBO Max and hosts his own show, 'Just Eats with Chef JJ' airing for its fifth season on TV One's network Cleo TV this fall. Chef JJ's highly anticipated cookbook, The Simple Art of Rice: Recipes from Around the World for the Heart of Your Table, will be released in September 2023. At FIELDTRIP, JJ's rapidly growing multi-unit fast casual rice bowl concept, he champions sustainability, working with local rice farmers and producers to source the freshest ingredients. With four locations throughout New York City, he is a community advocate for food justice and equity raising awareness within the industry.
Monxo López is the Curator of Community Histories at the Museum of the City of New York, and a researcher, educator, cartographer, and South Bronx-based urban activist. He was a Mapping Fellow at the Design Trust for Public Spaces. He is also a founding member of South Bronx Unite (a local environmental justice organization), as well as a founding and board member of the Mott Haven/Port Morris Community Land Stewards, the local Community Land Trust. López holds a Ph.D. in political science from CUNY's Graduate Center.  
Danica Novgorodoff is an artist, writer and graphic novelist from Brooklyn, NY and Louisville, KY. Her graphic novels include Long Way Down (adapted from Jason Reynolds' novel by the same name), The Undertaking of Lily Chen, Refresh Refresh, Slow Storm, and A Late Freeze. Her picture books include Alexander von Humboldt: Explorer, Naturalist, and Environmental Pioneer, and Not a Cat: a memoir (written by Winter Miller).  She was awarded a 2015 New York Foundation for the Arts fellowship in Literature, was named Sarabande Books' 2016 writer in residence, and received a 2020 Café Royal Cultural Foundation grant in literature. Her art and writing have been published in MoMA Magazine, Best American Comics, The Believer, Artforum, Esquire, VQR, Slate, Orion, Seneca Review, Ecotone Journal, The Arkansas International, and others. Danica's works in progress include a graphic novel on climate change (First Second Books, in collaboration with journalist Meera Subramanian).