This Is New York
100 Years of the City in Art and Pop Culture
Through July 21, 2024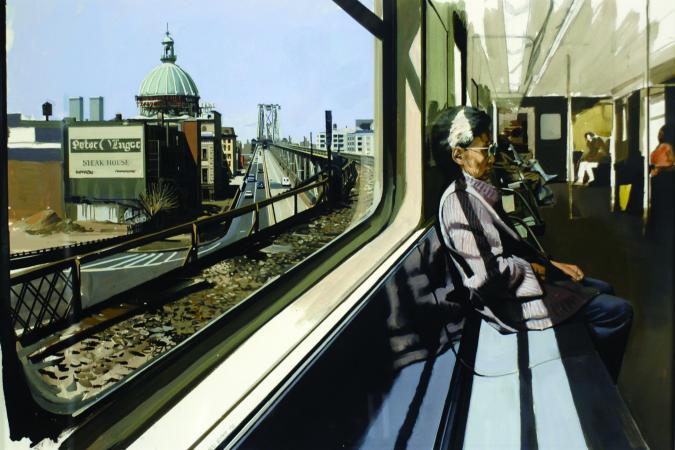 Back to Exhibitions
In honor of the centennial anniversary of the founding of the Museum of the City of New York as the city's storyteller, This Is New York: 100 Years of the City in Art and Pop Culture explores the many ways that the city has inspired storytelling across art forms. It features both famous and lesser-known depictions of New York in film and television, visual and performing arts, music, poetry and literature, and even fashion, painting a collective, moving, and sometimes funny version of a city that has captured the imagination of the world.   
The full-floor exhibition is organized around the types of urban spaces where the stories of New York are told. "Tempo of the City" explores the ways in which artists have depicted life in the city's streets and subways, and the emotions that the experience of joining the public crowd often evoke, whether joy or alienation, fear or pride. The gallery also features "Songs of New York," an interactive installation that allows visitors to explore the richness and diversity of each borough through songs it has inspired. In the Tiffany & Co. Foundation Gallery, "At Home in New York" spotlights literature and art works that animate the unique challenges and opportunities of making a home in a city of eight million people. The third gallery, "Destination: NYC," showcases work about the city's spaces for gathering and spectacle, its dynamic unique nightlife spots, as well as its iconic parks and waterfronts. 
A special gallery, "You Are Here," dedicated to New York on film, provides an immersive 16-screen experience drawn from hundreds of movies about the city made over the past century. The film immersive also includes an introductory installation, "Scenes from the City" explores how New York has been used as a movie set for the past century. 
More About "You Are Here"
"You Are Here" draws on the rich archive of movies set in New York, combining thousands of cinematic moments across 16 screens. Sources include Hollywood blockbusters, independent films, documentaries, and experimental works. By juxtaposing these multiple visions, the dazzling montages of "You Are Here" make connections and contrasts that allow movies to comment on each other across time and space. Together, they shed new light on the varied New Yorks of our collective imagination.  
Richard Estes. M Train on Route to Manhattan Approaches the Williamsburg Bridge. 1995. Copyright Richard Estes, Courtesy of Louis K. Meisel Gallery
This Is New York was curated by Sarah M. Henry, Monxo López, Frances A. Rosenfeld, and Lilly Tuttle, with support from Naomi Fischer, Centennial Research Fellow. 
"You Are Here" was created by RadicalMedia. Curatorial committee: Bruce Goldstein, Jessica Green, Carlos Gutiérrez, Richard Koszarski, Melissa Lyde, Lucy J. Mukerjee, Frances Negrón-Muntaner, Jacob Perlin, and JT Takagi. 
"Scenes from the City" was curated by James Sanders Studio. 
Exhibition Supporters
This Is New York: 100 Years of the City in Art and Pop Culture is made possible with lead support from The Thompson Family Foundation, Charina Endowment Fund, Elizabeth R. Miller and James G. Dinan, Bloomberg Philanthropies, Heather and William Vrattos, Todd DeGarmo, Judith Smorto Revocable Trust, and Michael T. Sillerman Revocable Trust. Additional support provided by the Lily Auchincloss Foundation, Theodore W. Scull, The David Berg Foundation, New York Life, The Blanche and Irving Laurie Foundation, Nancy and James Buckman, David Guin and Kym McClain, Gurudatta and Margaret Nadkarni, and other generous donors.
This exhibition is made possible in part by the National Endowment for the Humanities: Democracy demands wisdom.
Support of our Centennial year exhibitions, programs, and activities provided by:
$1,000,000 and Above:
An Anonymous Family Foundation
Charina Endowment Fund
Elizabeth R. Miller and James G. Dinan
Robert A. and Elizabeth Rohn Jeffe
Valerie and John W. Rowe
The Thompson Family Foundation
Heather and William Vrattos
$250,000 to $999,999:
Bloomberg Philanthropies
Todd DeGarmo
Diana King Memorial Fund
Leon Levy Foundation
Polly and Newton P.S. Merrill
$100,000 to $249,999:
MacMillan Family Foundation
National Endowment for the Humanities
New York Life
Tracey and Kenneth A. Pontarelli
The Puffin Foundation, Ltd.
Michael T. Sillerman Revocable Trust
Judith Smorto Revocable Trust
Daryl B. Uber
$50,000 to $99,999:
Altman Foundation
Lily Auchincloss Foundation
Con Edison
Leslie and Mark Godridge
Mark Scott
Theodore W. Scull
Martha and Alex Wallau
$25,000 to $49,999:
The David Berg Foundation
Mrs. William T. Comfort
John and Patricia Heller
Rosita Sarnoff and Beth Sapery
$10,000 to $24,999:
Nancy and James Buckman
Lorna and Edwin Goodman
David Guin and Kym McClain
The Blanche and Irving Laurie Foundation
Gurudatta and Margaret Nadkarni
$2,500 to $9,999:
As of 05/01/2023