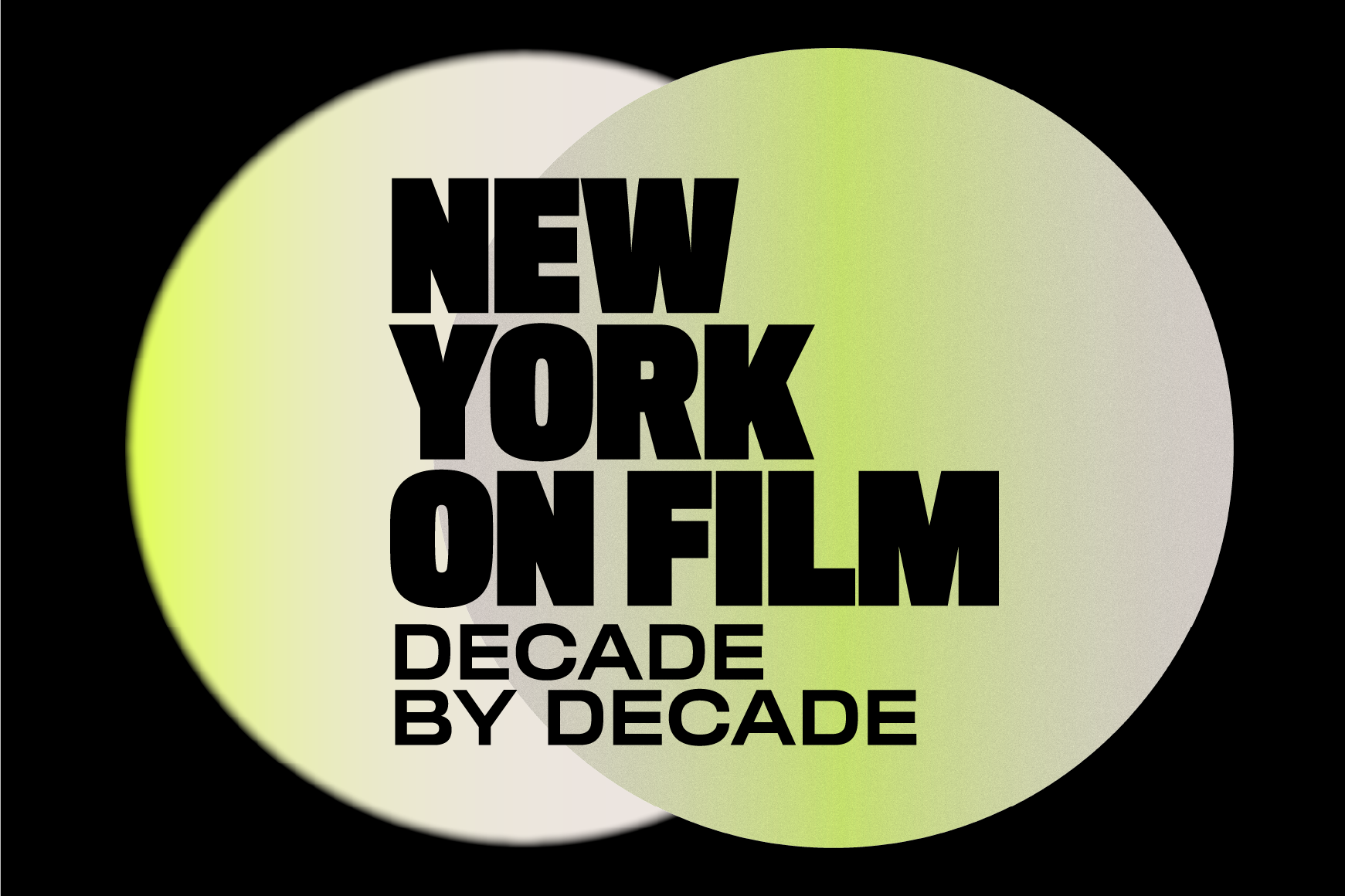 New York on Film: Decade by Decade invites audiences on a cinematic journey through NYC history from the 1920s to the 2020s. The 12-month series explores how New York has been imagined both by Hollywood studios and a diverse range of documentary, independent, and experimental filmmakers. From beloved classics and indie favorites to rarely-seen gems, the series celebrates the city's singular mix of influences and aesthetics, peoples and environments.
The New York on Film series is programmed by Jessica Green. 
Watch the program series trailer below:
Coming Up:
June 15, 6:30pm: Manhandled (Allan Dwan, 1924, 75 min) - With live DJ accompaniment by DJ Misbehaviour! Introduced by fashion editor Lynn Yaeger. 
July 13, 7:30pm: Gold Diggers of 1933  (Mervyn LeRoy, 1933, 90 min) - With live jazz by the Vanisha Gould Trio. Introduced by series programmer Jessica Green. 
August 10, 7:00pm: The Clock  (Vincente Minnelli, 1945, 90 min) - Introduced by film critic Jourdain Searles.  
September 21, 7:00pm: The World, the Flesh and the Devil (Ranald MacDougall, 1959, 95 min) - Introduced by activist Carmen Perez.  Outdoor screening (weather permitting)
October 12, 6:30pm: The Queen (Frank Simon, 1968, 68 min), preceded by Square Times (Rudy Burckhardt, 1967, 7 min) - Introduced by Drag artist Aja.  Outdoor screening (weather permitting)
November 9, 6:30pm: Statues Hardly Ever Smile (

Stan Lathan,

 1971, 20 min), Italianamerican (Martin Scorsese, 1974, 49 min), 80 Blocks from Tiffany's (Gary Weis, 1979, 67 min) - Speakers to be announced!
December 7, 6:30pm: Style Wars (

Tony Silver, Henry Chalfant, 1983,

 70 min

)  

40th Anniversary!! - Panel discussion with Henry Chalfant, Sam Pollard, Martha Cooper, Lady Pink, Skeme, and Ken Swift.
January 11, 6:30pm: Do the Right Thing (Spike Lee, 1989, 120 min) - Speakers to be announced!
February 8, 6:30pm: The Last Days of Disco (Whit Stillman, 1998, 113 min)
March 7, 6:30pm: Saving Face (Alice Wu, 2004, 97 min)
April 11, 6:30pm: Pariah (Dee Rees, 2011, 86 min)
May 9, 6:30pm:  A Thousand and One (A.V. Rockwell, 2023, 116 min)

About Jessica Green (series programmer):
Jessica Green is an independent film programmer currently programming film, speaker, and performance series for BAM, the Weeksville Heritage Center, and the Museum of the City of New York. Jessica served as the Artistic Director of the Houston Cinema Arts Society from 2019-2022, providing artistic leadership for year-round film programming and the Houston Cinema Arts Festival, Houston's largest film festival. She was the Cinema Director of the Maysles Documentary Center in Harlem from 2008-2018. Jessica is also a former founder, owner and Editor-In-Chief of the New York based, independent Hip-Hop magazine Stress (1994-2001), as well as the former Executive Editor of BET.com (2000-2005).
About New York on Film and Moonlight & Movies
New York on Film: Decade by Decade is the Centennial year edition of the Museum's monthly Moonlight & Movies series, made possible by Sophia and Peter J. Volandes.  Inspired by the Museum's current exhibitions, each film is introduced by the director, a critic, or another special guest.  Cocktails, drinks and snacks are available for purchase.
Supporters
Moonlight & Movies is made possible in part by Sophia and Peter J. Volandes.