New York on Film: The Clock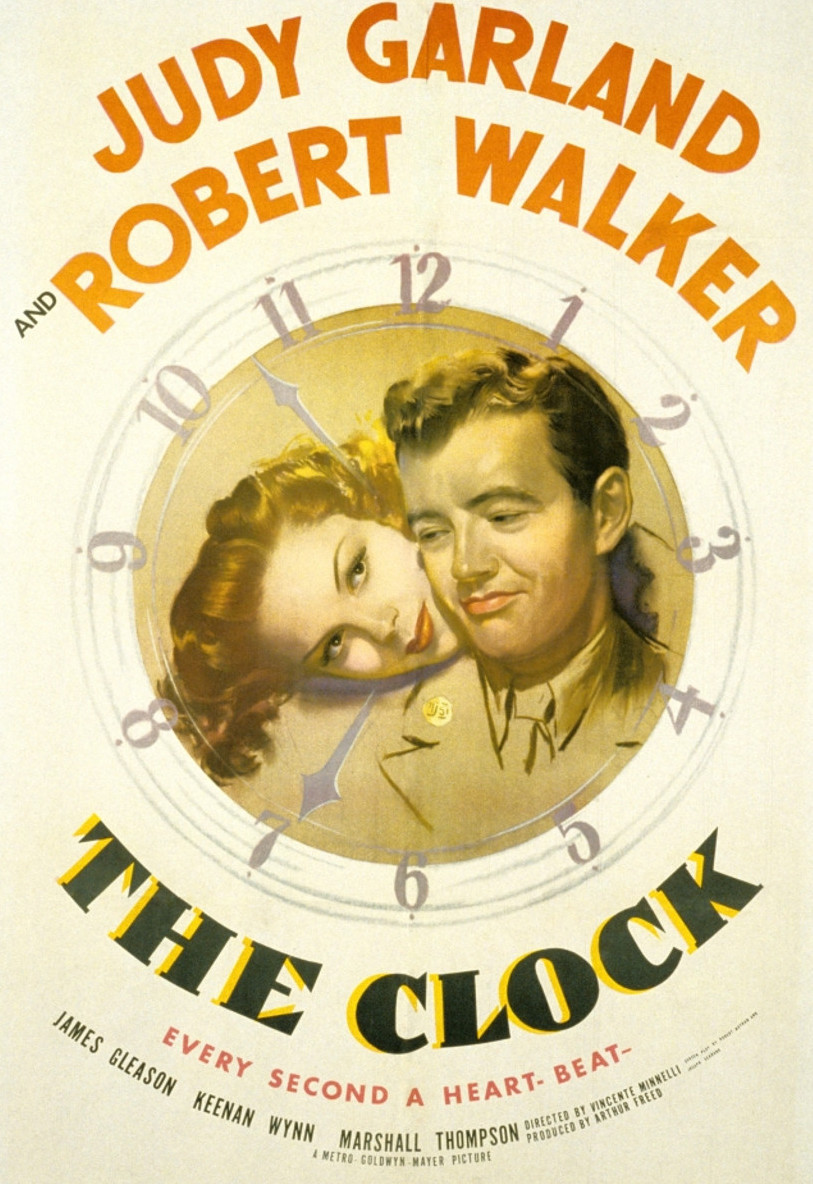 In The Clock, Vincente Minelli's classic 1945 wartime romance, Robert Walker plays a small-town G.I. en route to Europe, who, during a whirlwind two-day leave in New York City, falls in love with a secretary played by Judy Garland (in her first dramatic, non-singing role).  Directed by Minnelli right before he married Garland, the film offers a glimpse into filmmaking in the first half of the 1940s, when the war hung over everything and completely blocked access to any location shooting in the city. While most of the background footage was shot in NYC, the interiors were filmed on carefully designed replicas of New York landmarks in Hollywood. 
Introduction by film critic Jourdain Searles. 
This screening is part of our year-long series, New York on Film: Decade by Decade, programmed by Jessica Green. The series accompanies the Museum's centennial exhibition, This Is New York: 100 Years of the City in Art and Pop Culture. 
Event Timeline:
7:00 pm - Doors open to Pontarelli Terrace (first floor); drinks & popcorn available for purchase
7:45 pm - Short introduction by Jourdain Searles
8:00 pm - Film program begins: The Clock (Vincente Minelli, 1945, 90 min)
9:30 pm - Program ends, Museum closes
About Jourdain Searles:
Jourdain Searles is a writer, film programmer, and performer originally from Augusta, Georgia. She currently works for Outfest LA, as a member of the features programming team. She has written for The New York Times, The Hollywood Reporter, Vulture, Little White Lies, Hyperallergic and Indiewire, as well as many other publications. Her writing has also been featured in the print versions of New York Magazine, Sight and Sound, and Fangoria. Jourdain has served on the jury for multiple film festivals, including The San Francisco Film Festival, Melbourne International Film Festival, and The Indie Memphis Film Festival. In addition to film-related work, Jourdain performs stand-up comedy all over New York City and cohosts the Bad Romance Podcast.
New York on Film is the centennial year edition of our ongoing Moonlight & Movies series.
Event Logistics 
All activities take place outdoors on the Pontarelli Terrace; in case of rain, the event will move indoors into Ronay Menschel Hall (Ground Floor).
Please contact programs@mcny.org with any questions or ticketing issues.
All sales are final; refunds not permitted. Exchanges and credit for future programs only. Programs and dates may be subject to change. 
General Admission $20 | Members $15
Members: To receive your discount, click on the "Buy Tickets" button above, then sign in to your account on the ticketing page.
Groups of 10 or more get discounts; contact us at programs@mcny.org or 917.492.3395.
Accessibility: Assistive listening devices are available and our auditorium wheelchair lift can accommodate manual and motorized wheelchairs (max. capacity 500 lbs). Please contact the Museum at 917.492.3333 or info@mcny.org with any questions.
Supporters
Moonlight & Movies is made possible in part by Sophia and Peter J. Volandes.