Past Event: Soul of the City: Live @ MCNY with Topaz Jones
When:
Monday, February 14, 2022, 6:30pm
This event has passed.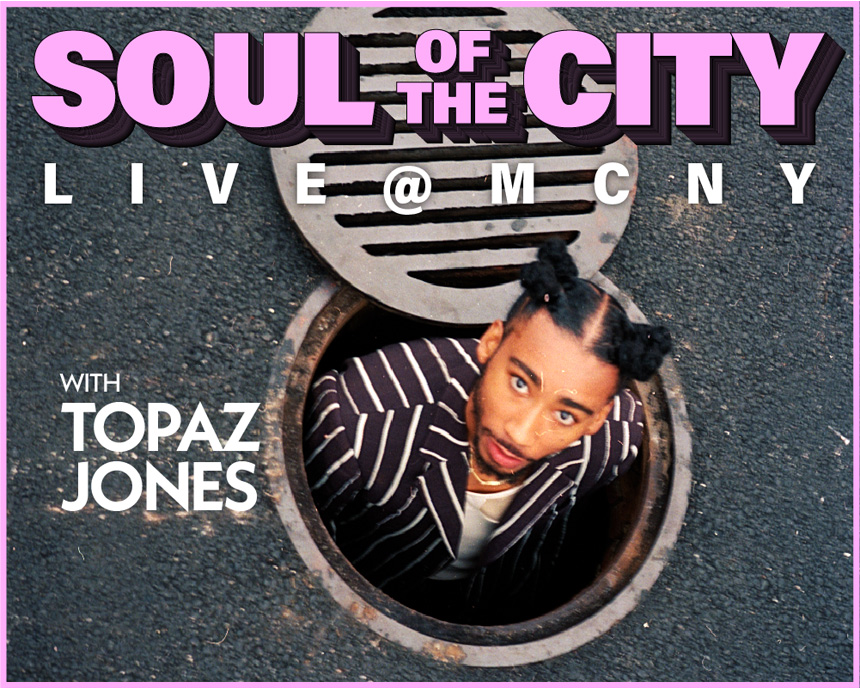 All in-person tickets are SOLD OUT. To join the waitlist, please email programs@mcny.org with your name, email, phone number, number of tickets you are interested in purchasing, and Tier level.
Join us for an unforgettable Valentine's Day as we kick off our new series, Soul of the City: Live @ MCNY with the multitalented hip-hop, funk and soul-inspired artist Topaz Jones. After a screening of his award-winning short/documentary Don't Go Tellin' Your Momma, Topaz will perform an intimate acoustic set in the Museum's Rotunda, weaving in the personal stories that have shaped and nourished his songs. Expect special Valentine's Day touches like roses and chocolate, plus champagne at the MCNY bar!
This is a hybrid event: both in-person and livestream tickets are available.
Soul of the City: Live @ MCNY is a new series of intimate concerts featuring a wide range of New York City artists, both upcoming and veteran, performing acoustic sets and sharing the personal stories behind their music.
Masks and proof of vaccination required.
Topaz Jones is a New Jersey-based hip-hop artist born in Montclair in 1993. Jones was introduced to funk music at an early age by his musician father. Nowadays, in the sprawling landscape of independent, unsigned rap, he has created his own island of infectious funk and quick-witted wordplay, a one-man band groomed on Smack DVDs, piano chords, and Outkast.
In a warm review, Pitchfork called his 2016 album, Arcade, "affecting" and "the work of an empathetic writer," praising its moments of autobiography about family, girls, school, and everyday life, while NPR observed it "would make Bootsy Collins beam with pride." Recent records from D'Angelo, Pharrell, and Kendrick Lamar have only emboldened Jones's fascination with live instrumentation and reinforced his love for soul and funk textures. In 2021, Topaz Jones released an audio visual album "Don't Go Tellin' Your Momma"- a follow-up to Arcade. This album gave fans an insightful look into the innovative thoughts of Topaz Jones. topazjones.com
Ticket information: This event will be hybrid; there are three types of tickets available:
In-person Tier 1 (Reserved front-of-house seating, limited seats available)
In-person Tier 2 (Regular, unassigned seating, all seats have direct sight lines) Livestream (Virtual: registrants receive a link to watch the morning of the event)
Event Logistics (Subject to change based on NYC regulations)
Proof of vaccination is required for entry to the event (everyone over the age of 5). Excelsior Pass is accepted for those who were vaccinated in NYS.
Masks required
For more information about the Museum's COVID Guidelines, please check our "Plan Your Visit" page.
Please contact programs@mcny.org with any questions or ticketing issues.

All sales are final; refunds not permitted. Exchanges and credit for future programs only. Programs and dates may be subject to change. The Museum of the City of New York reserves the right to refuse admission to latecomers and/or those who do not provide requested Covid-19 documentation.
Watch "Don't Go Tellin' Your Momma" Trailer:
Partners
Soul of the City is made possible with support from John and Patricia Heller.