Past Event: Year of Upheaval: 1919 and Its Legacies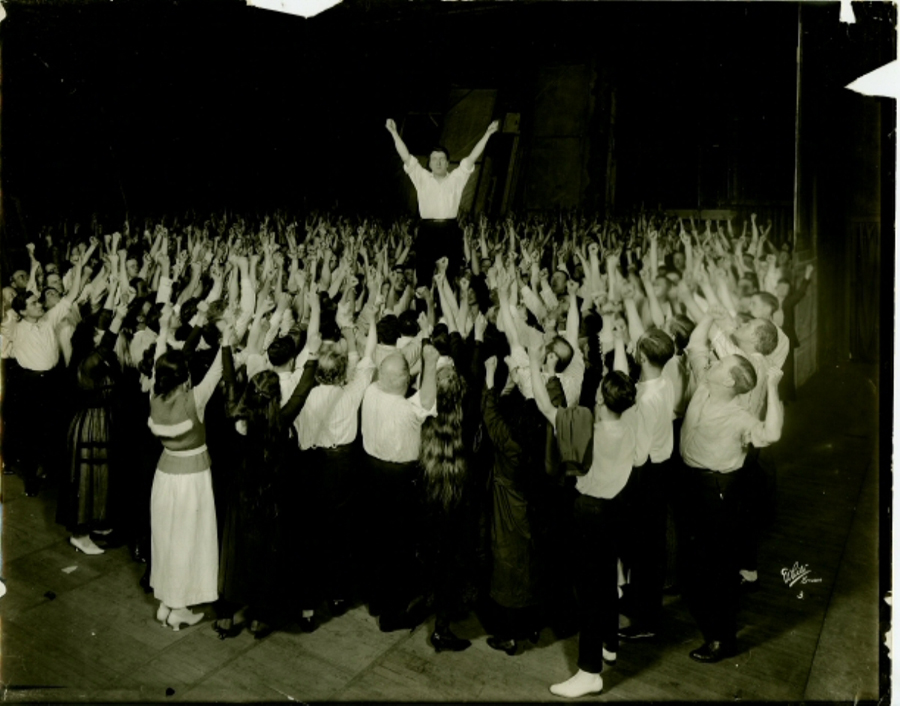 The year 1919 witnessed some of the most violent and far-reaching developments in modern U.S. history. A massive wave of labor strikes mobilized a quarter of all American workers, but along with a wave of anarchist bombings, the strikes also generated an anti-leftist backlash that changed the trajectory of labor relations in the Roaring Twenties. At the same time, a string of bloody race riots involving black veterans, migrants, and homeowners in the North and South made racist violence a reality of urban life. And the infamous "Palmer Raids" (partly organized by a young J. Edgar Hoover) led to the deportation of hundreds of leftists, creating the basis for the FBI's decades-long obsession with the Left. Together, these traumatic events helped spell the end of the Progressive Era.
In this conversation, presented with CUNY's Gotham Center for New York City History, four speakers reflect on that tumultuous year in NYC and beyond: MCNY curator Steve Jaffe sets the stage with images documenting how the transition from World War I to peacetime made New York a flashpoint for conflicts over labor, radicalism, and immigration; Beverly Gage of Yale talks about Hoover and the origins of modern domestic surveillance, D'Weston Haywood of Hunter College discusses black-white relations in NYC leading up to 1919 and the impact of the "Red Summer"; and writer Vivian Gornick considers the experience of the crackdown on radical anarchist leader Emma Goldman and other members of the Left in the years that followed. Moderated by historian Ted Widmer.
Please note: Shannon King is no longer able to participate in this panel.

About the Speakers: 
Beverly Gage is a professor of 20th-century American history and director of the Brady-Johnson Program in Grand Strategy at Yale University. Her forthcoming biography of J. Edgar Hoover is called G-Man: J. Edgar Hoover and the American Century.  She is also the author of The Day Wall Street Exploded: A Story of America in its First Age of Terror (2008) and serves as a contributing writer at The New York Times Magazine. 

Vivian Gornick is a prolific memoirist, essayist, and biographer. She is the author of Emma Goldman: Revolution as a Way of Life (2013). Her other books include  Fierce Attachments (1987), The Solitude of Self: Thinking About Elizabeth Cady Stanton (2005), The Men in My Life (2008), and The Odd Woman in the City (2015). Fierce Attachments was recently selected by The New York Times as the "#1 Best Memoir of the Past 50 Years."
D'Weston Haywood is Associate Professor of History at Hunter College, CUNY, specializing in twentieth century American History. His research and teaching interests center on Black protest movements and protest thought, Black cultural politics, Black social institutions and public spheres, gender and Black masculinity, and ideas of race and revolution in the Black Diaspora. He is the author of Let Us Make Men: The Twentieth-Century Black Press and a Manly Vision for Racial Advancement.

Steven Jaffe is Curator at the Museum of the City of New York and the curator of the current exhibition, City of Workers, City of Struggle. He is the author of Activist New York: A History of People, Protest and Politics (2018) and New York at War: Four Centuries of Combat, Fear, and Intrigue in Gotham (2012).
Ted Widmer (moderator) is a Carnegie Council Senior Fellow and the creator and host of 1919: The Year of the Crack-Up, a special podcast and New York Times series about the events of 1919 around the world. He is a historian, writer, librarian, musician, and a Distinguished Lecturer at Macaulay Honors College (CUNY). His books include Listening In: The Secret White House Tapes of John F. Kennedy (2012); Campaigns: A Century of Presidential Races (with Alan Brinkley, 2001); and Young America: The Flowering of Democracy in New York City (1999).
This program accompanies our exhibitions City of Workers, City of Struggle and Activist New York.
$20 for Adults | $15 for Seniors, Students, and Educators (with ID)
$10 for Museum Members
Members: To receive your discount, click on the "Buy Tickets" button above, then sign in to your account on the ticketing page.
Groups of 10 or more get discounts; contact us at programs@mcny.org or 917.492.3395.
Accessibility: Assistive listening devices are available and our auditorium wheelchair lift can accommodate manual and motorized wheelchairs (max. capacity 500 lbs). Please contact the Museum at 917.492.3333 or info@mcny.org with any questions.
Supporters and Partners
City of Workers, City of Struggle and its associated programs are made possible by The Puffin Foundation, Ltd.
City of Workers, City of Struggle is presented in collaboration with the Kheel Center at the School of Industrial and Labor Relations at Cornell University and the Tamiment Library & Robert F. Wagner Labor Archives at NYU.
This program is co-presented with the Gotham Center for New York City History.