Past Event: Faith in the Five Boroughs
When:
Tuesday, November 14, 2017, 7:00pm
This event has passed.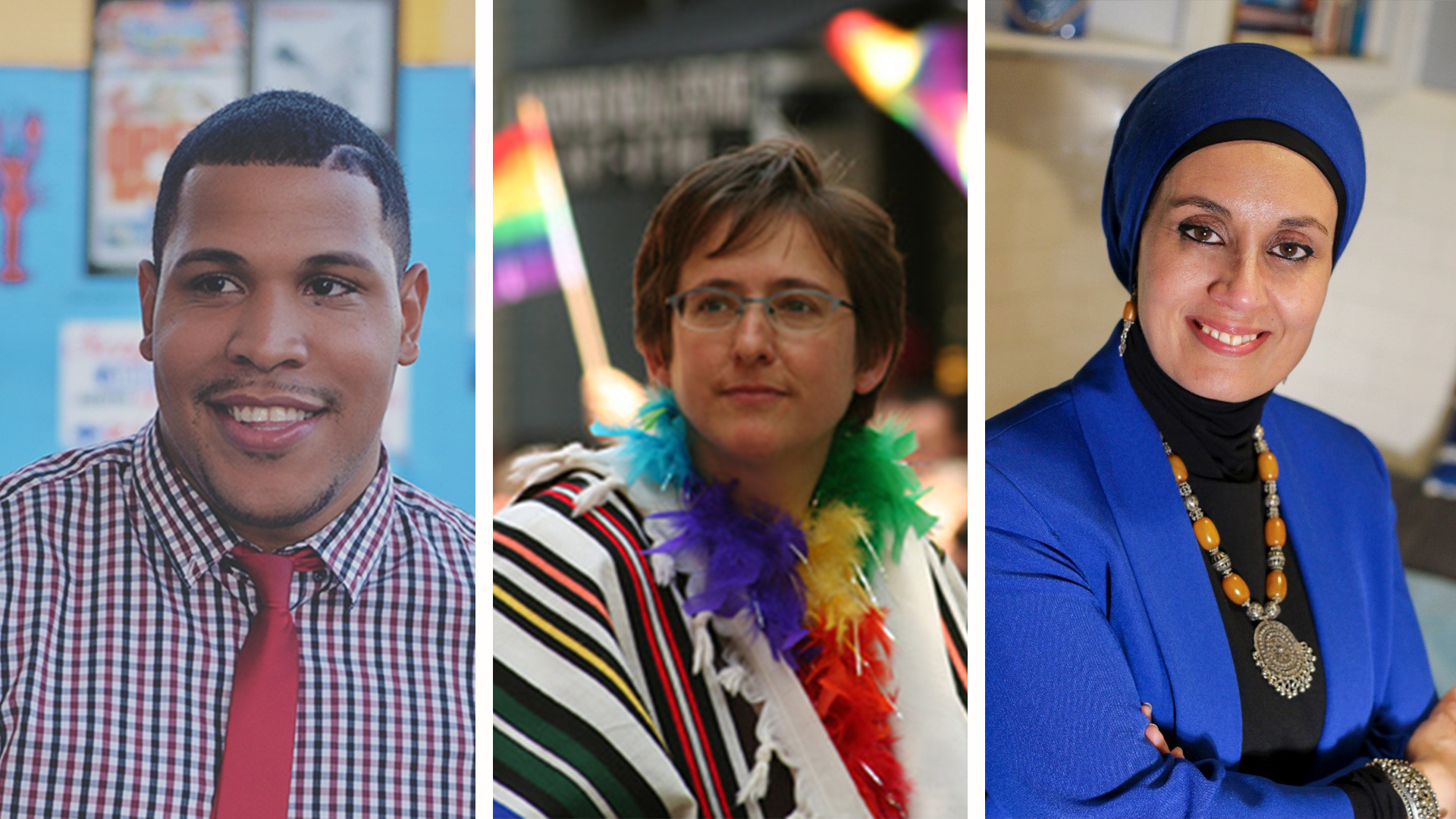 In our deeply fractured present moment, join us for a conversation about the evolving – and increasingly vibrant – role of faith and faith communities in New Yorkers' lives today. Reporter Sarah Maslin Nir sits down with Rabbi Sharon Kleinbaum of Congregation Beit Simchat Torah, the world's largest LGBT synagogue, Pastor Kenneth Hart, self-proclaimed "Hood Pastor" of an unorthodox new church in Harlem, and Dr. Debbie Almontaser, Founder & CEO of Bridging Cultures Group -- in our latest edition of Only in New York.

Reception to follow with both non-alcoholic beverages and beer courtesy of Harlem Blue.

Only in New York with Times reporter Sarah Maslin Nir is a conversation series bringing together two or more distinctive New Yorkers from different worlds to explore key questions about the city's identity, culture, and history.
**Please note that Imam Shamsi Ali is no longer able to participate in this event due to a family emergency. 

About the Speakers:
Dr. Debbie Almontaser is an internationally recognized, award-winning educator, speaker and authority on cross cultural understanding. She is an influential community leader and the Founder and CEO of Bridging Cultures Group, Inc. Dr. Almontaser was the founding and former principal of the Khalil Gibran International Academy in Brooklyn, NY. Currently, she is the Board President of the Muslim Community Network (www.mcnny.org). She frequently lectures, serves on panels, and facilitates teacher and public workshops on cultural diversity, conflict resolution, Arab Culture, Islam, Muslims in America, interfaith coalition building and youth leadership at a wide range of institutions.
Pastor Kenneth Hart is the lead pastor of The Gathering Harlem, a multi-ethnic, non-denominational church in Harlem. The Gathering is passionate about seeing a Harlem where everyone is unified and dignified because justice, love, and mercy are present. Hart left a professional baseball career to become a pastor and graduated from The Southern Baptist Theological Seminary. He grew up in Harlem and the Bronx. 

Rabbi Sharon Kleinbaum is the spiritual leader of Congregation Beit Simchat Torah (CBST). She was installed as CBST's first rabbi in 1992, arriving at the height of the AIDS crisis when the synagogue was in desperate need of pastoral care and spiritual leadership. Under her leadership as Senior Rabbi, CBST has become a powerful voice in the movement for equality and justice for people of all sexual orientations, gender identities and expressions.

Sarah Maslin Nir is a native New Yorker and a reporter for The New York Times best known for her report on the working conditions of nail salon workers, for which she was a finalist for the 2016 Pulitzer Prize. A graduate of the Brearley School, Columbia University, and the Columbia University School of Journalism, where she received her master's, she was also The New York Times' nightlife correspondent, covering 252 parties in 18 months. She once had an audience with the Queen of Spain, though she failed to realize it at the time. She is currently working on a book about horses in New York City for Simon & Schuster.
Our Partners
Beer provided by Harlem Blue. 
Special thanks to A Journey Through NYC Religions, Avodah, Barnard College Department of Religion, Columbia University Office of the University Chaplain, Fordham University Judaic Studies, the New York Disaster Interfaith Services, NYC Muslim Jewish Solidarity Committee, the NYU Muslim Students Association, One Spirit Learning Alliance, Tanenbaum, and the Union Theological Seminary.