Past Event: '60s Fashion with Anna Sui and Andrea Aranow
When:
Wednesday, March 14, 2018, 6:30pm
This event has passed.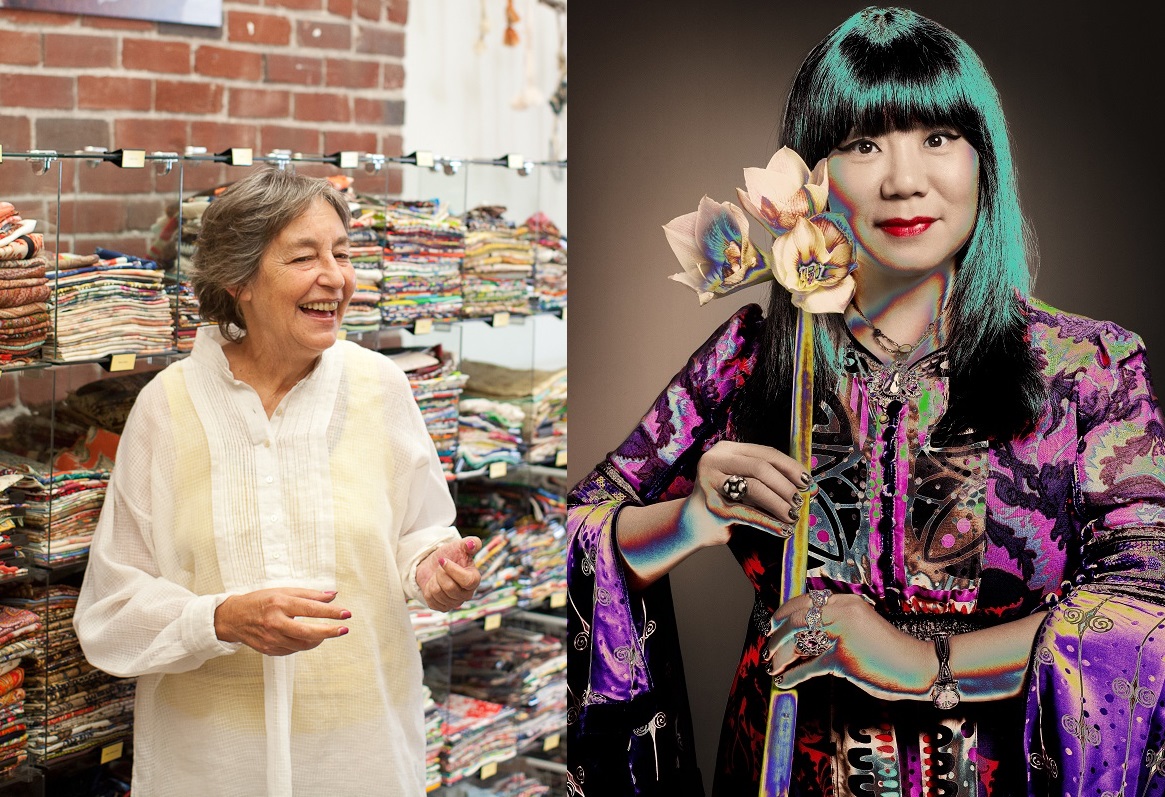 In the tumultuous 1960s, fashion underwent a radical transformation from the styles of the straight-laced 1950s to clothes inspired by the cultural and societal changes that defined the new decade. This shift was spurred on by designers who launched new looks and paved the way for trends of the '70s onward. New York designers Andrea Aranow and Anna Sui explore how the '60s influenced their work with curator Phyllis Magidson and fashion historian Hazel Clark.
Reception and exhibition viewing of Mod New York to follow.

This program is inspired by our exhibition, Mod New York: Fashion Takes a Trip (on view through April 1, 2018). To view all of the programs in the series, click here. 
About the Speakers:
Andrea Aranow has created fashion and studied textiles since the late 1960s. She opened Dakota Transit in 1967, a custom leather and snakeskin apparel shop in the East Village, and achieved instant fame with the snakeskin collage clothes she made for Jimi Hendrix. Aranow spent 15 years abroad creating ethnic textile collections and now works as an independent consultant. 

Phyllis Magidson is the Elizabeth Farran Tozer Curator of Costumes and Textiles where she oversees the Museum's permanent collection of over 27,000 costumes and accessories. She is the co-curator of Mod New York: Fashion Takes a Trip. Recent previous exhibitions include Gilded New York, which explored the visual culture of elite New York in the late 19th and early 20th centuries, and Stephen Burrows: When Fashion Danced.  

Originally from Detroit, designer Anna Sui has been a force on the New York and global fashion scene since the 1990s. Known for combining vintage styles with currently popular cultural obsessions, Sui premiered her first runway show in 1991 and opened her first flagship store in 1992 in SoHo. She has since expanded into cosmetics and fragrances and now has over 65 stores worldwide.

Hazel Clark (moderator) teaches fashion studies and design studies in the School of Art and Design History and Theory at Parsons. Clark holds a PhD in design history. Her scholarship has focused on uncovering new perspectives, cultures, and geographies for the study of fashion and design in the United States, Europe, and China.
This event is part of Carnegie Hall's The '60s: The Years that Changed America festival.