SOLD OUT: New York's Historical Foodways
When:
Thursday, September 22, 2022, 6:30pm
This event has passed.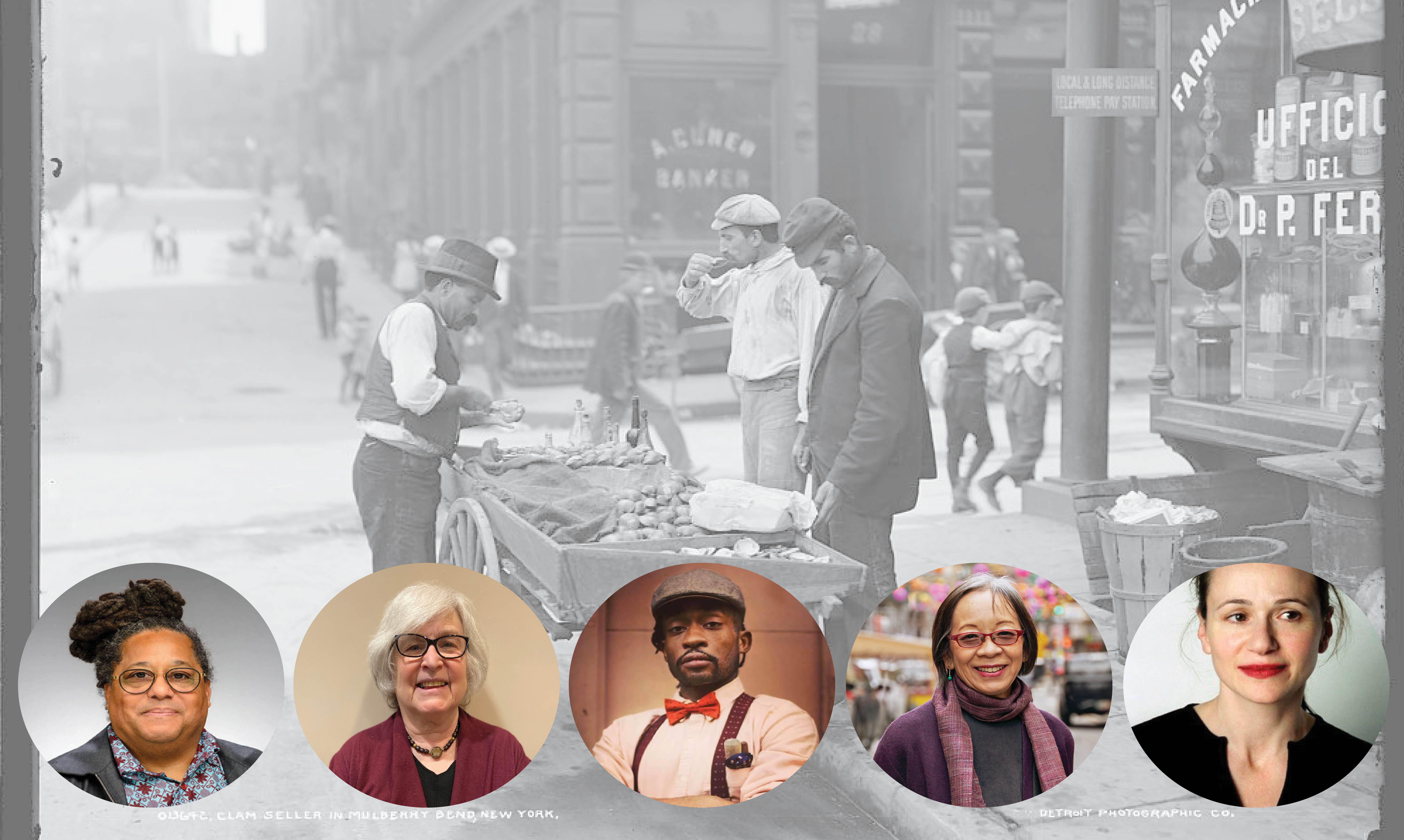 Please note that this program is now sold out. There will be a wait list starting at 5:45 pm on the night of the program. Any additional seats will be released at 6:35 pm in the order the names were received. You must be physically present when your name is called or your place will be forfeited. We do not guarantee that any seats will become available.
What happens when communities are created through immigration? What foods do they recreate, and how do they transform when native ingredients are no longer available? Join us for a look back at New York's historical foodways, particularly during periods of mass migration. 
Award-winning cookbook author and culinary historian Grace Young will speak about the foodways of the Chinese community in NYC during the late 1800's. Author and historian Hasia Diner will discuss the other immigrant communities that lived next to the Chinese in the Lower East Side during this period of mass migration: the Jews, the Italians, and the Irish. Chef and scholar Scott Barton will take us uptown to Harlem to consider how the Great Migration changed the foodways of Harlem, and we'll talk and taste oysters from Ben "Moody" Harney, founder of Mother Shuckers, a nomadic oyster cart that harkens back to the days when New York City was a bustling port town with oyster carts lining the streets. Moderated by Julia Moskin of The New York Times.
Your ticket includes an oyster tasting from Mother Shuckers and a period cocktail crafted by cocktails historian Dave Arnold.
Part of Eat Your Heart Out, a series of talks and tastings accompanying our new exhibition, Food in New York: Bigger Than the Plate.
Co-presented by MOFAD (Museum of Food and Drink). 
About the Speakers:
Scott Alves Barton holds a Ph.D. in Food Studies from New York University, and is a faculty fellow in Race and Resilience at the University of Notre Dame. He had a 25-year career as an executive chef and culinary educator. Ebony magazine named him one of the top 25 African American/Diaspora chefs. His research and publications focus on women's knowledge, the intersection of secular and sacred cuisine as a marker of identity politics, cultural heritage, political resistance, and self-determination in Northeastern Brazil. Scott is a board member of The Association for the Study of Food and Society, Secretary/Treasurer of The Society for the Anthropology of Food and Nutrition, Co-Chair of the African Diaspora Religions Unit within the American Academy of Religion, and a board member of The Indigo Diaspora Arts Alliance. Scott has been working as a curriculum consultant to the Culinary Institute of America, in Hyde Park, N.Y., the African Diaspora Heritage educational gardens at the New York Botanical Gardens, and the Center for Culinary Development. This autumn, Scott will continue at Notre Dame as an Assistant Professor in Africana Studies.
Hasia R. Diner is the Paul And Sylvia Steinberg Professor of American Jewish History at NYU. A specialist in United States history, she has written and taught extensively in the fields of immigration history, American women's history, and American Jewish history. She is the author of Hungering for America: Italian, Irish and Jewish Foodways in the Age of Migration, among other books. Her book, We Remember with Reverence and Love: American Jews and the Myth of Silence after the Holocaust,1945–1962 (New York University Press, 2009) received the National Jewish Book Award in American Jewish studies in 2010 as well as the Saul Veiner Prize for the outstanding book in American Jewish history.
Ben "Moody" Harney is the founder of Mother Shuckers, the only oyster cart in Brooklyn. Fascinated by the story of Thomas Downing, the son of freed slaves who peddled oysters on Wall Street in the late 1800s, and went on to open one of the most successful oyster restaurants of his time, Harney was inspired to operate his own oyster cart. Recently featured in the Netflix series, High on the Hog, he believes the oyster can and should regain its place as an everyman's food. Mother Shuckers, along with more than 75 purveyors in New York City, donates all their used shells to the Billion Oyster Project, an initiative that aims to restore one billion oysters to the New York Harbor by 2035.
Grace Young is an award-winning cookbook author, culinary historian, and Chinatown activist. She produced the video series Coronavirus: Chinatown Stories, in collaboration with videographer Dan Ahn and Poster House and is partner on the #LoveAAPI social media campaign. She has been fighting for the survival of Chinatowns and AAPI mom-and-pop businesses across the country. In 2022, Grace received the James Beard Foundation's Humanitarian of the Year Award. Grace is a three-time James Beard Award winner and a six-time IACP Award winner, including the 2021 Lifetime Achievement Award. Named the "poet laureate of the wok," Grace has devoted her career to demystifying and preserving the ancient cooking utensil for use in contemporary kitchens. She is the first food writer to write extensively about wok hei.
Julia Moskin (moderator) has been a Food staff reporter at The New York Times since 2004. She was part of a team that won a Pulitzer Prize in 2018 for public service for reporting on workplace sexual harassment issues. She reports news (startling readers with such facts as most sushi is frozen, not fresh), writes profiles (of food people, from Paula Wolfert to Paula Deen), and spots trends (like Korean fried chicken, which she wrote about before any other United States journalist). She has exposed the frequent use of ghostwriters by celebrity cookbook authors, and her investigation into the finances of the James Beard Foundation led to the resignation of its entire board of trustees. Recently, she's been investigating the best recipes for kitchen classics in her video column Recipe Lab. She has multiple recipes that appear in NYT Cooking.
Dave Arnold (cocktail historian) is the founder of MOFAD, host of the radio show "Cooking Issues," and the author of Liquid Intelligence: The Art and Science of the Perfect Cocktail. Widely considered a thought leader in the culinary and mixology world, Dave created and directed the Department of Culinary Technology at the French Culinary Institute (now the International Culinary Center) - at the time, no such department existed in the country. He has been described as being on the culinary education "vanguard' with "tremendous influence" on CNN's The Next List, and has been widely featured on television, in print, and on the radio. Dave is a business owner in Manhattan's Lower East Side, where he has lived with his family for nearly 10 years.

Event Logistics (subject to change based on NYC regulations):
You must be 21 and over to attend.
Please contact programs@mcny.org with any questions or ticketing issues.
All sales are final; refunds not permitted. Exchanges and credit for future programs only. Programs and dates may be subject to change. The Museum of the City of New York reserves the right to refuse admission to latecomers.