When:
Wednesday, October 28, 2020, 7:00pm
This event has passed.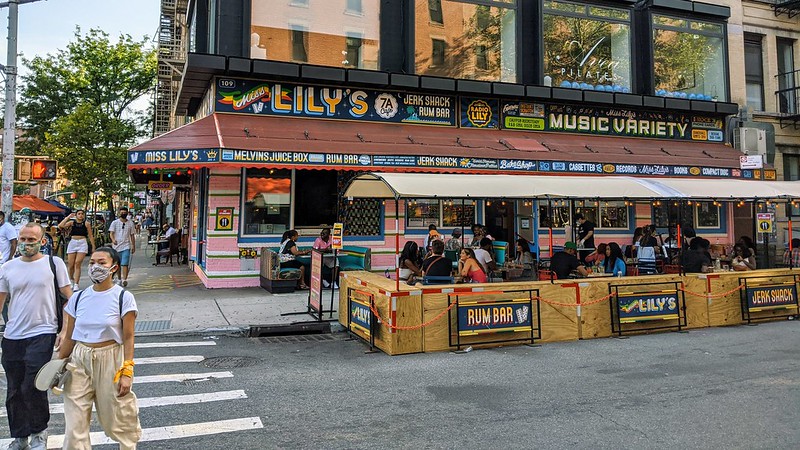 If you purchased a ticket for this event, but do not receive a Zoom link by 6:30 pm ET on the night of the program, please email programs@mcny.org.
The story of 2020 in New York will, inevitably, be one of extremity—how world-historic events gave us drastic, memorable images of a city in crisis. But a subtler, perhaps more lasting effect of this year's dramas can be seen in the moments in between: a suddenly transformed everyday life.  Strolling "on the avenue" is hardly the experience it was six months ago. From boarded-up storefronts to outdoor dining areas jutting into the streets, newly car-free thoroughfares to suddenly reimagined public art, our street life, culturally and commercially, has undergone a radical change. This shift is particularly evident in newer "mixed-use" luxury developments such as Hudson Yards and Brookfield Place, but also in Manhattan's traditional retail corridors and in the areas around some of our most famous public parks. In this session we will examine areas from SoHo to 125th Street, Fifth Avenue to Fordham Road, looking to find out what our new street life might yield.
About the Speakers: 
Susan Chin, FAIA, Hon. ASLA, an accomplished architect, urbanist and civic leader, has formed an independent consultancy DesignConnects, and serves on NYC & Company Board and East Midtown Governing Group.  She recently led Design Trust for Public Space, that unlocks the potential of New York City's public space since 1995, on projects such as Under the Elevated, Five Borough Farm, Making Midtown. Prior to Design Trust, she was assistant commissioner for Capital Projects at NYC Department of Cultural Affairs, supporting architecture and public art citywide. She also served on the American Institute of Architects board, and as AIANY chapter president.  Her awards include: ASLA Honorary Membership, AIANY State's Kideney Gold Medal and Del Gaudio, and The Ohio State University's Distinguished Alumna.

Kate Wagner is an architecture critic and the creator of the blog McMansion Hell. She has served as a columnist at Curbed and The Baffler and is currently stationed at The New Republic where her column America By Design runs bimonthly in print.

Vinson Cunningham (moderator) joined The New Yorker as a staff writer in 2016. His writing on books, art, and culture has appeared in The New York Times Magazine, The New York Times Book Review, Vulture, and McSweeney's, where he wrote a column called "Field Notes from Gentrified Places." He previously served as a staff assistant in the Obama Administration.
Additional speakers to be announced, check back for updates!
This event is a part of our series, Another City: New Meaning in New York's Public Spaces. To view all of the events in the series, click here.