Curator Walking Tour – The World in Morningside Heights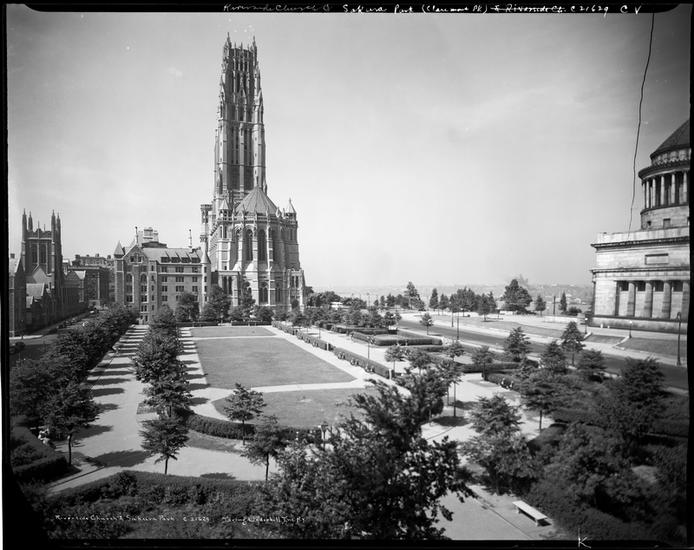 Join MCNY fellow Azra Dawood as she explores the history of international communities—and internationalist thinking—in Morningside Heights and adjoining areas. Owing to its famous cluster of educational and religious institutions—such as Columbia University and Union Theological Seminary—by the early-twentieth century the neighborhood was being called New York City's "Acropolis." A lesser-known part of this story is the presence and significance of foreign-student and diaspora communities and institutions in the neighborhood. How did these groups come to live in Morningside Heights, what is their legacy, who are the people and institutions that facilitated their arrival in the area, and what were their motivations? The tour will cover the histories and architecture of the Rockefeller-funded International Student house (opened in 1924), Sakura Park (the recipient of a gift of cherry blossom trees from the Committee of Japanese Residents of New York) and other sites. 
About the Guide: 
Azra Dawood is an architectural historian, educator, and curator, whose work focuses on the built environments of the United States. Her research critically engages issues of social engineering, philanthropy, religion, and internationalism. Azra is also trained as an architect. Her academic, architectural, and curatorial careers have spanned Cambridge (MA), Houston, Karachi, and New York City. She holds a PhD in the History and Theory of Architecture from MIT. 
IMPORTANT LOGISTICAL INFORMATION:
Before registering for this event, please read the below Safety Protocol.
You must also sign a tour waiver before attending the tour, which will be sent to you via email in advance.
We cannot accommodate any walk-ups for the tour, so please be sure to register in advance.
The tour will meet at Sakura Park, at the corner of West 122nd Street and Riverside Drive. The tour will be 75 - 90 minutes. Participants should be prepared to walk or stand for the entire time.
Please email programs@mcny.org with any questions.
SAFETY PROTOCOL:
We look forward to having you join us for our Curator-led Walking Tours this spring and summer! Please make sure to familiarize yourself with our safety protocols before attending the activity. The Museum's COVID guidelines apply to all visitors, regardless of vaccination status, and are in accordance with the CDC and NYDOH guidelines:
Our Walking Tours are capped at a maximum of 15 people.
Make sure to register in advance for your tickets. Check-in will be contactless. Please check your email leading up to the date of the event, as we will be sending important information and details prior.
Stay home if you are feeling sick or symptomatic. If you have been in contact with someone with related symptoms or who has tested positive within the last 14 days also stay home, we can refund you for your tickets.
CDC-recommended face coverings are required for all visitors and staff at all times. Face masks should completely cover your nose and mouth.
Social distancing is required at all times. Visitors and staff must keep at least 6 feet from others on outdoor walking tours, visitors who are a household should maintain social distance from other visitors and staff.
If possible, we suggest bringing water, hand sanitizer, tissues, and a spare mask with you. Be prepared to stand or walk for approximately 75 - 90 minutes and be outside without access to climate-controlled spaces for most of your visit.
We are required to keep the contact information of all attendees at least 30 days after the tour for contact tracing purposes.
An inherent risk of exposure to COVID-19 exists in any public space where people are present. Those visiting the Museum of the City of New York or joining related programs and events hosted by MCNY do so at their own risk to such exposure.
If you have any questions or concerns, please feel free to reach out at programs@mcny.org.
$25 General Admission | $20 Museum Members
Members: To receive your discount, click on the "Buy Tickets" button above, then sign in to your account on the ticketing page.