Past Event: Whose Streets? Reclaiming NYC for Cyclists
When:
Thursday, June 27, 2019, 7:00pm
This event has passed.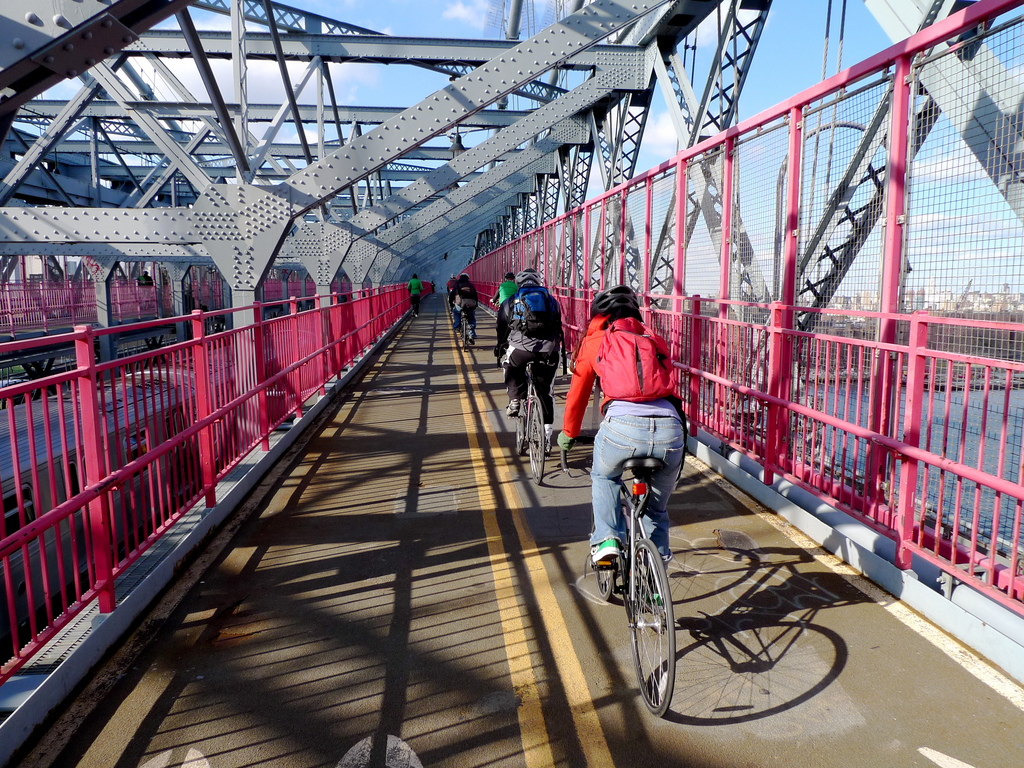 Over 800,000 New Yorkers are now riding a bicycle regularly (NYC DOT). As the subways falter, transit fares increase and the streets grow ever more congested, cycling offers a more efficient way to get around the city, becoming a key part of the city's commuting network. However, cyclists' attempts to share the streets with cars and pedestrians continue to stir intense community debates around issues of safety and regulation. How can we rethink the relationship between cycling and the city for the benefit of all? Join us for a conversation with urban planners, biking advocates and experts about how New York City could achieve a shared "right to the road" for everyone, on two wheels or otherwise. Featuring Judi Desire, founder of Uptown & Boogie Bicycle Advocacy; Helen Ho, co-founder of the Biking Public Project; Adam Mansky of Transportation Alternatives, and NYC Council Member Ydanis Rodríguez. Moderated by Streetsblog editor-in-chief Gersh Kuntzman.

Due to a scheduling conflict, Council Member Antonio Reynoso will no longer be able to participate in this event.
A FREE Bike Buyer's Workshop by Bike New York will be offered right before the program (at 6:00 pm). Pre-registration is required; learn more and register here.
Complimentary Bike Parking On-Site:
There will be a bike valet for a limited number of bikes beginning at 6:00 pm on the sidewalk in front of the Museum on Fifth Avenue. Additional bike racks can be found surrounding the Museum, and the parking garage on 103rd Street between Fifth and Madison Avenues offers free bike parking as well (you must supply your own lock). The Museum of the City of New York is not responsible for any lost or stolen items.
Event Timeline:
6:00 pm – Bike New York Bike Buyer's Workshop begins in the Classrooms on the Ground Floor
6:30 pm – Doors open to the Museum's auditorium, Ronay Menschel Hall, on the Ground Floor
6:45 pm – Workshop ends
7:00 pm – Program begins

8:30 pm

– Program ends and the Museum closes
This program accompanies our new exhibition, Cycling in the City: A 200-Year History. 

About the Speakers:
Judi Desire is the founder and CEO of Uptown & Boogie Bicycle Advocacy. Desire was formerly an instructor at Bike New York and has been on multiple solo bike tours around the world. In 2017, she launched Uptown Boogie & Boogie Bicycle Advocacy to provide cyclist-based social activities to Upper Manhattan and Bronx communities.
Helen Ho is Chinese-American and a New York City native. She has a history of working in politics and on environmental and social justice issues in New York City including organizing on issues related to equity and access in public spaces for the NYC Mayor's Office, NYC Parks Department, the NYC Health Department, LaGuardia Community College and the Biking Public Project. Ho has her Masters in Urban Planning from Hunter College.
Adam Mansky is former board chair (2016 through 2018) and current board executive committee member of Transportation Alternatives, which works to reclaim the streets for bikes (and pedestrians) from the car. In his day job as a senior director of the non-profit, Center for Court Innovation, Adam does lots of business travel – throughout the five boroughs, usually on two wheels.

Council Member Ydanis Rodriguez, represents the 10th Council District, which includes the neighborhoods of Washington Heights, Inwood and Marble Hill.  As Chairman of the NYC Council Transportation Committee, Rodriguez's work includes the passage of 14 bills to ensure pedestrian and cyclist safety. He has also been a key figure in supporting the effort to reduce traffic fatalities and expand transportation options into underserved communities. Among his many accomplishments includes leading the expansion of Citibike to every neighborhood in the five boroughs.
Gersh Kuntzman (moderator) joined StreetsblogNYC as editor-in-chief in July 2018 after working at the New York Post, New York Daily News, and The Brooklyn Paper. He is a veteran journalist and longtime bike commuter. He has been hit by a driver on Smith Street, doored on Flushing Avenue, and wiped out on the really shiny, slippery paint on the Manhattan end of the Manhattan Bridge. Kuntzman is a relentless voice for bicycle safety, but also obsessed with how people get around more broadly.  
Supporters
Cycling in the City programs are funded in part by a Humanities New York Action Grant with support from the National Endowment for the Humanities.

Cycling in the City is made possible with lead support provided by Metropolitan Velodrome, Inc.; additional support provided by the Lily Auchincloss Foundation; Katheryn C. Patterson and Thomas L. Kempner Jr.; Bike New York; Rabobank International; and George H. Beane.