Past Event: Sporkful World Tour LIVE @ MCNY with Marcus Samuelsson
When:
Wednesday, July 17, 2019, 7:00pm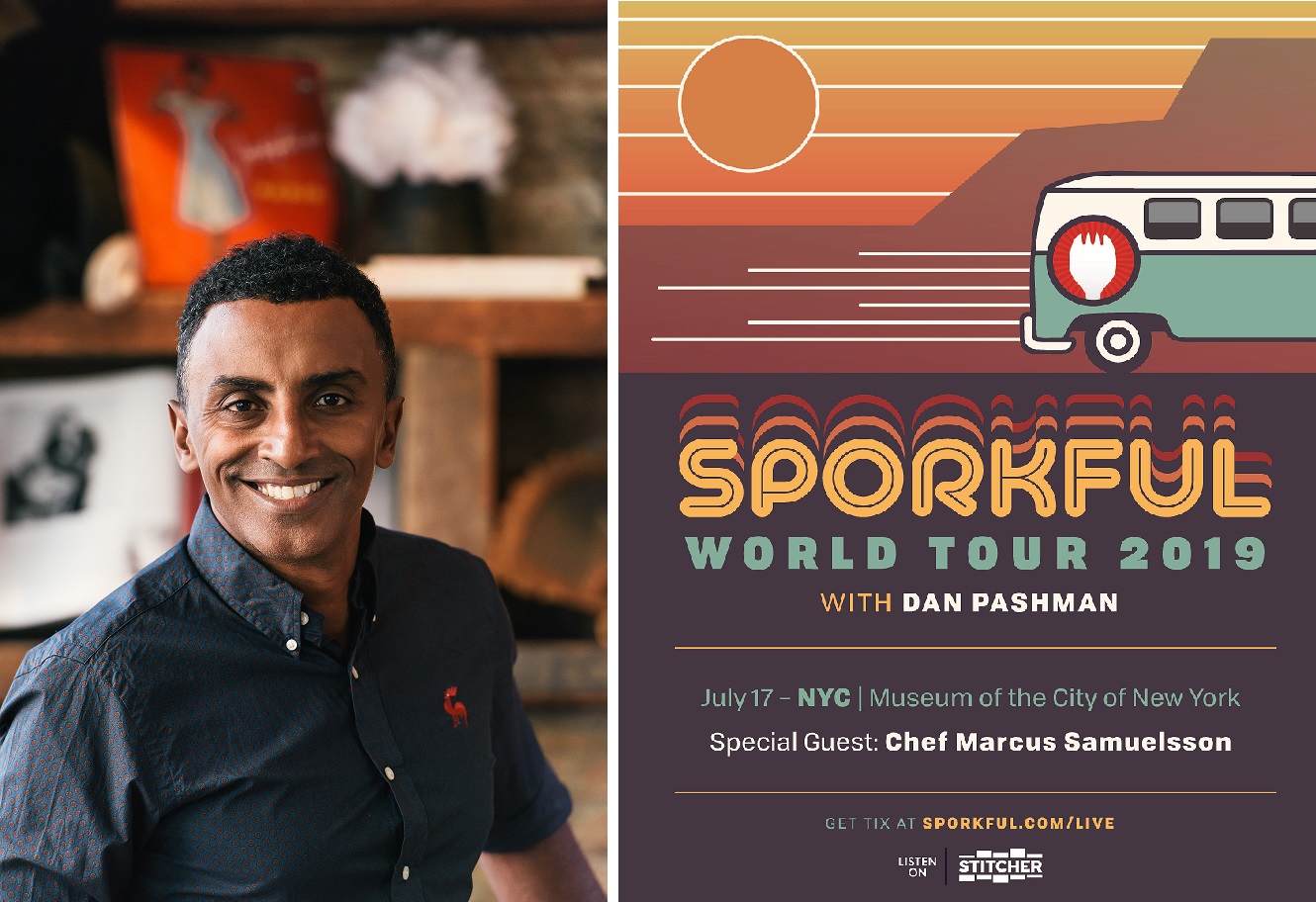 Join us for a live recording of the James Beard Award-winning podcast The Sporkful where host Dan Pashman obsesses about food to learn more about people. In this episode, Pashman sits down with celebrated chef Marcus Samuelsson, owner of the landmark restaurant Red Rooster Harlem, which serves cross-cultural Southern comfort food. Samuelsson, who was born in Ethiopia, raised in Sweden, and lives New York City, was the youngest chef ever to receive a three-star review from The New York Times. He has since authored several books and now hosts his own TV show, No Passport Required. 

About the Speakers: 
Marcus Samuelsson is the acclaimed chef behind restaurants worldwide including Red Rooster Harlem, Marcus' Bermuda, and Marcus B&P. He has won multiple James Beard Awards and was recently nominated again in 2019 for his TV series No Passport Required (Eater/PBS). Samuelsson also serves as executive producer of HUSTLE on Viceland and is developing a new audio project with Audible titled Our Harlem, which is set to release this summer. He currently serves as executive chef-in-residence of Buzzfeed Tasty's talent program. Samuelsson is also co-chair of Careers through Culinary Arts Program, which focuses on underserved youth, and he co-produces the annual week-long festival Harlem EatUp! He is the recipient of the 2019 Vilcek Foundation Prize in Culinary Arts and is the author of multiple best-selling books. Recent restaurant openings include Red Rooster Shoreditch, Norda Oslo, and Streetbird Express at Madison Square Garden. Samuelsson also announced the opening of his newest restaurant, MARCUS, coming to Montreal in Spring 2019. Follow him on Instagram, Facebook, and Twitter at @MarcusCooks.

Dan Pashman is the James Beard Award-winning creator and host of The Sporkful food podcast at Stitcher and Cooking Channel's You're Eating It Wrong. He's a contributor to NPR and has appeared on shows as varied as Radiolab, Planet Money, WTF with Marc Maron, The Today Show, and Guy's Grocery Games. As host of The Sporkful, Dan has interviewed Rachel Maddow, Weird Al, Rosie Perez, Guy Fieri, Amy Sedaris, Kumail Nanjiani, Alton Brown, Padma Lakshmi, Jim Gaffigan, and many more.

About The Sporkful:
The Sporkful isn't for foodies, it's for eaters. It's a podcast where host Dan Pashman obsesses about food to learn more about people, whether that means talking with people like Rachel Maddow, Rosie Perez, Alton Brown, and Padma Lakshmi, discussing deeper issues of food, and identity or arguing about the ideal surface-area-to-volume ratio of ice cubes. The Sporkful is the #1 food podcast on Apple Podcasts. It's produced by Stitcher.