SOLD OUT New York on Film: Style Wars 40th Anniversary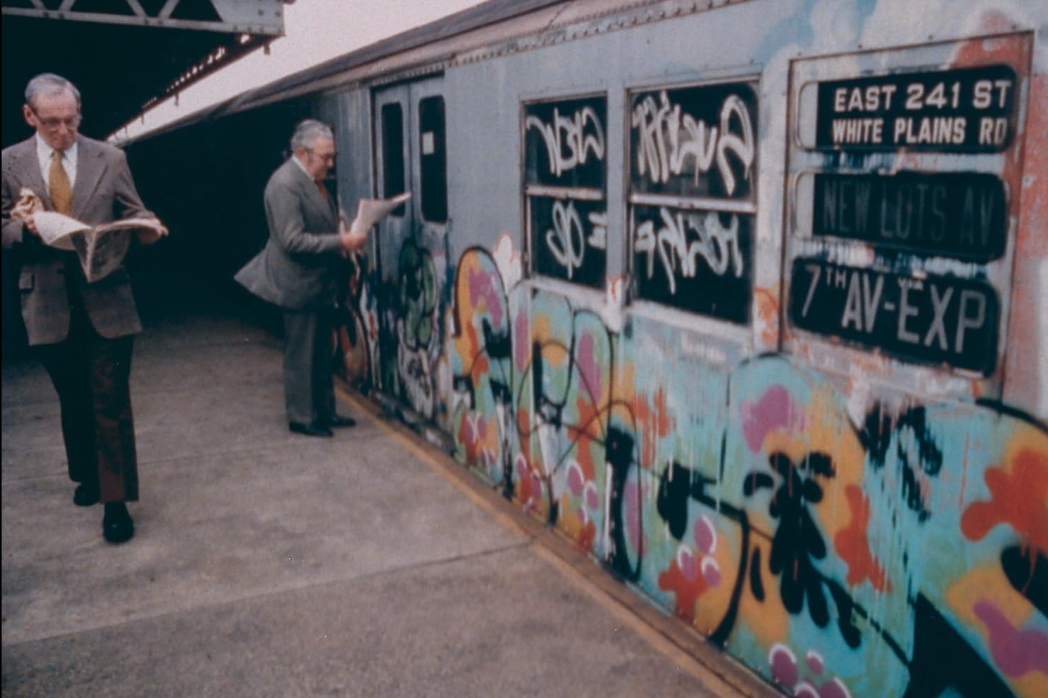 Join us for a graffiti art bazaar, film screening, and an all-star panel to celebrate the 40th anniversary of Style Wars! The event is presented in partnership with Public Art Films and City Lore.
In the fall of 1983, PBS premiered the documentary Style Wars, which chronicled New York City's youth culture through the world of graffiti and breakdancing. The brainchild of director and producer Tony Silver and producer Henry Chalfant, the film tackles the conflict between graffiti artists and the cynical officials as the New York they know vanishes around them. This film is an invaluable record of both the city's history and the early days of Hip-Hop as we celebrate the genre's 50th anniversary in 2023. Style Wars is required viewing for students of NYC history and fans of graffiti and b-boy and b-girl culture alike.  
Our program kicks off with a graffiti bazaar in the Museum's Rotunda, followed by the film screening and panel discussion in Ronay Menschel Hall.  The panel features artists Lady Pink and Skeme, B-Boy Ken Swift, and Style Wars producer Henry Chalfant, and is moderated by New York On Film series programmer Jessica Green.
CART services and ASL interpretation will be provided.
Event Timeline
4:00 – 6:15pm: Graffiti Bazaar in Rotunda (1st Floor)
6:30 – 6:45pm: Film introduction (Ronay Menschel Hall, Ground Floor)
6:45 – 7:55pm: Style Wars screening (70 mins); drinks & popcorn available for purchase
7:55 – 8:50pm: Panel with Lady Pink, Skeme, Ken Swift, and Henry Chalfant.
9:00pm: Museum closes.
About  the Speakers:
Henry Chalfant is best known for his photography and film documentation urban youth culture. His photographs of New York's subway paintings record hundreds of ephemeral art works that have long since vanished. Exhibits of his photos begin with the O.K. Harris Gallery, 1980, the Mudd Club in 1980, the landmark 'New York-New Wave' show at P.S. l in 1981, and continue to include The American Century, at the Whitney Museum, New York, 1999; Born in the Streets at the Cartier Foundation in Paris, 2010 and Art in the Streets at MOCA in Los Angeles in 2011; Language of the Wall, at the Pera Museum in Istanbul, 2014; The Bridges of Graffiti, at the Biennale di Venezia, 2015; Henry Chalfant: 1980, at the Eric Firestone Gallery, New York, 1915; Art is Not a Crime, at the Centro de Arte Tomas y Valiente, Madrid, 2018: Art vs Transit, at The Bronx Museum, 2019. He has co-authored the definitive account of New York graffiti art, Subway Art (Holt Rinehart Winston, N.Y. 1984) and a sequel on the art form's world-wide diffusion, Spraycan Art (Thames and Hudson, 2008); Training Days with Sacha Jenkins (Thames and Hudson,  2015).In 1983, Chalfant co-produced with director Tony Silver the PBS documentary, Style Wars, the highly considered documentary about Graffiti and Hip Hop culture.  He has continued to make documentary films about street culture and community life in New York City.

Jessica Green is an independent film programmer currently programming film, speaker, and performance series for BAM, the Weeksville Heritage Center, and the Museum of the City of New York. Jessica served as the Artistic Director of the Houston Cinema Arts Society from 2019-2022, providing artistic leadership for year-round film programming and the Houston Cinema Arts Festival, Houston's largest film festival. She was the Cinema Director of the Maysles Documentary Center in Harlem from 2008-2018. Jessica is also a former founder, owner and Editor-In-Chief of the New York based, independent Hip-Hop magazine Stress (1994-2001), as well as the former Executive Editor of BET.com (2000-2005).
Lady Pink is a pioneer in the early 1980's NYC based subway graffiti art movement. She has established herself in the fine arts and her paintings have entered important art collections in major museums around the world. Going strong for 40 years, today she continues painting canvases, murals, inspiring and teaching younger generations.
Skeme, born in The Bronx in 1964, began writing Graffiti in 1979 in NYC's streets and subway system, ultimately becoming one of Graffiti's most prolific practicioners. In 1983 he gained both national and international notoriety after appearing with his beautiful Mom, in the ground breaking Hip Hop documentary, Style Wars. Skeme joined the U.S. Army in 1982 , and retired from active service almost 30 years later only to rekindle his love for the art form and culture. He quickly entered the mainstream art world with current works exhibited in galleries from New York to the Netherlands.
Ken Swift is one of the greatest influences the dance of Breaking has known and is credited with establishing movements critical to the dances' foundation with his personal style and techniques. He is recognized worldwide for his continued contributions throughout the last 44 years of promoting, educating and preserving the art form of Breaking within Hip Hop Culture. Ken is an original 2nd generation B.Boy from NYC and Former Vice President of the world renowned Rock Steady Crew (RSC) who were featured in the first Hip-Hop documentary film "Style Wars", the first Hip-Hop motion picture "Wild Style" (1983), and major motion pictures "Flashdance" (1983) and "Beat Street" (1984), including the first International Hip Hop Tour, "New York City Rap" (1982). Due to Ken's contributions as a pioneer he has received many accolades including four Lifetime Achievement Awards from various organizations, received an American Masterpieces in Dance Award from the NEA, as well as being voted the 2nd Most Influential Dancer of the 20th Century by CNN's Icon Series. He has been featured and interviewed as an expert in over seventy documentary film projects as well as hundreds of newspapers, magazines and books over the course of his career including his first publishing and opening chapter for the Oxford Handbook of Hip Hop Dance Studies. Currently he travels the world judging Breaking competitions, teaching workshops at universities and dance schools and has been lecturing "The Art of Hip Hop Culture" at UCLA.  
This screening is part of our year-long series, New York on Film: Decade by Decade, programmed by Jessica Green. The series accompanies the Museum's centennial exhibition, This Is New York: 100 Years of the City in Art and Pop Culture.  
New York on Film is the centennial year edition of the Museum's ongoing Moonlight & Movies series.
Important Event Logistics 
Please contact programs@mcny.org with any questions or ticketing issues.
All sales are final; refunds not permitted. Exchanges and credit for future programs only. Programs and dates may be subject to change. 
General Admission $20 | Members $15
Members: To receive your discount, click on the "Buy Tickets" button above, then sign in to your account on the ticketing page.
Groups of 10 or more get discounts; contact us at programs@mcny.org or 917.492.3395.
Accessibility: Assistive listening devices are available and our auditorium wheelchair lift can accommodate manual and motorized wheelchairs (max. capacity 500 lbs). Please contact the Museum at 917.492.3333 or info@mcny.org with any questions.
Our Partners