On the Edge: Puppets in Contemporary Culture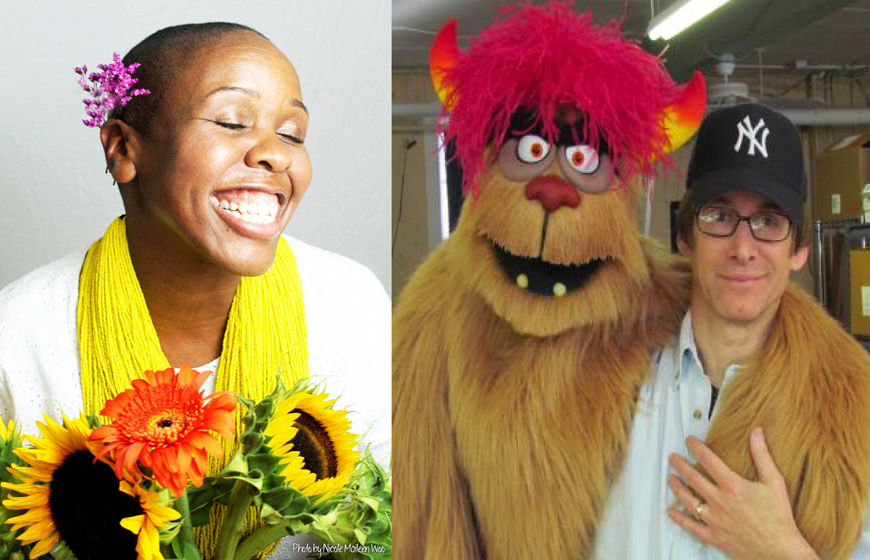 Join us for a lively evening of conversation with two of New York's most influential puppeteers and theater artists. Rick Lyon, creator of all the puppets in the Tony Award-winning musical Avenue Q, joins director, playwright, and fellow puppeteer Nehprii Amenii, creator of Food for the Gods, for a discussion about the role of puppets in contemporary culture. Moderated by Monxo López, curator of the Museum's hit exhibition, Puppets of New York. 
Puppets of New York will be open for viewing both before and after the program.
Event Timeline:
6:00 pm - Doors open to the Puppets of New York gallery
6:30 pm - Program begins in the gallery
7:30 pm - Program ends; Puppets of New York remains open for late viewing
8:15 pm - Exhibition closes
8:20 pm - Museum closes
About the Speakers:
Nehprii Amenii is a Brooklyn-based director, playwright, production designer and puppeteer. She has a passion for personal narratives, puppetry, and grand-scale spectacle. She is known for creating experiences that dismantle the wall between players and audiences, enchant the imagination and inspire new ways of seeing and thinking. She's worked with Bread and Puppet Theatre, Alvin Ailey Dance Foundation, La Mama, The O'Neill, The New York Philharmonic, and more. Nehprii is a member of the Lincoln Center Theater Directors Lab, the Stage Directors and Choreographer's Society, invited U.S. delegate of the Women's Playwright International Conference, and is recipient of the Lipkin Prize for playwriting.  She's been awarded by the International Rotary Club, Puffin foundation, Manhattan Cultural Council, the Jim Henson Foundation, and the National Endowment for the Arts. Most recently, she was selected as one of New Victory Theatre's 2021/22 LabWork's Artist. Nehprii is Artistic Director of Khunum Productions, a platform for creative anthropology. Nehpriiamenii.com
Monxo López is a researcher, educator, cartographer, and South Bronx-based urban activist. He is currently a Mellon Foundation Fellow at the Museum of the City of New York, and was a Mapping Fellow at the Design Trust for Public Spaces. He is also a founding member of South Bronx Unite (a local environmental justice organization), as well as a founding and board member of the Mott Haven/Port Morris Community Land Stewards, the local Community Land Trust. López holds a Ph.D. in political science from CUNY's Graduate Center. He grew up in Puerto Rico, and now lives in Mott Haven, the South Bronx. 
Rick Lyon, a professional puppeteer for theatre, television, and film for nearly forty years, is perhaps best known for having created all the puppets for, and being an original cast member of, the Tony Award-winning Broadway musical AVENUE Q, in which in played the lead roles of Nicky and Trekkie Monster. Rick worked for 15 seasons on Sesame Street, films including Men In Black, Teenage Mutant Ninja Turtles 2 and 3, and the Walt Disney World attraction MuppetVision 3D. Most recently, his performances and puppets have been featured on The Late Show with Stephen Colbert (Stephen's talking pants, "Yoda," "Kermit," "Big Bird," and an alien xenomorph with Sigourney Weaver). Rick has also created his own family shows with his troupe The Lyon Puppets, and builds custom puppets on commission. In 2019, Rick was proud to add some of his AVENUE Q puppets to the permanent collection of the Smithsonian Institution. Lyonpuppets.com
Event Logistics (subject to change based on NYC regulations)
Proof of vaccination is required for entry (everyone over the age of 12), so please plan ahead! Excelsior Pass is accepted for those vaccinated in NYS. 
Masks will be required regardless of vaccination status.
For more information about the Museum's COVID Guidelines, please check our "Plan Your Visit" page.

All sales are final; refunds not permitted. Exchanges and credit for future programs only. Programs and dates may be subject to change. The Museum of the City of New York reserves the right to refuse admission to latecomers and/or those who do not provide requested Covid-19 documentation.  
General Admission $20 | Members $15
Members: To receive your discount, click on the "Register" button above, then sign in to your account on the ticketing page.