Past Event: Moonlight & Movies: Nuyorican Básquet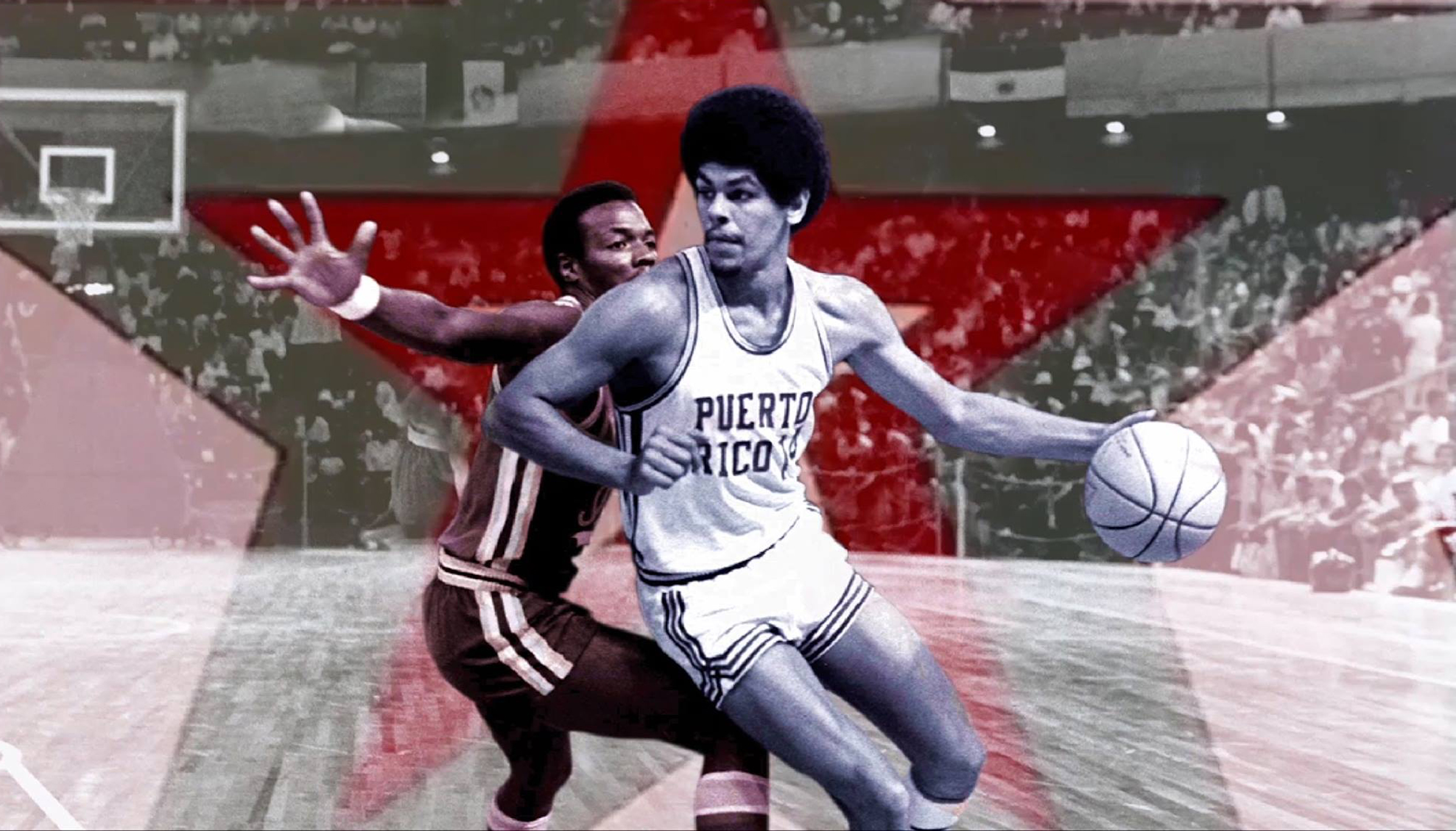 A quintessential New York City sport, basketball has connected New Yorkers for decades. Played in over 1800 public outdoor courts across the five boroughs, the game has traditionally bridged ethnicity, race, class, and language and has long embodied the diversity of NYC. Beyond the five boroughs, New York players have served as ambassadors for this spirit of inclusivity and for the promise of basketball to forge connections. Nuyorican Basquet (2017, 108 min.) highlights the 1979 Pan American games in San Juan where many of the supremely talented players on Puerto Rico's national basketball team were Nuyorican (born in New York) and their participation in the games was an integral factor in building unity among Puerto Ricans at a politically tenuous moment. 
Directors Julio César Torres González and Ricardo Olivero Lora join organizer, political commentator and independent journalist Rosa Clemente and Monxo López, the Andrew W. Mellon Foundation Post-Doctoral Fellow at the Museum of the City of New York for a virtual conversation about the making of the film and the connections between basketball and Nuyorican identity. 
--
Una conversación sobre las conexiones entre el baloncesto y la identidad Nuyorican, y el poder del deporte para forjar conexiones -desde NYC a Puerto Rico. Con los directores Julio César Torres González y Ricardo Olivero Lora, la activista y periodista Rosa Clemente y Monxo López, del Museo de la Ciudad de Nueva York. 
This will be a bilingual event with English and Spanish interpretation provided by the Babilla Collective. 
Traducción de inglés y español por Babilla Collective. 
Logistics:
Watch the film:
Please note that registration does not include a link to the film. Registrants are invited to rent or purchase the film through Amazon, here.
Join the talk: Monday, August 3 at 7:00 pm ET
Registrants will receive a Zoom link for the conversation through the MCNY ticketing confirmation email as well as through a direct email in advance of the event.
Please contact programs@mcny.org with questions.
About the Film:
Nuyorican Básquet chronicles the dramatic story of the Puerto Rican national basketball team's participation in the 1979 Pan American Games. Boasting a totally unique approach to the game, the Puerto Rican team had the curious distinction of being composed largely of players born in New York City, which generated questions about the nature of diasporic identity. Regardless of their birthplace, these ferociously talented Nuyoricans became a source of fascination and pride for Puerto Rico during a time of high political tensions. Shifting energetically between new interviews with athletes and experts and fantastic archival materials showing off the team's dazzling technique and teamwork, Nuyorican Básquet is a thrilling, colorful testament to the ability of sports to dissolve boundaries and a loving homage to that magical Puerto Rico-NYC alchemy.
About the Speakers:
Rosa Alicia Clemente is an organizer, political commentator and independent journalist. An Afro-Puerto Rican born and raised in the Bronx, NY she has dedicated her life to organizing, scholarship and activism. From Cornell to prisons, Clemente is one of her generations leading scholars on the issues of Afro-Latinx identity. Clemente is the president and founder of Know Thy Self Productions, which has produced seven major community activism tours and consults on issues such as hip-hop feminism, media justice, voter engagement among youth of color, third party politics, United States political prisoners and the right of Puerto Rico to become an independent nation free of United States colonial domination. She is a frequent guest on television, radio and online media, as her opinions on critical current events are widely sought after. Her groundbreaking article, "Who is Black?", published in 2001, was the catalyst for many discussions regarding Black political and cultural identity in the Latinx community. She is creator of PR (Puerto Rico) On The Map, an independent, unapologetic, Afro-Latinx centered media collective founded in the aftermath of Hurricane Maria. She is currently completing her PhD at the W.E.B. DuBois Center at the University of Massachusetts Amherst. Clemente was the first ever Afro-Latina women to run for Vice-President of the United States in 2008 on the Green Party ticket. She and her running mate, Cynthia McKinney, were to this date the only women of color ticket in American history.

Julio César Torres (Director) graduated from the School of Public Communication at the University of Puerto Rico, Río Piedras. Later, he studied direction and editing at the International Film and TV School in Cuba (EICTV). One of his student films, "Vamos al mambo", won the Audience Award at the International Festival of Film Schools in Munich, Germany. Upon his return to Puerto Rico, he made TV-Movies, "El bailao de Julia y Berto" and "El rumbón de Fepe", works from which he received excellent reviews from critics. In local television, he directed for Canal 6 the programs "Son del Caribe" and "En la punta de la lengua", the latter nominated for an Emmy Award. Recently, he has directed video clips and worked as 1st A.D. and Script Supervisor for upcoming features. He was director and writer for the critically-acclaimed documentary Nuyorican Básquet (2017). Currently he's directing the verité feature-length documentary: "El grito en los puños" about boxing careers.
Ricardo Olivero Lora (Director) graduated from Sacred Heart University in Puerto Rico, majoring in radio, film and television production. He is a co-founder of Radio Huelga, a student-run, student-founded and cooperative gestated radio station that was born during the student strike of the University of Puerto Rico during the year 2010, when he was attending law school. There he worked as a news correspondent, clip producer, audio editor, as well as in other areas related to radio station management. His film credits include "Hecho con sabor a Puerto Rico" (2012) y "Residente" (2017), as researcher, and the critically-acclaimed documentary Nuyorican Básquet (2017) as director, writer, associate producer. His most recent documentary short, "January 23" (2020), is an observational chronicle of the confrontation that occurred during a protest in Old San Juan. He currently runs "FuerteFuerte", an NGO dedicated to digital organization for communities.
Monxo López (moderator) is a researcher, educator, cartographer, and South Bronx-based urban activist. He is currently a Mellon Foundation Fellow at the Museum of the City of New York, and was a Mapping Fellow at the Design Trust for Public Spaces. He is also a founding member of South Bronx Unite (a local environmental justice organization), as well as a founding and board member of the Mott Haven/Port Morris Community Land Stewards, the local Community Land Trust. López holds a Ph.D. in political science from CUNY's Graduate Center. He grew up in Puerto Rico, and currently lives in Mott Haven, the South Bronx.
To view all of our Moonlight & Movies screenings click here.
This program also accompanies the Museum's exhibition City/Game: Basketball in New York.
View a trailer of the film here:
 
Free, pre-registration required. | Gratis, registrarse es necesario.
Supporters
Moonlight & Movies is made possible in part by Sophia and Peter J. Volandes.
Moonlight & Movies es posible en parte gracias a Sophia y Peter Volandes.