New York on Film: Statues, Italianamerican, and 80 Blocks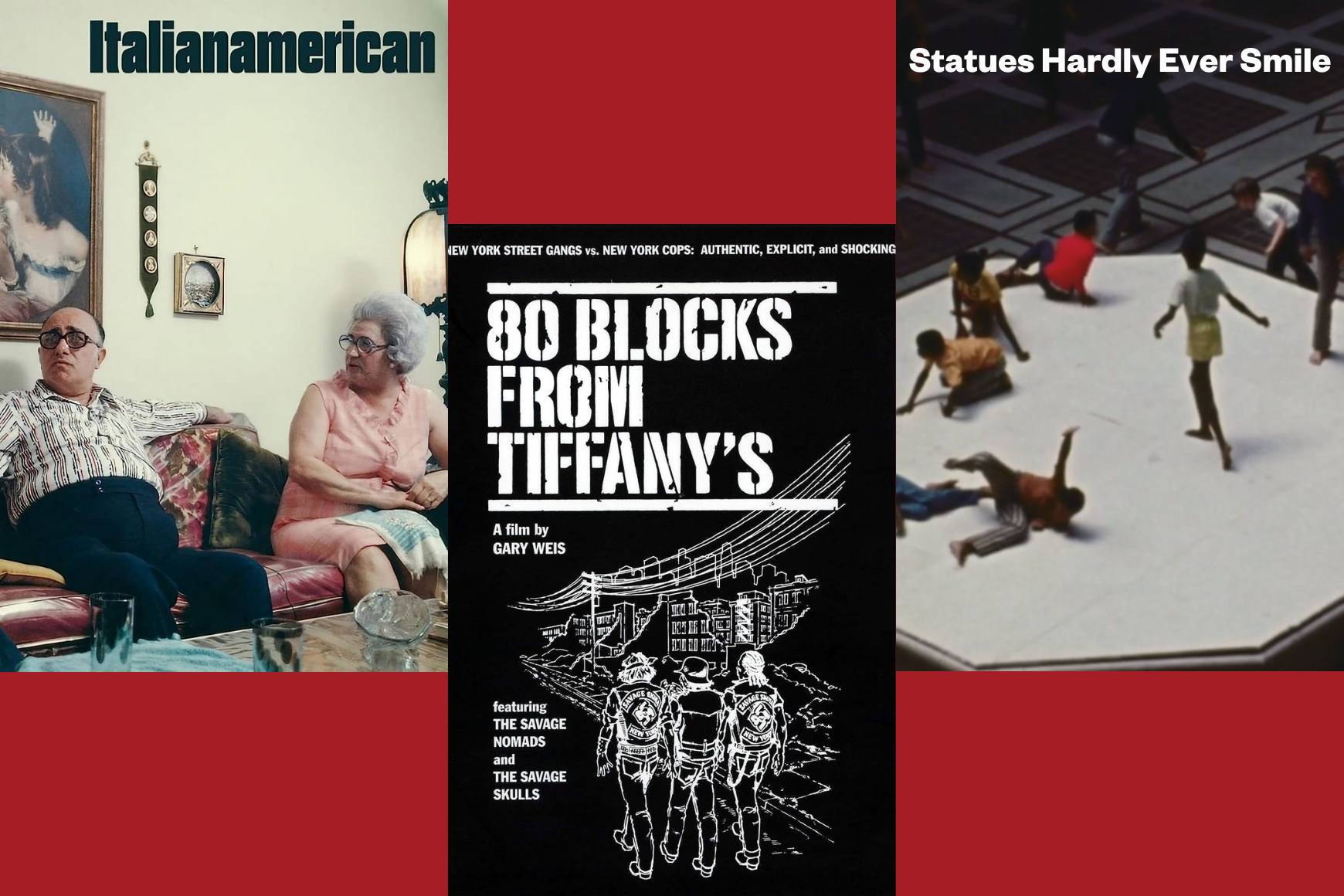 Grab your ticket for our 1970s edition of New York on Film: Decade by Decade featuring three pathbreaking documentaries from the era. Experimentation and free expression (Statues Hardly Ever Smile), the roots of Martin Scorsese's quintessential New York style (Italianamerican), and the explosion of Hip Hop and street culture in the South Bronx (80 Blocks from Tiffany's) are all explored in this program -- both a "poison pen" and a love letter to 1970s NYC.
Statues Hardly Ever Smile (Stan Lathan, 1971, 20 min)
With a crew made up of a Who's Who of Black filmmaking legends—directed by Stan Lathan, edited by filmmaker and writer Kathleen Collins, produced by Kent Garrett, and shot by St. Claire Bourne and Leroy Lucas—this short film follows a group of middle school children during a six-week project at the Brooklyn Museum, where they collectively discover and respond to the Egyptian collection. Witness the group's daily exercises and reflections as they create a theater piece centered on the relationships they developed with the objects and each other.
Italianamerican (Martin Scorsese, 1974, 49 min)
In one of his most personal works, Martin Scorsese sits down with his parents, Catherine and Charles, in their New York apartment for a free-flowing discussion that touches on family history, the immigrant experience, and the meaning of Italian American identity.
80 Blocks From Tiffany's (Gary Weis, 1979, 67 min)
80 Blocks captures both Hip-Hop culture, music and dance -- and the social conditions that led to its formation. Shot over the course of a couple of weeks in the summer of '79, it focuses on a NYPD detective from the Bronx Youth Gang Task Force and a community activist. The film was produced by SNL creator Lorne Michael, and directed by SNL director Gary Weis.  It was a big influence on the NYC cult, camp classic, The Warriors.
This screening is part of our year-long series, New York on Film: Decade by Decade, programmed by Jessica Green. The series accompanies the Museum's centennial exhibition, This Is New York: 100 Years of the City in Art and Pop Culture.  
Guest speakers to be announced shortly!

Event Timeline:
6:00 pm - Doors open to Ronay Menschel Hall (Ground Floor); drinks & popcorn available for purchase.
6:30 pm - Introduction 
6:45 pm - Film program begins
8:30 pm - Program ends
9:00 pm - Museum closes
About Jessica Green:
Jessica Green is an independent film programmer currently programming film, speaker, and performance series for BAM, the Weeksville Heritage Center, and the Museum of the City of New York. Jessica served as the Artistic Director of the Houston Cinema Arts Society from 2019-2022, providing artistic leadership for year-round film programming and the Houston Cinema Arts Festival, Houston's largest film festival. She was the Cinema Director of the Maysles Documentary Center in Harlem from 2008-2018. Jessica is also a former founder, owner and Editor-In-Chief of the New York based, independent Hip-Hop magazine Stress (1994-2001), as well as the former Executive Editor of BET.com (2000-2005).
New York on Film is the centennial year edition of the Museum's ongoing Moonlight & Movies series.
Important Event Logistics 
Please contact programs@mcny.org with any questions or ticketing issues.
All sales are final; refunds not permitted. Exchanges and credit for future programs only. Programs and dates may be subject to change. 
General Admission $20 | Members $15
Members: To receive your discount, click on the "Buy Tickets" button above, then sign in to your account on the ticketing page.
Groups of 10 or more get discounts; contact us at programs@mcny.org or 917.492.3395.
Accessibility: Assistive listening devices are available and our auditorium wheelchair lift can accommodate manual and motorized wheelchairs (max. capacity 500 lbs). Please contact the Museum at 917.492.3333 or info@mcny.org with any questions.
Supporters
Moonlight & Movies is made possible in part by Sophia and Peter J. Volandes.