Criminals Among Us? Fingerprinting and Criminal Background Checks in Pre-WWII New York City
When:
Tuesday, July 28, 2020, 5:00pm
This event has passed.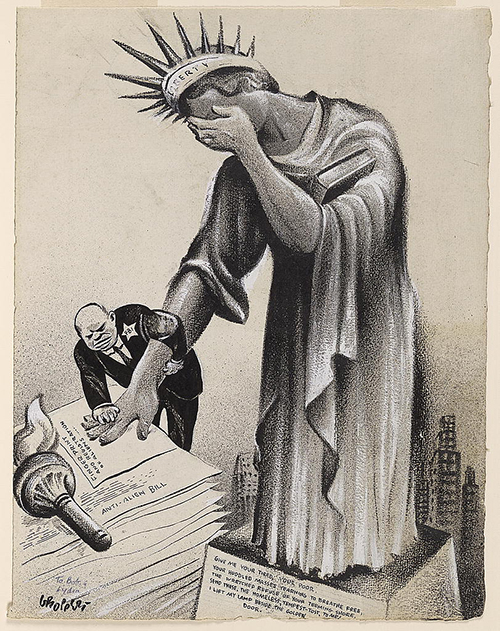 Today, criminal background checks are a routine part of applications for many jobs, licenses, and government benefits. But for nearly a century, New Yorkers have debated whether such checks are a tool for protecting the public or a form of legalized discrimination against people with a criminal record. 
Dan Ewert, Andrew W. Mellon Foundation Predoctoral Fellow, will shed light on New York City's leading role in implementing criminal background checks in the early 20th century, when organized labor, communities of color, and government officials debated the value of fingerprinting and background checks in a diverse city of strangers against the backdrop of the Great Depression and the lead up to World War II. 
Click here to see an agenda for this virtual talk, as well as suggested readings and resources for further exploration.  
This event is geared towards educators but is open to all with interest in the topic.  
Eligible participants will receive a CTLE certificate for 1.5 hours of professional development.   
This lecture will be broadcast via Zoom; participants will need an internet-accessible device with audio capability to attend. The Zoom link will be emailed to participants the day prior to their session.  
This free lecture will take place on July 28th, 5-6:30pm ET. 
Use the "Register" link above to sign up. 
Supporters
The Museum is grateful to The Andrew W. Mellon Foundation, which supports a Predoctoral Fellowship Program in History Education. 
The Frederick A.O. Schwarz Education Center is endowed by grants from The Thompson Family Foundation Fund, the F.A.O. Schwarz Family Foundation, the William Randolph Hearst Endowment, and other generous donors.