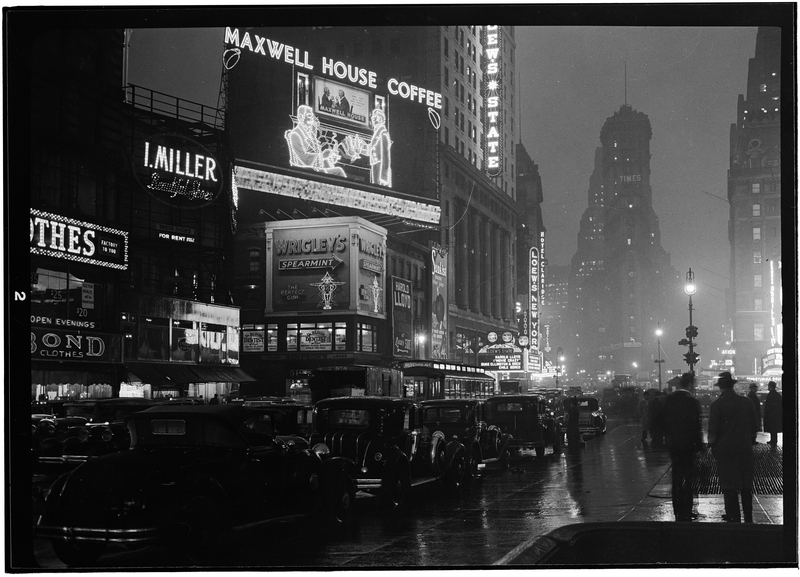 Alternately fabulous and filthy, celebrated and reviled, Times Square has evoked strong reactions from New Yorkers and visitors to the city alike for well over a century, ever since an IRT subway station opened in 1904 at the famed intersection of 42nd Street, Seventh Avenue and Broadway.  Join us for a conversation with artist Jane Dickson and scholar Lynne Sagalyn about what it means to capture the many lives of Times Square, one of New York's most iconic, mutable, and perplexing places.  The author, architect, and filmmaker James Sanders will moderate.  
In very different ways, both Dickson and Sagalyn have made Times Square a central focus of their work. Dickson through painting and photography and Sagalyn through historical research and analysis, including her most recent book, Times Square Remade: The Dynamics of Urban Change (2023). Each has developed complex, nuanced portraits of a world-renowned but stubbornly local place that is both real and heavily mythologized: at once a commercial hub, a tourist destination, an entertainment district, a neighborhood, and a perennial subject of fascination for artists, filmmakers, and others for over a century.   
Presented in conjunction with the Museum's Centennial exhibition, This Is New York: 100 Years of the City in Art and Pop Culture, and is also part of our Capturing the Changing City series, in which artists, writers, historians, and others discuss how they interpret New York -- through the lens, on the page, on canvas, on screen, and beyond. 

Attendees receive 10% off of Sagalyn's Times Square Remade and Dickson's Jane Dickson in Times Square when they purchase in the Museum Shop.  

About the Speakers:
Jane Dickson is a painter and photographer who has been documenting Times Square since 1978. She has been exhibiting her paintings, drawings, and prints in museums and galleries domestically and internationally for over four decades, and her work belongs to collections including the Whitney Museum of American Art, The Museum of Modern Art, The Metropolitan Museum of Art, The Art Institute of Chicago, the Karamay Museum in Xin Jiang, China, and most recently, the Santa Barbara Museum. In 2008, she completed "The Revelers," a mosaic for the MTA in the 42nd street subway station. Her book, Jane Dickson in Times Square, was published in 2018 by Anthology Editions. janedickson.com
Lynne B. Sagalyn is Earle W. Kazis and Benjamin Schore Professor Emerita of Real Estate at Columbia Business School, as well as a real estate professional. She is the author of Power at Ground Zero: Politics, Money, and the Remaking of Lower Manhattan; Times Square Roulette: Remaking the City Icon (MIT Press); and Downtown, Inc.: How America Rebuilds Cities (coauthor, MIT Press).  Her new book, Times Square Remade: The Dynamics of Urban Change, was published on October 10, 2023 by MIT Press.
James Sanders is an architect, author, and filmmaker, who, with Ric Burns, wrote the acclaimed eight-part PBS series New York: A Documentary Film. His landmark study of the city and film, Celluloid Skyline: New York and the Movies, won a Theatre Library Association Award. He has written for The New Yorker, The New York Times, Los Angeles Times, and Vanity Fair, has received a Guggenheim Fellowship and an Emmy Award, and is a Fellow of the American Institute of Architects. Sanders curated the "Scenes from the City" installation in the Museum's current exhibition, This Is New York: 100 Years of the City in Art and Pop Culture.  The installation is inspired by his book, Scenes From The City: Filmmaking In New York (Rizzoli, 2006; revised & expanded 2014).
Free, preregistration recommended
Accessibility: Assistive listening devices are available and our auditorium wheelchair lift can accommodate manual and motorized wheelchairs (max. capacity 500 lbs). Please contact the Museum at 917.492.3333 or info@mcny.org with any questions.