Ambient Faith: Live Readings and Conversation
When:
Friday, September 22, 2023, 6:00pm
This event has passed.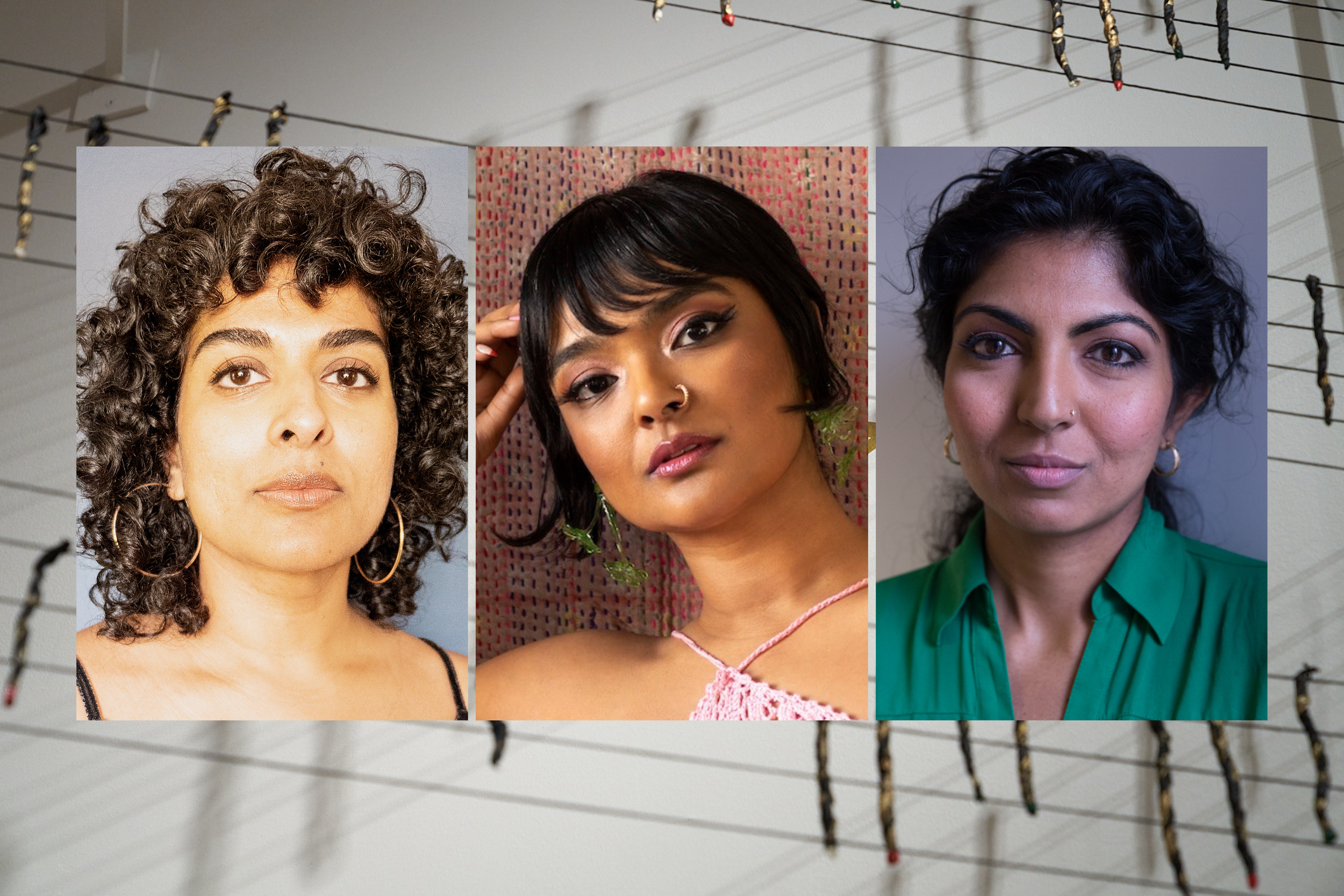 UPDATE: This event will now take place on Friday, September 22, at 6:00pm.
How can art and creative nonfiction help us think about complex issues of religion in New York (and beyond)? Join poet Divya Victor and writer and perfumer Tanaïs to consider this question at the final public program for the Museum's current exhibition City of Faith: Religion, Activism, and Urban Space (on view through October 22), which explores religion, race, and public space in the city, with a special focus on South Asian communities. 
Divya and Tanaïs are both featured artists in the City of Faith exhibition. At this program, Divya will read from her books KITH and CURB: KITH examines what it means to belong to South Asian diasporic communities, looking beyond national boundaries, while CURB focuses on the religious profiling of and violence towards South Asians in public spaces in the U.S. (an "artist's book" version of CURB is displayed in the exhibition). Tanaïs will read from their book In Sensorium: Notes for My People, which explores how fragrance has been used in caste systems and colonial projects as a marker of uncleanliness and difference. This book also inspired "A Love Supreme," a scent installation the author conceived and designed for the exhibition.
Across mediums, both works critically engage with the concept of "ambient faith." Anthropologist Matthew Engelke uses this term to describe how religious communities may use subtle sounds, scents, or visual cues  to make space for themselves without appearing to impose religion on the public sphere. The participants will explore how sensory phenomena associated with minoritized communities may instead become "hyper-visible" and be policed by the public, media, and state actors.
The program will also offer an immersive scent experience provided by Tanaïs, and facilitate audience interaction with the artist's book version of CURB.  Moderated by filmmaker and journalist Anjali Kamat.
Event Timeline:
6:00pm: Museum doors open, City of Faith exhibition open for viewing (second floor). Light refreshments will be served. Please note: no other Museum exhibitions will be open.
6:30pm: Conversation begins in Marble Court (second floor).
7:40pm: Audience Q & A
8:00pm: Program ends, City of Faith reopens for viewing. A copy of CURB, the artist's book, will be available for audience interaction.
8:45pm: Museum closes.
Co-presented by Asian American Writers' Workshop (AAWW). Organized by architectural historian and curator of City of Faith, Azra Dawood.
About the Speakers
Tanaïs is the author of  In Sensorium: Notes for My People, winner of the 2022 Kirkus Prize for Nonfiction, and the critically acclaimed novel Bright Lines, which was a finalist for the Center for Fiction First Novel Prize, the Edmund White Debut Fiction Award, and the Brooklyn Eagles Literary Prize. Featured in Vogue, Elle, Harper's Bazaar, The Cut, The Nation  for their innovative scents and stories, they work as an independent perfumer and owner of a fragrance, beauty and design studio TANAÏS, based in New York City. Currently, they are working on a novel.
Divya Victor is the author of CURB from Nightboat Books. CURB is the winner of the 2022 PEN America Open Book Award and the winner of the 2022 Kingsley Tufts Poetry Award. It was also a finalist for the 2022 CLMP Firecracker Award (Poetry). She is also the author of  KITH (Fence Books/ Book*hug);  Scheingleichheit: Drei Essays (Merve Verlag, trans. Lena Schmidt);  NATURAL SUBJECTS (Trembling Pillow),  UNSUB (Insert Blanc), THINGS TO DO WITH YOUR MOUTH  (Les Figues). Her work has been collected in numerous venues, including BOMB, the New Museum's The Animated Reader, Crux: Journal of Conceptual Writing, The Best American Experimental Writing, POETRY, The Yale Review, American Poetry Review, and boundary2. Her work has been translated into French, German, Spanish, and Czech. She has been a Mark Diamond Research Fellow at the U.S Holocaust Memorial Museum, a Riverrun Fellow at the Archive for New Poetry at University of California San Diego, and a Writer in Residence at the Los Angeles Contemporary Exhibition (L.A.C.E.). Her work has been performed or installed at the Museum of Contemporary Art (MoCA) Los Angeles, The National Gallery of Singapore, the Los Angeles Contemporary Exhibition (L.A.C.E.) and the Museum of Modern Art (MoMA). Victor has been an editor at Jacket2 (U.S.), Ethos Books (Singapore), Invisible Publishing (Canada) and Book*hug Press (Canada). She is currently an Associate Professor of English and Writing at Michigan State University, where she is the Director of the Creative Writing Program. 
Anjali Kamat (moderator) is a documentary filmmaker, writer, and investigative journalist. A fellow at Type Media Center, she is working on a feature documentary and reporting project on rightwing nationalism in India. She has reported from around the world as a correspondent for Al Jazeera's Fault Lines, winning a Peabody, an RFK Journalism award, and four Emmy nominations. Her investigation of the Trump Organization's business dealings in India, in partnership with the Wayne Barrett Project at Type Investigations, for the New Republic and the Trump, Inc. podcast on WNYC and ProPublica won a duPont-Columbia award and a Front Page award from the Newswomen's Club of New York. She's been a senior reporter at Reveal from the Center for Investigative Reporting and WNYC and got her start in journalism as a producer and correspondent for Democracy Now!  Anjali grew up in Chennai, India and studied history at Pomona College and Arabic at the American University of Cairo. She has a post-graduate diploma from the Asian College of Journalism and an MA in Near Eastern Studies from New York University. She was the 2017-18 Belle Zeller Visiting Professor of Public Policy at Brooklyn College.