Past Event: What's Next for Ice Skating in New York?
When:
Wednesday, January 31, 2018, 6:30pm
This event has passed.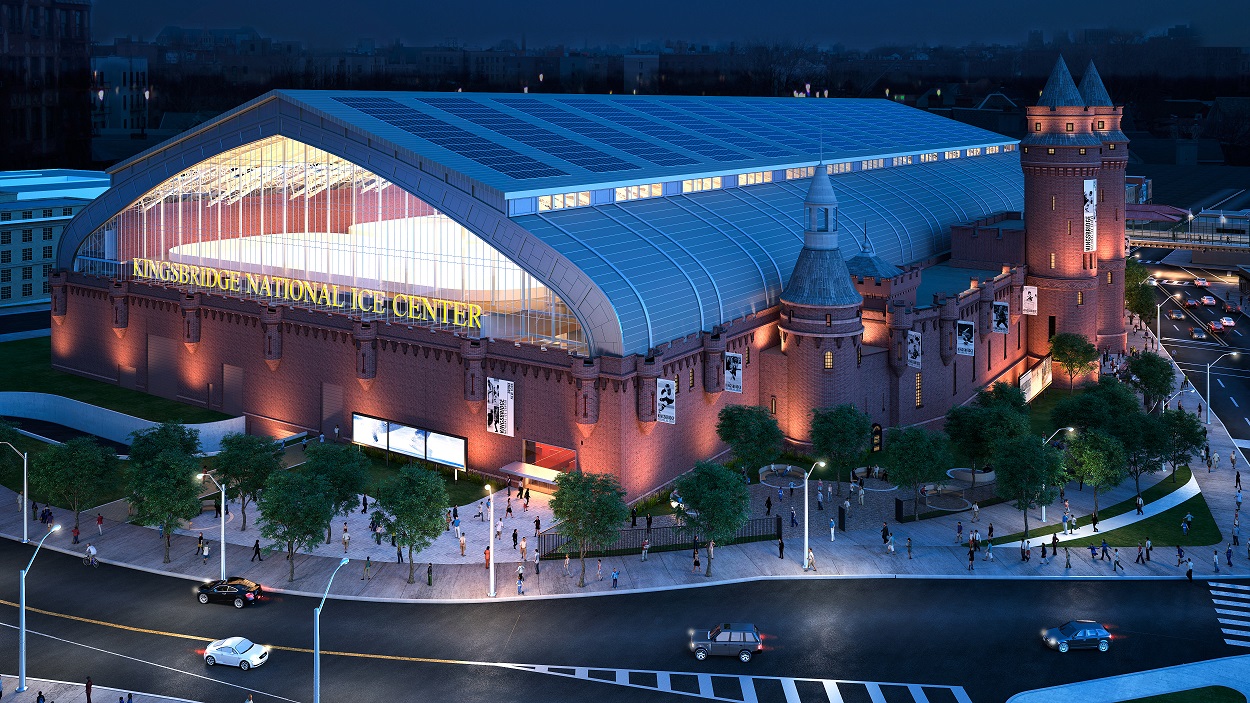 The increasing popularity of ice skating in New York City combined with concerns about space and affordability for figure skaters, hockey players, and the general public raises the question: how can ice skating be made more accessible for New Yorkers, athletes and enthusiasts alike? As the 2018 Winter Olympics approach, join us to discuss the future of skating in the city with key voices in the sport.
Stephan Butler, Founding Partner, Kingsbridge National Ice Center (KNIC) project in the Bronx
Sharon Cohen, Founder and CEO, Figure Skating in Harlem
Miye D'Oench, Forward for the NWHL's Metropolitan Riveters
Florence Ngala, Figure Skating in Harlem alumna
Elise Preston, Skating Director, Wollman Rink
Budd Mishkin (moderator), reporter and former host of "One on 1 with Budd Mishkin" on NY1 

This program accompanies our exhibition, New York on Ice: Skating in the City (on view through April 2018). To view all of the programs in the series, click here.
About the Speakers:
Stephan Butler, along with Kevin Parker, Mark Messier and John Neary, is developing the world's largest ice sports arena, the Kingsbridge National Ice Center (KNIC), a $400 Million public private partnership project in Bronx. Additionally, Butler has worked for U.S. Senator Mary Landrieu (D-LA) in the wake of Hurricane Katrina, focusing on post-disaster reconstruction issues, and has also managed real estate development and construction projects for both the public and private sectors. On September 11, 2001, Butler was a first responder at the World Trade Center site.

Sharon Cohen is the founder and CEO of Figure Skating in Harlem, a non-profit education, leadership and sport-based organization that serves girls from under-resourced communities. A former competitive figure skater herself, Sharon previously worked at CBS News before leaving to establish Figure Skating in Harlem. She was named the first 2014 CNN Hero, an honor that pays tribute to "everyday people who are changing the world."

Miye D'Oench is a forward for the Metropolitan Riveters, one of the founding four franchises of the National Women's Hockey League. In addition to playing professionally, she is also an analyst at the New York Country District Attorney's Office. Before signing with the Riveters, Miye played all four years for Harvard's Varsity Women's Ice Hockey team, and represented team USA on the under-18 team in 2012 and the under-22 team in 2014. After eventually retiring from the sport, she hopes to remain involved through volunteer work and advocacy for women's sports.

Florence "Flojo" Ngala is a Figure Skating in Harlem alum who participated in the program from age 6 to 18. While there she developed a passion for skating and gained life skills she carried with her even after completing the program. She is a Class of 2017 college graduate from the City College of New York, and is currently pursuing a career as a creative director and professional photographer. Over the past few years she has seen great photography success with work featured on Vogue.com and Refinery29, and working with artists like Gucci Mane and Cardi B.
Elise Preston is the skating director at Wollman Rink, which held the position as the  country's largest US Figure Skating Basic Skills Program for over ten years and is currently among the largest Learn to Skate USA programs.  Elise is also chair of program development at US Figure Skating where she oversees School Programs, Ice Men Network and the Solo Dance Series, along with the creation and development of new programs to keep skaters in the sport.

Budd Mishkin (moderator) hosted the long-running show "One on 1 with Budd Mishkin" on the television network NY1 (2003 to 2017) where he profiled over 300 influential New Yorkers with significant personal and professional ties to the city including Anthony Bourdain, Gloria Steinem, and Yoko Ono. He has also served as a sports anchor/reporter for NY1's nightly program "Sports on 1, The Last Word," covering some of the biggest events in recent New York sports history.