"When the Garden was Eden": Remembering the 1970s New York Knicks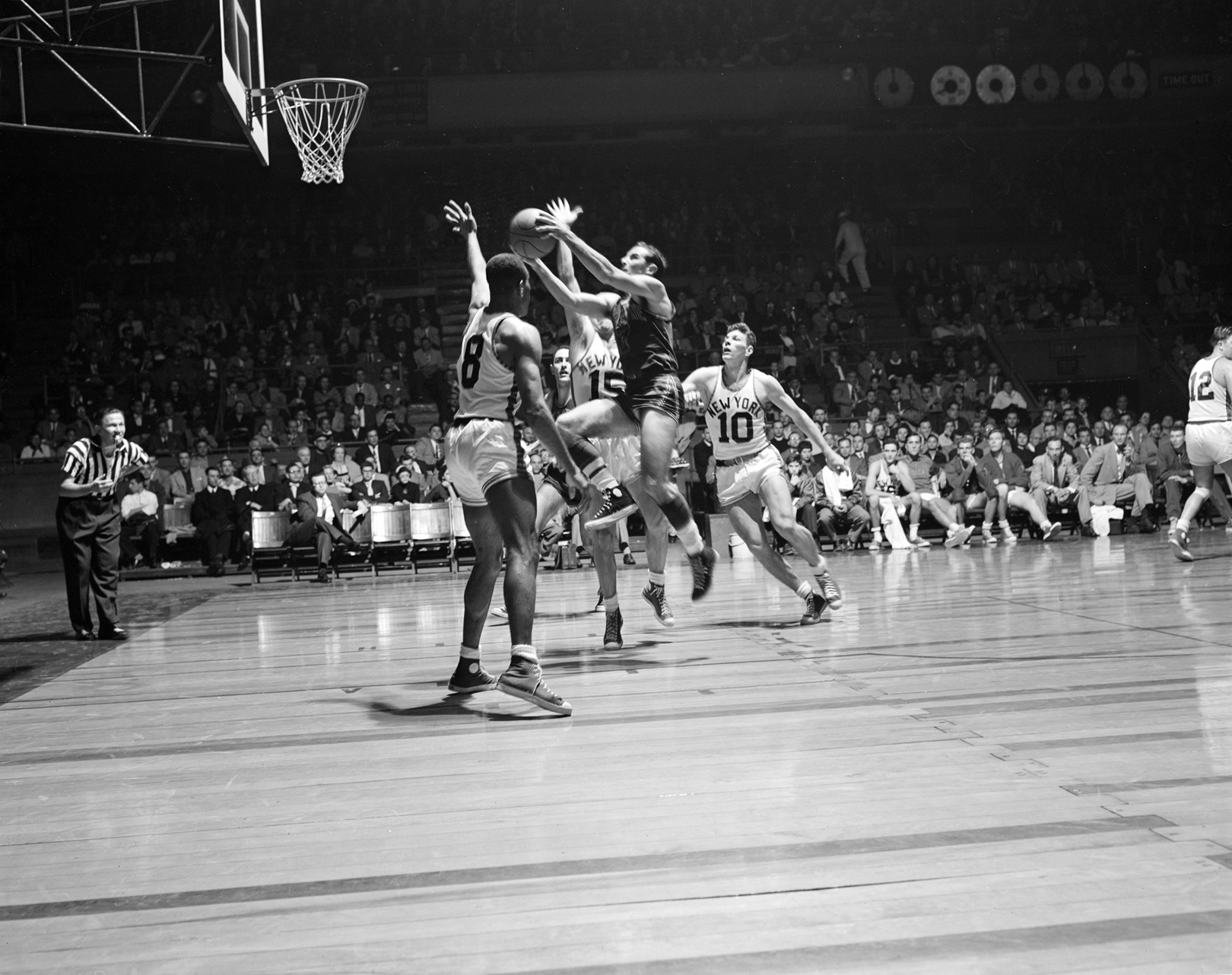 Please note that this program has been rescheduled to Tuesday, November 17, virtually. If you already purchased a ticket for this program, we will contact you directly. 

On May 8, 1970, the New York Knicks won their very first NBA championship, defeating the Los Angeles Lakers four games to three. In celebration of the 50th anniversary of their momentous win, reflect on the team that reigned supreme during a tumultuous era in NYC history with 1970s Knicks team members Bill Bradley and Walt "Clyde" Frazier. They will be joined by Earl "The Pearl" Monroe, who played opposite the Knicks on the Baltimore Bullets in the playoffs. The conversation will be moderated by author and journalist Harvey Araton.

This program is presented in conjunction with our current exhibition City/Game: Basketball in New York (open through January 18, 2021). 

About the Speakers:
Bill Bradley is a former professional basketball player for the New York Knicks from 1967 to 1977, during which time they won two NBA championships. He was also an Olympic gold medalist in the sport in 1964 and was elected into the Basketball Hall of Fame in 1982. Bradley served in the U.S. Senate from 1979 to 1997, representing New Jersey and was a candidate for the Democratic nomination for President of the United States in 2000.
Hall of Fame player and Knicks star Walt "Clyde" Frazier can be seen and heard at every New York Knicks game weighing in with solid sports commentary and well-seasoned talking points. He helped the Knicks capture two World Championships, was inducted into the basketball Hall Of Fame in 1987, holds membership in the Top 50 Players in NBA History, and is a seven-time, NBA All-Star. He founded The Walt Frazier Foundation in 1985 with a mission to help children through mentoring programs and education.

Earl "The Pearl" Monroe joined the NBA in 1967, playing in his 13-year career for the Baltimore Bullets (1967 – 1971) and the New York Knicks (1971 – 1980) to become a high-scoring virtuoso with fabled one-on-one moves. Inducted into the Basketball Hall of Fame in 1990, Monroe has a lasting impact in the sport and in popular culture both as "The Pearl" and as a member of the one of the most beloved squads in NBA history.

Harvey Araton (moderator) has reported on sports in New York City for 40 years, the last 25 of them at The New York Times. He wrote the "Sports of the Times" column for 15 years, reported on 10 Olympics, and is best known for his work on basketball and tennis. Araton is also the author of many books, including When the Garden Was Eden: Clyde, the Captain, Dollar Bill, and the Glory Days of the New York Knicks (2011), which was the basis of an ESPN 30 for 30 documentary.
$25 General Admission
$20 Museum Members
If you purchased a ticket before 9/16/2020, we will be in touch with you directly about ticketing options.
Members: To receive your discount, click on the "Buy Tickets" button above, then sign in to your account on the ticketing page.
Groups of 10 or more get discounts; contact us at programs@mcny.org or 917.492.3395.
Accessibility: Closed captions will be available for this program. Please contact the Museum at 917.492.3333 or info@mcny.org with any questions.
Supporters
City/Game is made possible in part by ESPN, the NBA, the WNBA, Clara Wu Tsai and Joe Tsai of the Brooklyn Nets and New York Liberty, Elizabeth R. Miller and James G. Dinan, the National Basketball Players Association Foundation, Con Edison, the Lily Auchincloss Foundation, and An Anonymous Family Foundation. Additional support provided by Crystal McCrary and Raymond J. McGuire, Estee Tobaly and Henry Swieca, Marc Lasry, Nathan Romano, Mitchell S. Steir/Savills, Heather and William Vrattos, the Honorable Diana Ayala - New York City Council District 8, Andrea London, and other generous donors.

Education programs featuring City/Game are made possible by the Gray Foundation.