Religion, Race, and Urban Space in NYC
When:
Thursday, December 1, 2022, 6:30pm
Price:
General Admission $15 | Members $10 | Students Free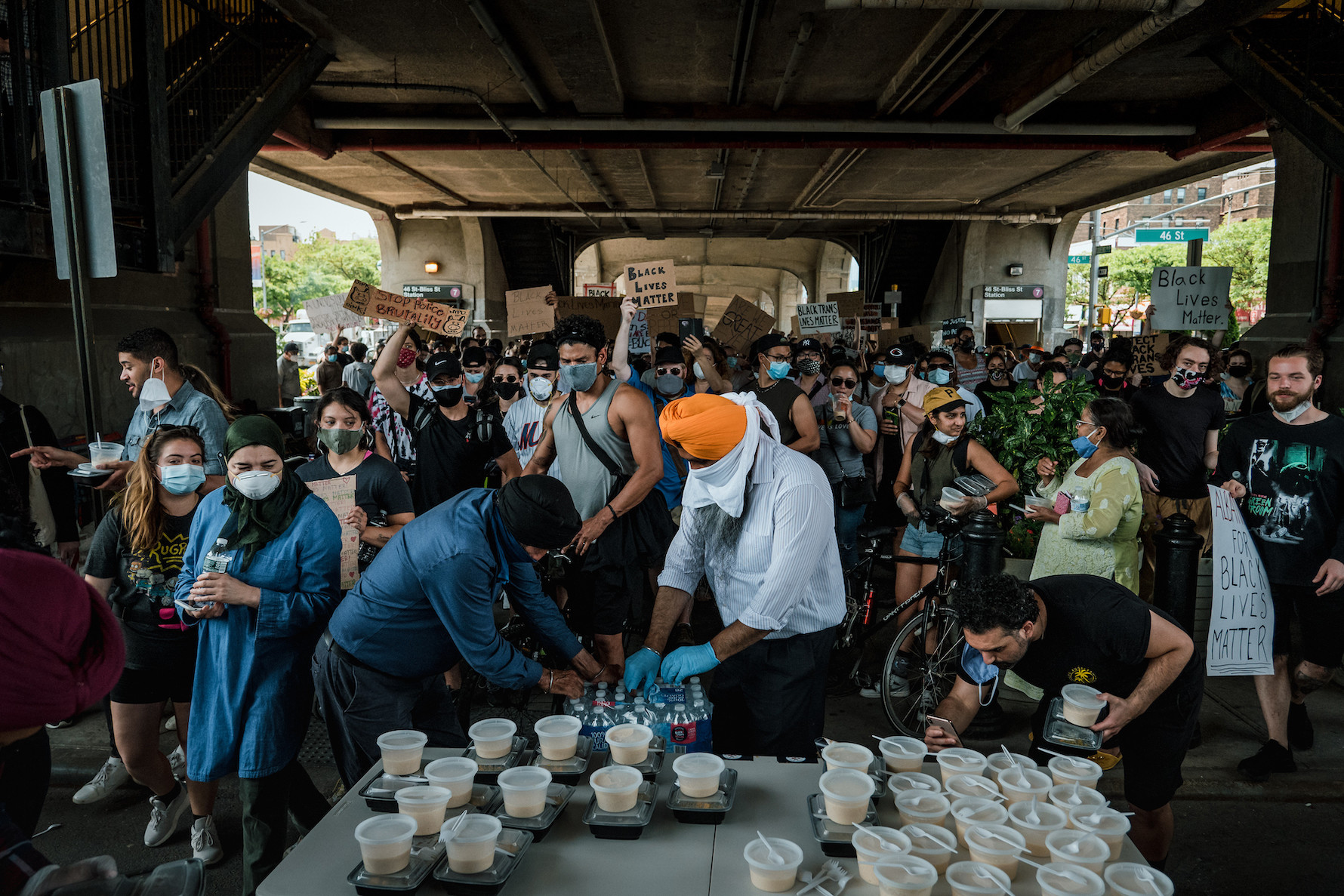 In this talk, curator Azra Dawood will be joined in discussion by three leading scholars of religion in New York City, Nathaniel Deutsch, Alyssa Maldonado-Estrada, and Hussein Rashid. They will explore the nature and politics of secularism in the city, the normalization of Protestantism (and more recently, Catholicism and Reform Judaism), and the racialization and surveillance of other communities. Their conversation will encompass Orthodox Jewish communities, Muslim spaces, and Catholic devotional practices, and ask how these communities use art, activism, and technology to make space for themselves in the city.  
This program accompanies our upcoming exhibition, City of Faith: Religion, Activism, and Urban Space  (opens 11/18) and is co-presented by the Columbia Institute for Religion, Culture and Public Life (IRCPL).
About the Speakers:
Azra Dawood (moderator) is the Andrew W. Mellon Postdoctoral Curatorial Fellow at the Museum of the City of New York and curator of City of Faith: Religion, Activism, and Urban Space, her capstone Mellon Project. An architectural historian whose work focuses on the built environments of the United States, her research critically engages issues of social engineering, philanthropy, religion, and internationalism. Azra is also trained as an architect. Her academic, architectural, and curatorial careers have spanned Cambridge (MA), Houston, Karachi, and New York City. She holds a PhD in the History and Theory of Architecture from MIT.  
Nathaniel Deutsch is professor of History at the University of California, Santa Cruz, where he holds the Baumgarten Chair in Jewish Studies. He is the author of numerous books, including—among others—The Maiden of Ludmir: A Jewish Holy Woman and Her World, Inventing America's "Worst" Family: Eugenics, Islam, and the Fall and Rise of the Tribe of Ishmael, The Jewish Dark Continent: Life and Death in the Russian Pale of Settlement, for which he received a Guggenheim Fellowship and which won a Jordan Schnitzer Book Award from the Association for Jewish Studies, and, most recently, with Michael Casper, A Fortress in Brooklyn: Race, Real Estate, and the Making of Hasidic Williamsburg, which won a National Jewish Book Award.
Alyssa Maldonado-Estrada is Assistant Professor of Religion at Kalamazoo College where she teaches classes on urban religion, Catholics in the Americas, and religions of Latin America. She is an ethnographer and her research focuses on material culture, contemporary Catholicism, and gender and embodiment. She is the author of Lifeblood of the Parish: Men and Catholic Devotion in Williamsburg, Brooklyn, an ethnography about masculinity and men's devotional lives in a gentrified neighborhood in New York City. She is currently working on her second book project: Reinventing the Rosary: Innovation and Catholic Prayer. She is editor of the journal Material Religion: The Journal of Objects, Art and Belief, co-chair of the Men and Masculinities Unit at the American Academy of Religion, and serves on the editorial board of the journal American Religion.  
Hussein Rashid is the project director of Lilly Endowment-funded Arts of Devotion at the Smithsonian's National Museum of Asian Art. He worked with the Children's Museum of Manhattan exhibit America to Zanzibar: Muslim Cultures Near and Far on exhibit design, community engagement, and curricula development. He was an executive producer on the DDFIA-funded award-winning New York Times animated documentary The Secret History of Muslims in the US. Hussein has written dozens of articles on religion and culture, most recently on how museums present Muslim cultures, and Islam as a religion. Some of his works include a co-edited book with Jessica Baldzani on Kamala Khan/Ms. Marvel, Ms. Marvel's America: No Normal (University Press of Mississippi, 2020) and a co-edited volume with Jenna Gray-Hildenbrand and Beverley McGuire called Teaching Critical Religious Studies (Bloomsbury, 2022).

Event Logistics (subject to change based on NYC regulations):
Please contact programs@mcny.org with any questions or ticketing issues.
All sales are final; refunds not permitted. Exchanges and credit for future programs only. Programs and dates may be subject to change. The Museum of the City of New York reserves the right to refuse admission to latecomers. 
General Admission $15 | Members $10 | Students Free (students must present proof of current ID at the door)
Members: To receive your discount, click on the "Register" button above, then sign in to your account on the ticketing page.
Accessibility: Assistive listening devices are available and our auditorium wheelchair lift can accommodate manual and motorized wheelchairs (max. capacity 500 lbs). Please contact the Museum at 917.492.3333 or info@mcny.org with any questions.
Partners
City of Faith is made possible in part by the Henry Luce Foundation and the Charles and Mildred Schnurmacher Foundation.  
The Museum gratefully acknowledges the Mellon Foundation's support for exhibition curator Dr. Azra Dawood's fellowship. City of Faith: Religion, Activism, and Urban Space is her capstone project.  
Co-presented by the Columbia Institute for Religion, Culture and Public Life (IRCPL).