When:
Wednesday, February 1, 2017, 6:30pm
This event has passed.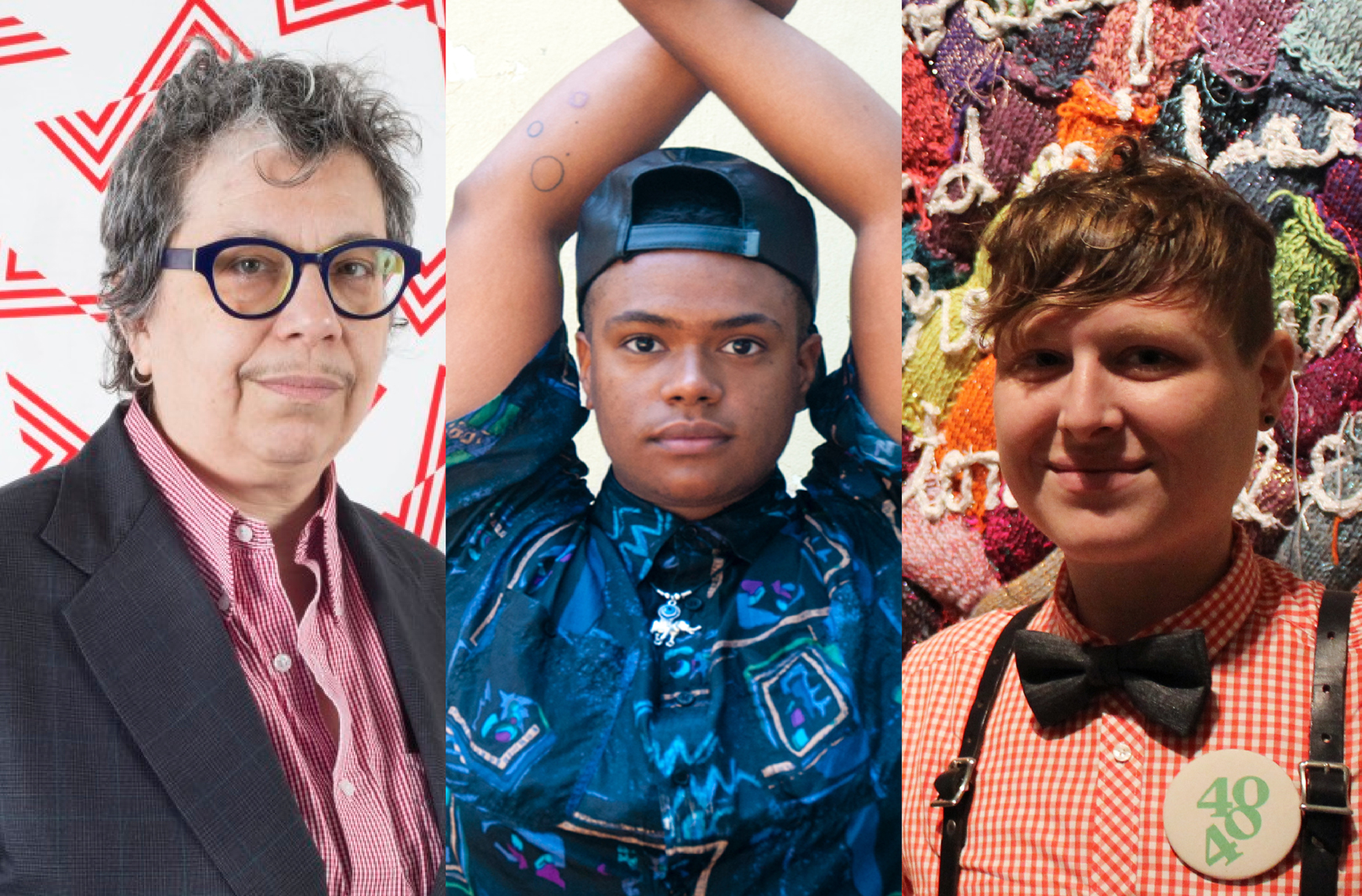 Join three groundbreaking queer artists -- Sheila Pepe, niv Acosta, and LJ Roberts -- as they explore the ways in which LGBTQ identity and community shape their creations. Inspired by our exhibition Gay Gotham, these artists will show examples of their work in textile arts, dance, photography, sculpture, and collage, then sit down with Hunter O'Hanian to discuss where the cutting edge of queer art lies today.  After the panel, Gay Gotham will be open for late viewing. 
Sheila Pepe uses feminist and craft traditions to investigate received notions about the production of canonical artwork and the artist's relationship to museum displays. More about Sheila Pepe here.
LJ Roberts creates textile works that are deeply driven by activism and entwined with critical queer/transgender politics, feminist histories, and the on-going AIDS epidemic. More about LJ Roberts here.
niv Acosta is a post-modern dancer and choreographer whose work, including "the denzel series," addresses personal histories and the passage of time. More about niv Acosta here.  
Hunter O'Hanian (moderator) is the Executive Director of the College Art Association and was formerly the director of the Leslie-Lohman Museum of Gay and Lesbian Art.  More about Hunter O'Hanian here.
Co-Sponsors
The programs in our Gay Gotham: Art and Underground Culture in New York series are co-presented by the Big Gay Mens' Organization NYC, the Bureau of General Services Queer Division, the Hetrick-Martin Institute, Irish Queers, the Jim Owles Liberal Democratic Club, the Leslie-Lohman Museum of Gay and Lesbian Art, Men of All Colors Together/NY, the Metropolitan Community Church of New York, the National Gay & Lesbian Chamber of Commerce, the National Lesbian & Gay Journalists Association, the New York City Gay Men's Chorus, Oscar Wilde Tours, the Queens Center for Gay Seniors, the Queens Pride Lions, and SAGE.
"Queer Art at the Edge" is supported by the NYU Department of Art History, SUNY Westchester, the Textile Arts Center, and QUEER|ART.