POSTPONED: College Basketball and New York City: The Remarkable Journey
When:
Friday, March 13, 2020, 12:30pm
This event has passed.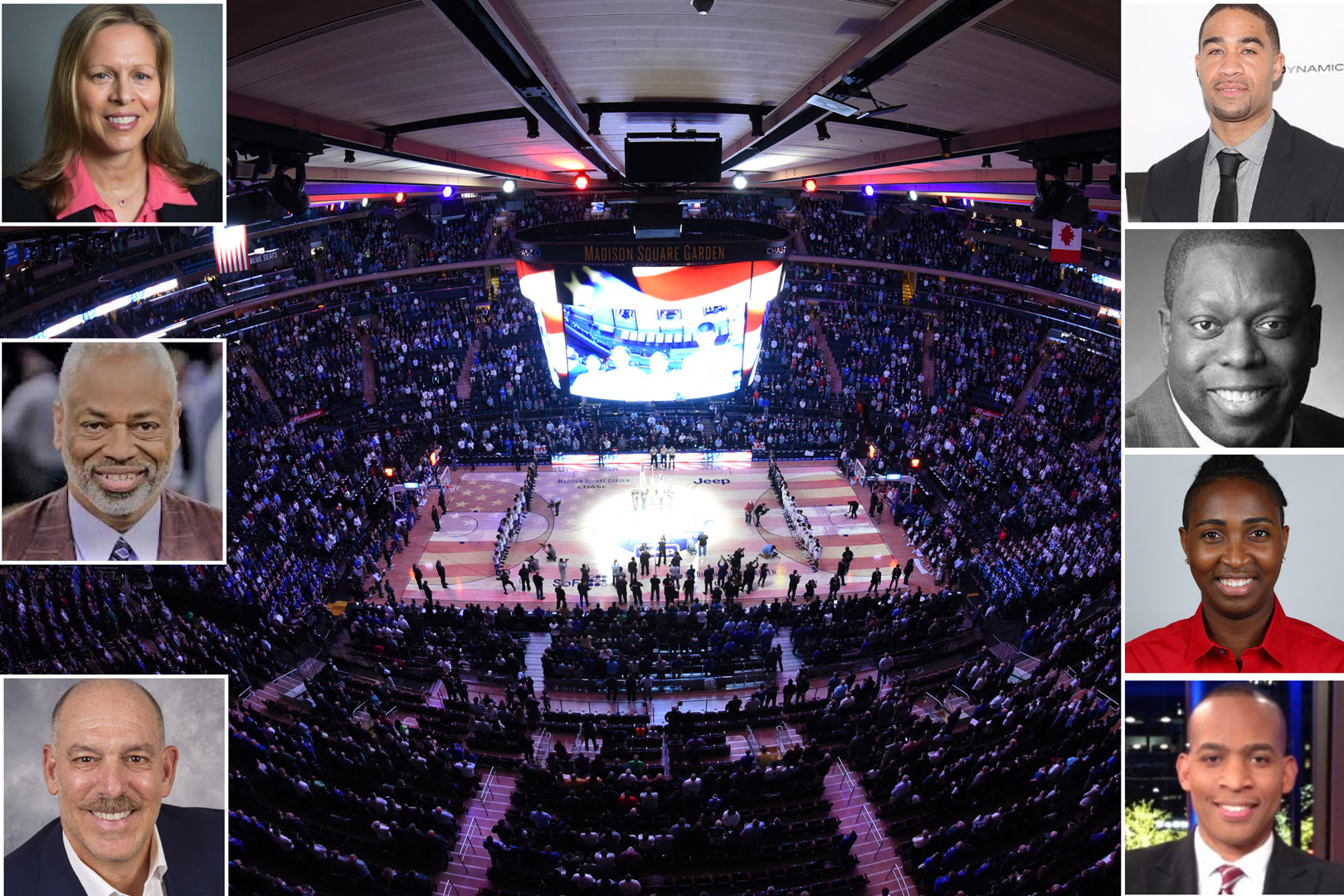 Please note that this program has been postponed. If you already purchased a ticket for this program, we will contact you directly. 

At the heart of New York City basketball is Madison Square Garden, the world's most famous live sports arena. It is also the home of the BIG EAST Tournament, the college basketball athletic conference that has launched the careers of dozens of players, female and male, every year since 1979. Join us for an afternoon of lively conversations moderated by sportscaster Dave Popkin about The Garden, aka "The Mecca" of college basketball; the BIG EAST Tournament as the nation's longest-running postseason college basketball tournament at the same venue; and some of the many great players and coaches that have played at both the conference and at MSG.

Panel One (12:30 – 1:15 pm)
– Val Ackerman, BIG EAST Conference Commissioner
– Len Elmore, college basketball TV analyst, senior lecturer at Columbia University
– Joel Fisher, Executive Vice President of Marquee Events and Operations at The Madison Square Garden Company

Panel Two (1:15 – 2:00 pm)
– Andre Barrett, former NBA and international basketball player and Seton Hall Pirates alum
– Ed Pinckney, former NBA basketball player and Villanova Wildcats alum
– Shenneika Smith, former New York Liberty player, St. John's and St. Michael Academy alumna
– Tarik Turner, St. John's University, college basketball analyst
Includes a special screening of a featured segment of the BIG EAST at 40 docuseries.
This is the opening program for City/Game: Basketball in New York (open through January 18, 2021). To view the rest of the programs in the series, click here.
About the Speakers:
Val Ackerman was named the fifth Commissioner of the BIG EAST Conference on June 26, 2013.  She spent eight years as an attorney and executive at the National Basketball Association, was the founding President of the Women's National Basketball Association, and is a past President of USA Basketball, which oversees the U.S. men's and women's Olympic basketball program.  She also served for two terms as the U.S. representative to the International Basketball Federation (FIBA). She is currently a member of the Board of Directors of Women Leaders in College Sports and the Board of Directors of the Women's Basketball Hall of Fame.  
Andre Barrett is an American former professional basketball player, whose career spanned 14 seasons between several countries in the NBDL (now G-League), FIBA, and NBA. The Bronx native began his standout career at the famed New York City basketball powerhouse Rice High School. He was also a member of the New York Gauchos AAU program during the height of its dominance on the national youth circuit. After an illustrious college career at Seton Hall University, Barrett signed with the New York Knicks as an undrafted free agent in 2004. In 2003, while at Seton Hall, Barrett represented USA Basketball at the Pan American Games. He retired from professional basketball in 2017, and is now the Youth Basketball Development Program Manager for the NBA.
Len Elmore is a sportscaster, lawyer, educator and retired 10-year veteran of the NBA. In his 32nd season as a television basketball analyst, he has been a leading voice in college hoops, broadcasting NCAA men's basketball and NBA games for ESPN, Fox Sports, and CBS. His NBA playing career included stints with the Indiana Pacers, Kansas City Kings (now Sacramento Kings), Milwaukee Bucks, New Jersey Nets, and New York Knicks. In 1987, Elmore received a J.D. from Harvard Law School, where he remains the first and only NBA player to do so. He went on to serve as an assistant district attorney in Brooklyn and founded the sports management company Precept Sports & Entertainment in 1992. He was inducted into the New York City Basketball Hall of Fame and was named one of the Atlantic Coast Conference's 50 Greatest Players in 2001 and 2002, respectively.
Joel Fisher is the Executive Vice President of Marquee Events and Operations at The Madison Square Garden Company. He serves as lead executive for significant initiatives and oversees two of The Garden's most enduring franchises – college basketball and boxing. Fisher is also responsible for other live sporting events outside of MSG's teams such as bull riding, wrestling, college hockey, tennis, and eSports. He has led the Company's efforts to bring landmark events to MSG's venues, including most recently in 2018, the 60th Annual Grammy Awards and the Big Ten Tournament, and brought the NCAA Basketball East Regional Finals back to The Garden in 2014 for the first time in 50 years. Fisher serves on the board of the Garden of Dreams Foundation, the Executive Committee Board for NYC & Company, and the 34th Street Partnership.

Ed Pinckney is a former professional basketball player, born and raised in the Bronx. He rose to prominence at Adlai Stevenson High School before attending Villanova University to join Coach Rollie Massimino. Pinckney was voted Most Outstanding Player of the 1985 NCAA Men's National Championship, where he helped lead the eighth-seeded Wildcats to their storied victory over the heavily favored, and Big East rival, Georgetown Hoyas – a win still considered one of the greatest upsets in NCAA Tournament history. Pinckney was selected 10th overall in the 1985 NBA Draft to the Phoenix Suns, and would go on to play 12 NBA seasons with the Sacramento Kings, Boston Celtics, Milwaukee Bucks, Toronto Raptors, Philadelphia 76ers, and Miami Heat. Since retiring, he has served in several NBA coaching roles, and as an assistant coach for his Villanova Wildcats under Jay Wright, from 2003-2007. He currently serves as a an NBA Scout for the Houston Rockets organization.

Shenneika Smith, a Brooklyn native, attended St. Michael Academy where she was a national standout. She went on to St. John's University and graduated as one of the most decorated athletes to ever don a Red Storm uniform and then became the second-ever WNBA draft pick from St. John's as the 25th overall selection by the New York Liberty in 2013. Smith had a four-year professional playing career that spanned the WNBA and stints in Portugal, Australia, Turkey and Spain. She was also a representative of the Jamaican National Team for six seasons, where she helped secure a 2014 FIBA Women's CBC Championship. Smith is now back at her alma mater where she has been an assistant women's basketball coach since the 2018-19 campaign.

Tarik Turner is a 1998 graduate of St. John's University, coming to Queens with one of the Red Storm's most highly-touted recruiting classes in the program's history. He was a standout guard during his four-year career, helping his teams to a pair of postseason appearances ('98 NCAA Tournament & '95 NIT), and finishing in the top-20 of the program's all-time Assists leaders. Since his professional-playing stops in Finland and Venezuela, Turner continues to be an active ambassador for his alma mater, currently serving as a member of the SJU Board of Trustees (since 2017), and is a college basketball analyst for Fox Sports, a color commentator on the Red Storm's radio broadcasts and an analyst for both SNY-TV and the St. John's Television Network. He also currently serves as a Managing Director, US Sales Trading, Institutional Equities at Cantor Fitzgerald – a global provider of banking, financial advisory, investment, and funds management services. 

Dave Popkin (moderator) is a veteran sportscaster based in the New York Metro Area. He is in his 17th season as a commentator with the Seton Hall Basketball radio network (AM 970, SiriusXM) and can be seen on CBS Sports Network during basketball season serving as the Voice of the Northeast Conference (20th year) and on CBSSports.com as the Voice of the CIT (7th year). Popkin also currently handles baseball and special assignments for the BIG EAST Conference.  Popkin called eight different sports for both CN8 and MSG Varsity. The University of Miami graduate has 19 years of minor league baseball play-by-play experience, including presently for the Buffalo Bisons - Toronto AAA (7th year). He was honored with the O. Lawrence Keefe Award for lifetime media contributions to the Seton Hall basketball program.
Supporters and Partners
City/Game is made possible in part by ESPN, the NBA, the WNBA, Clara Wu Tsai and Joe Tsai of the Brooklyn Nets and New York Liberty, Elizabeth R. Miller and James G. Dinan, the National Basketball Players Association Foundation, Con Edison, the Lily Auchincloss Foundation, and An Anonymous Family Foundation. Additional support provided by Crystal McCrary and Raymond J. McGuire, Estee Tobaly and Henry Swieca, Marc Lasry, Nathan Romano, Mitchell S. Steir/Savills, Heather and William Vrattos, the Honorable Diana Ayala - New York City Council District 8, Andrea London, and other generous donors.

Education programs featuring City/Game are made possible by the Gray Foundation.

This program is co-presented with BIG EAST Conference.