Past Event: Puerto Rican Activism from New York to San Juan - and Beyond
When:
Tuesday, February 25, 2020, 6:30pm
This event has passed.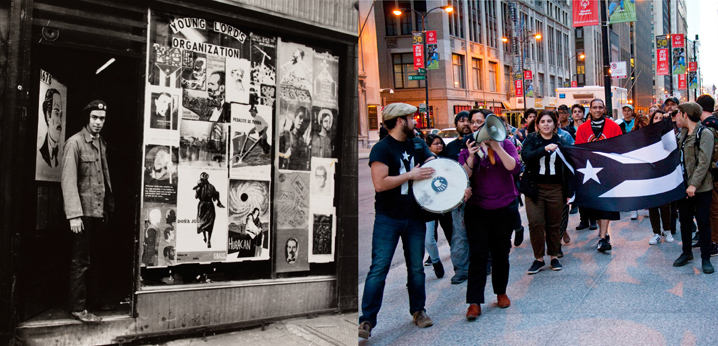 The activist work of the Young Lords Party continues to be a point of reference for contemporary activists both in New York City and the island of Puerto Rico. Nowhere is this clearer than in current efforts within the Puerto Rican diaspora to support progressive struggles in the island. Historically, these bridges of solidarity have proven both invaluable and fraught, as activists navigate the here and there, their intersecting identities, and the diverging histories of their communities. Johanna Fernández, author of the forthcoming book, Young Lords: A Radical History (February, 2020), sits down for a conversation about activism, diasporas, and decolonization with activist, organizer, and researcher Pablo Benson-Silva, filmmaker, writer, and scholar Frances Negrón-Muntaner, former Young Lord Mickey Melendez, and Monxo López, the Andrew W. Mellon Foundation Post-Doctoral Fellow at the Museum of the City of New York.  

About the Speakers:
Pablo Benson-Silva is an activist, organizer, and researcher born and raised in San Juan, Puerto Rico that moved to New York City more 14 years ago. He has been involved in many projects that span from Occupy Wall Street, the Puerto Rican Mutual Aid Network, Fearless Cities, and the worker cooperative movement.  He is also a partner at Movement Netlab, a think-do-learn tank on network social movements. Since summer 2017, Benson-Silva has served on the Board of Directors of the U.S. Federation of Worker Cooperatives and is director of membership for the NYC Network of Worker Cooperatives. He studied sociology at the University of Puerto Rico and at the New School for Social Research and more than occasionally dabbles in teaching.

Johanna Fernández teaches 20th Century U.S. history, the history of social movements, the political economy of American cities, and African-American history in the Department of History at Baruch College (CUNY). She is the author, editor, and co-editor of multiple books and journals, including Young Lords: A Radical History (February, 2020) and Writing on the Wall: Selected Prison Writings of Mumia Abu-Jamal (2015). She directed and co-curated the exhibition ¡Presente! The Young Lords in New York at the Bronx Museum of the Arts, El Museo del Barrio, and Loisaida Inc. Fernández's writing has appeared in many publications including Al Jazeera, The New York Times, NPR, and The Wall Street Journal. Her awards include the Fulbright Scholars grant to the Middle East and North Africa and a National Endowment for the Humanities Fellowship of the Scholars-in-Residence program at the Schomburg Center for Research in Black Culture of the New York Public Library. 

Miguel "Mickey" Melendez, author of We Took the Streets (2003), has a master's degree in public administration and has held executive positions in the New York City Health and Hospital Corporation, Housing Authority, and Department of Education. Melendez has also taught in the Hispanic Studies Department at Baruch College and is currently a professor at John Jay College of Criminal Justice. As a former Young Lord, he remains a committed activist for Puerto Rican rights.

Frances Negrón-Muntaner is a filmmaker, writer, scholar and professor at Columbia University, where she is also the founding curator of the Latino Arts and Activism Archive. Among her books and publications are The Latino Media Gap (2014), and Sovereign Acts: Contesting Colonialism in Native Nations and Latinx America (2017). Her most recent films include War for Guam (2015) and Life Outside (2016). She has received multiple awards and fellowships, including Ford and Pew fellowships, the Lenfest Award (2012), and inaugural OZY Educator Award (2017). In 2008, the United Nations' Rapid Response Media Mechanism recognized her as a global expert in the areas of mass media and Latin/o American studies. She launched Valor y Cambio, in 2019, an art, digital storytelling and just economy project in Puerto Rico (valorymcambio.org) which was awarded the 2019 Premio Borimix from the Society for Educational Arts in New York.

Monxo López (moderator) is a researcher, educator, cartographer, and South Bronx-based urban activist. He is currently a Mellon Foundation Fellow at the Museum of the City of New York, and was a Mapping Fellow at the Design Trust for Public Spaces. He is also a founding member of South Bronx Unite (a local environmental justice organization), as well as a founding and board member of the Mott Haven/Port Morris Community Land Stewards, the local Community Land Trust. López holds a Ph.D. in political science from CUNY's Graduate Center. He grew up in Puerto Rico, and currently lives in Mott Haven, the South Bronx.
This program is inspired by our ongoing Activist New York exhibition. To view all the programs in the series, click here. 
 
Supporters
Activist New York and its associated programs are made possible by The Puffin Foundation, Ltd. 

Activist New York is the inaugural exhibition in The Puffin Foundation Gallery, which is dedicated to the ways in which ordinary New Yorkers have exercised their power to shape the city's and the nation's future.