Past Event | P Credit Course: People of New York
When:
Wednesday, April 15, 2020, 5:00pm
This event has passed.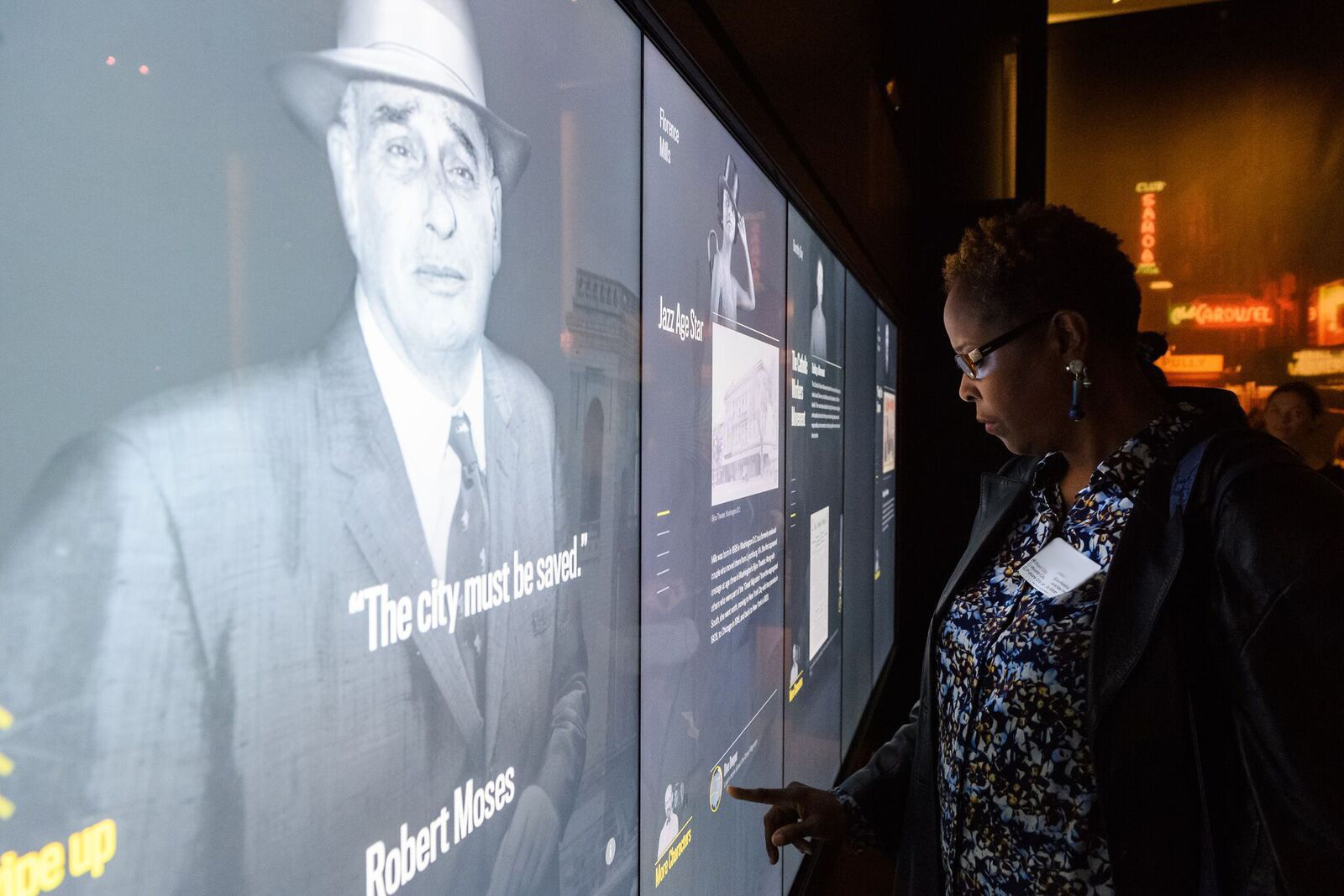 People of New York began on April 15, 2020. Registration is currently closed. To learn more about professional learning at the Museum, visit mcny.org/education/teachers. You can also check out our calendar of upcoming events for educators at mcny.org/events/educators.
---
About this Course
This brand new online course draws on the Museum's groundbreaking exhibitions to examine the past, present, and future of New York through the lives of New Yorkers who have shaped and been shaped by the city they call home. 
Educators will examine how the individual choices of New Yorkers have molded the city we live in, unpack how the urban environment has impacted people both past and present, and discover hidden voices that shine a light on New York's array of diverse communities and neighborhoods. Through online lesson plan and oral history workshops, discussions, guest lectures, and writing exercises, educators will gain a deeper understanding of the city's history and find connections between their students' experiences and those of New Yorkers past and present. 
The Museum of the City of New York is a CTLE certified provider. Participation in this program provides 45 hours of CTLE credit and 3 P Credits.
For registration instructions and information about P Credits through ASPDP, please scroll down to Registration below.
Course Calendar & Details
People of New York runs from April 15, 2020 through May 29, 2020. The course is broken into 7 modules that each involve both synchronous and asynchronous learning. This schedule provides dates and times for the synchronous online sessions.
Online course meetings will be held via Zoom. Participants will need an internet-accessible device (laptop, tablet, phone) with audio accessibility to participate. Zoom links for each session will be emailed out to participants one day in advance of its date. Participants will receive a full syllabus prior to the course start date.
Final timing for online sessions is subject to change.
Module #1: Introducing People of New York
Participants will be introduced to the main themes and questions of our course, set community and discussion guidelines together, and review our schedule for the semester.
Introductory Session: Building Community & Setting Goals
5-7pm, Wednesday, April 15, 2020
Guest Lecture: Collecting New York's Stories & the MCNY Collections Portal
5-7pm, Thursday, April 16, 2020
Module #2: Hidden Voices & Individual Stories as a Lens into NYC History 
Participants will focus on Hidden Voices: Untold Stories of New York City History, an MCNY project produced in collaboration with the NYC Department of Education. Participants will learn best practices for using this resource and discuss how foregrounding hidden voices deepens our understanding of the past.
Workshop: Teaching with the Hidden Voices Curriculum
5-7pm, Monday, April 20, 2020 
Guest Lecture: The Origins of the Hidden Voices Project  
5-7pm, Wednesday, April 22, 2020
Module #3: Finding the Human Stories in Data & the Census 
Drawing upon the MCNY exhibition Who We Are: Visualizing NYC by the Numbers, participants will learn how educators, scholars, and artists use data to showcase the stakes and consequences of being represented and counted in our city. 
Workshop: Unpacking the Census, Then and Now  
5-7pm, Monday, April 27, 2020 
Workshop: Data Visualization in the Classroom
5-7pm, Wednesday, April 29, 2020  
Module #4: The Art & Practice of Oral History 
Participants will engage with the practice and uses of oral history, particularly for centering the experiences of individuals within the past. Participants will learn how to use interviews as primary sources and how to guide students through the practice of creating their own oral histories.
Guided Discussion: Interviews from the BHS Oral History Collection 
5-7pm, Monday, May 4, 2020 
Workshop: Guidelines & Best Practices for Creating Oral Histories 
5-7pm, Wednesday, May 6, 2020
Module #5: Activist New York & People as Changemakers 
Participants will explore Activist New York, an online exhibition focused on the history of the individuals and communities that have fought to shape their city's future. Participants will discuss, reflect, and respond to the impact of key "changemakers" in New York's past, present, and future. 
Guest Lecture: Curating Stories in Activist New York 
5-7pm, Monday, May 11, 2020 
Moderated Conversation: Insights from a Contemporary Activist & Scholar 
5-7pm, Wednesday, May 13, 2020 
Module #6: Basketball as a Lens on New York's Cultures and Communities
Drawing upon the MCNY exhibition City/Game: Basketball in New York, participants will consider how basketball's history and personalities illuminate a multitude of New York stories and how discuss how individual narratives contained in sports culture can facilitate student engagement.  
Guest Lecture: The People of City/Game: Basketball in New York 
5-6pm, Monday, May 18, 2020 
Workshop: Teaching New York City Stories from City/Game 
5-6:30pm, Wednesday, May 20, 2020 
Module #7: Reflecting on the Power of People in New York 
In this final module, participants will reflect on the stories they've uncovered, the student engagement strategies they've learned, and the power of individual experience as a lens for understanding our past, present, and future. Participants will also have the opportunity to share and receive feedback on a lesson plan they've developed during the course.
Concluding Discussion: What Do the People of New York Tell Us 
5-6pm, Monday, May 25, 2020 
Final Presentations: Lesson Plans & Peer Feedback 
5-7pm, Wednesday, May 27, 2020
Registration
Registration for People of New York is a two-step process for those taking the course for P Credit. (Educators interested in taking this course not for P Credit are welcome to do so and only need to complete Step 1.)
All eligible educators receive CTLE credit for the course hours.
Step 1: Register for People of New York using the blue "Register" button at the top of this page and pay the Museum's course fee of $225.
Step 2: The ASPDP course catalog is now open. Register for the course on the ASPDP Course Catalog and pay the NYC DOE ASPDP course fee of $125. Registration for this course through ASPDP closes at midnight on Tuesday, April 14.
Supporters
Professional Learning programs are made possible in part by …a chance… fund, inc.
The Frederick A.O. Schwarz Education Center is endowed by grants from The Thompson Family Foundation Fund, the F.A.O. Schwarz Family Foundation, the William Randolph Hearst Endowment, and other generous donors.