Past Event: New York's Golden Ice Age
When:
Friday, February 23, 2018, 7:00pm
This event has passed.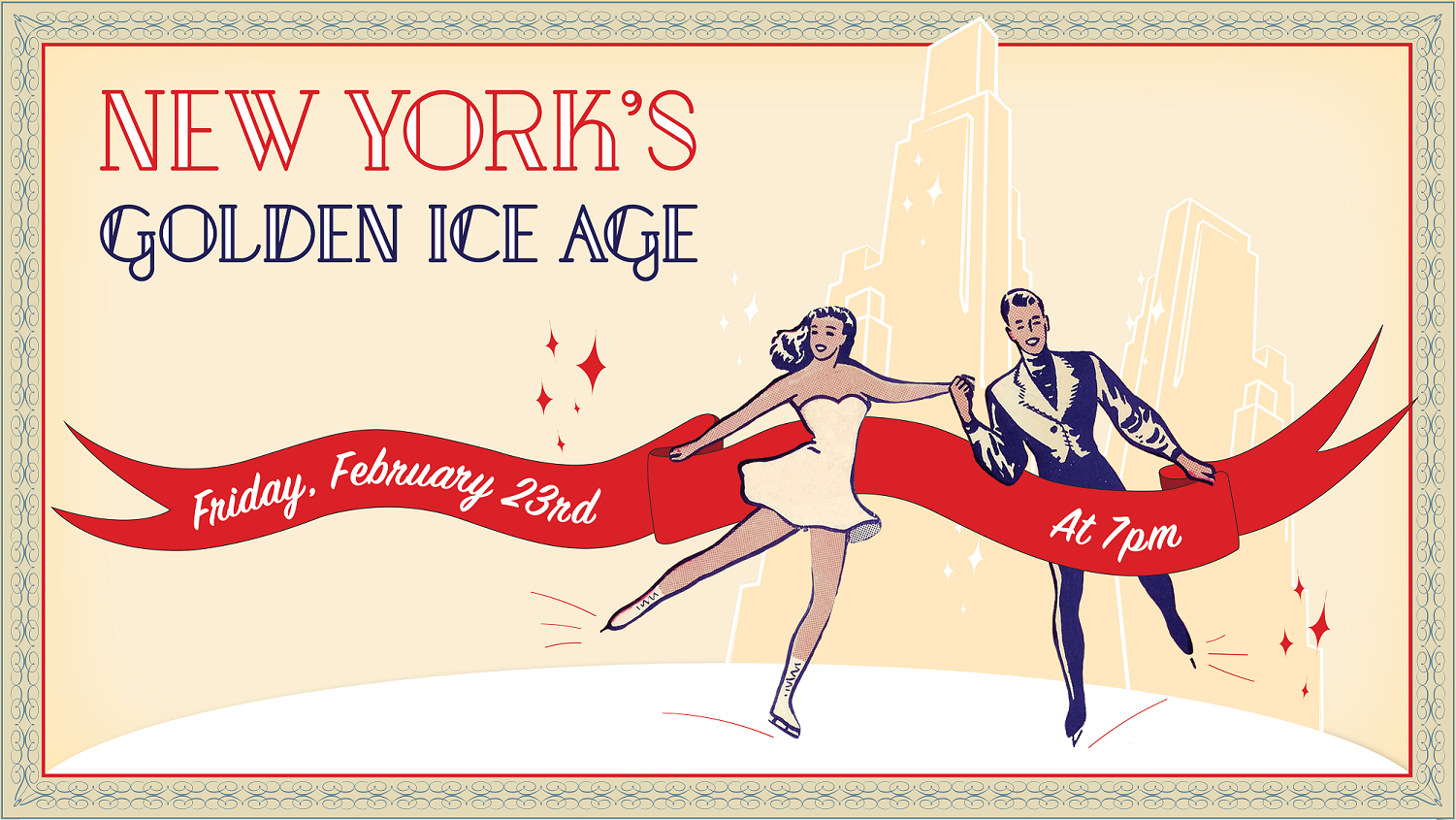 Celebrate the glamour and excitement of New York's last "golden age" of ice skating in the 1940s and '50s at the Museum of the City of New York. Our evening begins with a conversation with two Brooklyn-born skating legends -- World Medalist Sonya Klopfer Dunfield and "Hockey Maven" Stan Fischler -- who will share their journeys from the Brooklyn Ice Palace to Madison Square Garden and beyond. Afterwards, inspired by the intimate ice-skating revues once performed at swank Manhattan nightclubs and hotels, skaters from the Ice Theatre of New York will demonstrate virtuosic skating on a synthetic rink right inside the Museum - while singer Marjie Shrimpton performs big band hits from the era.
Seasonal cocktails and bites will be served.

This program accompanies our exhibition, New York on Ice: Skating in the City (on view through April 2018).

About the Speakers and Performers:
Sonya Klopfer Dunfield started skating in 1944 at the Brooklyn Ice Palace. At 13, she became the youngest gold figure skating medalist, winning the U.S. Junior Championship in 1949. In 1951, she placed first in the U.S. Senior Championships and medaled in the World Championships. In 1952, she captained the U.S. Figure Skating Olympic Team and was a World Silver Medalist. After retiring from competition, she joined in the Ice Capades and replaced Sonja Henie in Holiday on Ice. Klopfer went on to coach at the Skating Club of New York and trained many prominent skaters including Dorothy Hamill, Yuka Sato, and Vera Wang. Klopfer has been inducted into the U.S., Canadian, and Professional Skaters Association Hall of Fame.
Stan Fischler has been covering hockey for over 50 years. Known as the "Hockey Maven," he serves as the resident hockey expert for MSG Networks and regular contributor to MSGNetworks.com, for which he has received many awards, including multiple New York Emmys. He has authored or co-authored more than 90 books on the game and written for many publications including The New York Times and Sports Illustrated. His most recent book, Rangers vs. Islanders: Denis Potvin, Mark Messier, and Everything Else You Wanted to Know about New York's Greatest Hockey Rivalry (Sport Publishing) was published in October 2016.
James Sullivan started playing hockey at the Brooklyn Ice Palace when he was 17, helping clean the ice to get free skating time. He went on to play for the New Jersey Mets and the semi-pro New Jersey Rockets. Sullivan later worked as a refrigeration engineer at South Mountain Arena. He then joined the New York City Police Department and started their hockey team in 1974. He was an NHL off-ice official for 44 years and once (in 1988) served as a linesman in a semi-final playoff game. Sullivan played hockey all over the U.S. and in Canada, Europe, and Russia, and still plays today twice a week. 

Ice Theatre of New York (ITNY), founded in 1984 by Moira North, celebrates and advances ice dance as an ensemble performing art. With its professional ice dance company, ITNY is dedicated to providing education and to presenting public performances for people of all ages, and presents ice dance that helps to open ones eyes to seeing skating in new and unexpected ways. ITNY was the very first ice dance company to receive dance program funding from the National Endowment for the Arts, the New York State Council on the Arts, and the New York City Department of Cultural Affairs.

Marjie Shrimpton is a singer, actor, and dancer in New York. She recently made her cabaret debut to a sold-out audience at The Duplex in What Would Judy Do?, a musical tribute to Judy Garland. Shrimpton has been featured in a number of music videos and musicals, including Kerrigan-Lowdermilk's The Bad Years and Daniel Emond's The Whale. She regularly collaborates with Jennifer Jancuska + The BringAbout, a group of performing artists that works to help activate new musicals with movement early in the development process.